Best Over 50's Life Insurance Cover 2022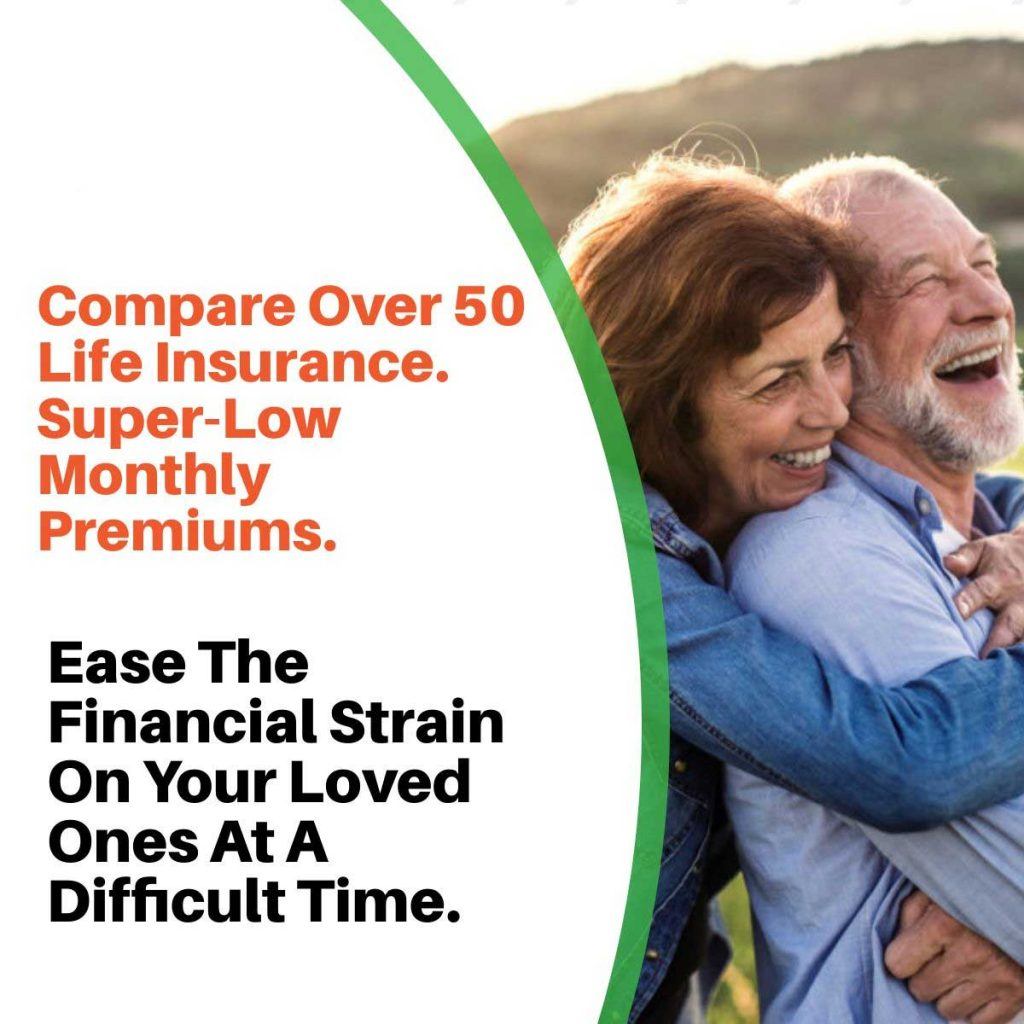 If you are over 50, you may be wondering whether your financial circumstances will be in a satisfactory state, should you die unexpectedly.
Considerations may include whether you can pay for your funeral costs, pay off small loans, or if there is enough money to leave your loved ones with a financial gift. If you want to remove any financial uncertainty over your estate, an over 50 life insurance plan can provide you with the financial protection and peace of mind that your affairs will be taken care of should you die. This article will explain how over 50s life insurance works and if it may be relevant to your circumstances.
Without proper life insurance protection would your loved ones be able to do the following if you weren't around to help out?
Pay off their mortgage
Clear any outstanding debts in your name
Fund their current lifestyle due to terminal illness or financial hardship
Buy a new home
Cover funeral costs
Deal with inheritance tax
Aged 50 Or Over And Need Cover? Compare The Leading Life Insurance Companies Below – 60 Sec Form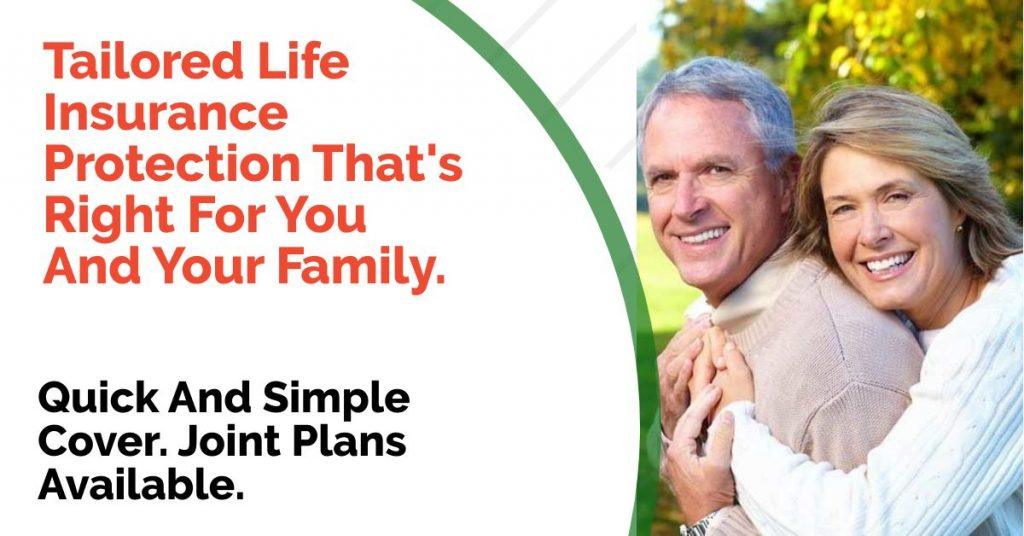 What Is Over 50 Life Insurance?
Over 50s life insurance is a protection plan for UK residents aged 50 or over, broadly targeting the 50 to 80-year age bracket. It is a specific life insurance plan initially made famous by SunLife but has gained popularity across the life insurance sector.
How Does an Over 50s Life Insurance Policy Work?
Over 50s life cover works similarly to other life insurance options where the payment of regular monthly premiums into a policy is required to get cover. If you are a UK resident and you pass away, the life insurance provider will provide a financial cash sum to family or other designated beneficiaries on the policy if the nature of your death meets the policy terms and conditions.
How Does Over 50 Life Insurance Differ from Traditional Life Insurance?
Over 50 life insurance plans do not require a pre-policy medical for insurance cover to be provided. It is a policy known as guaranteed acceptance, as your physical and mental wellbeing do not affect your eligibility. Since pre-existing medical conditions do not need to be declared, the cash payout amount from an over 50s life cover is much smaller than traditional insurance, where medical screening is a requirement. In return for providing guaranteed acceptance insurance, insurers typically cap the cash sum amount at between £20,000 and £30,000 depending on the insurer. Subsequently, the sum of money paid out is intended for smaller financial obligations and not significant commitments like the repayment of a mortgage or paying an inheritance tax bill.
If I am over 50, why should I Consider Life Insurance?
If you are over fifty, life insurance may serve a different purpose than to younger people, who will often get cover against an outstanding long-term debt, typically a mortgage. For over 50s who may be established in their own home, likely reasons for taking out life insurance are the following:
Funeral expenses
If you should die suddenly, your family may not be able to pay your funeral costs. A lump-sum payout can help pay for any funeral costs. While over 50s life cover usually doesn't have specific funeral benefits, some policies also include an additional funeral plans payment if your loved ones use the insurer's recommended funeral director.
Pay off outstanding debts
If you die is it likely that your family will be shouldered with the responsibility to pay off your outstanding financial obligations? A lump-sum payout from a policy can help pay off personal loans, credit cards, and store cards. It will provide financial peace of mind that your financial affairs will be all in order when you pass away.
Charitable donations
Over 50s life cover can be used for more than just financial protection. When you die, a sum of money could serve to provide a donation to a favourite charity or worthy cause that is close to your heart.
Financial gift for loved ones
If you are over fifty, you may have children, grandchildren, or other loved ones. It can be a nice gesture to leave a financial gift from a life insurance policy. A beneficiary can use a monetary amount for any purpose, such as helping pay for higher education or purchasing a car.
Very low cost
An over 50s life insurance policy is very low cost as the cash sum payout compared to traditional life insurance is much lower, typically capped at a maximum of £30,000. Subsequently, from as little as £4 a month, a policy can be put in place providing financial security to ensure that your monetary affairs are in order when you pass away.
Employer cover may be coming to an end.
If you are over 50, retirement from your job may be on the horizon. As part of your employment contract, there may be a death in service benefit. Putting in place a life insurance policy would ensure that cover continues in a private capacity when you leave the workplace.
Features Of Life Insurance For The Over 50s Include:
Comprehensive critical illness cover available
Great terms for all age groups – not just over 50-year-olds
Life cover for those divorced or separated
Policies for UK ex-pats
Cover for mortgage payments
Over 50 life insurance with no medical exam
Best Over 50's Life Insurance With No Medical Or Health Questions. Get Your Free Quote Today.

What Should the Best Over 50s Life Insurance Cover?
Guaranteed acceptance
For an over 50s life insurance plan, there should be guaranteed acceptance onto a policy. It means that pre-existing medical conditions even for a smoker are not taken into account by the insurer, nor is a medical examination required.
A payout guarantee
Typically, a payout guarantee means a sum of money pays out as long as you have paid at least 50% of the monthly payments. The calculation is made from the policy start date until the policy anniversary date after the birthday when you turn 90 years of age.
A cease of premium limit
A reputable insurer will permit a policyholder to stop making monthly payments after they reach a certain age but remain covered. The period varies between insurers but is usually from 85 to 90 years of age.
Flexible payments
If you are faced with financial hardship and are at risk to miss a payment, reputable insurers will permit a reduction in monthly payments as long as a minimum payment is maintained and you do not stop paying. It makes sure that your policy is active and any payout will remain valid.
Immediate accidental death cover
Insurers offering over 50 life insurance will often include accidental death coverage in the first year of the policy. Other causes of death do not result in a payout in the first year of a new policy.
Full insurance cover after a year
A reputable insurance provider will payout after the first full year of paying into a new life insurance for over 50s plan as long as you do not miss a payment or stop paying. Although not common, any provider that extends this payout period beyond the first year should be avoided.
Funeral benefit option
Many insurers will include a funeral benefit option where additional payment is included to help pay funeral costs. It is often a requirement to use a specific funeral director when a funeral plan option is included.
How Can I Compare the Best Over 50 Life Insurance Policies?
When considering life insurance for the over 50s, you must compare life insurance like for like. It must be judged against other over 50 life insurance and not traditional life insurance which requires medical screening. The best life insurance policies are not always the cheapest but are plans that once put in place closely align with your circumstances.
Key Considerations When Comparing the Best 50s Life Insurance Policy
There are important areas for consideration that form the basis of a robust policy. Below is a list of the key points you should consider before taking out an over 50s life insurance policy.
How long do you need cover for?
The reason why you are taking out insurance in the first place should dictate how long you need cover. As an example, if you are an older parent, a plan might be to ensure that your children can still afford to finish their further education if something happens to you.
How much cover do you need?
The cover in a life insurance policy refers to the monetary lump sum that pays out to designated beneficiaries on a policy should you pass away. The level of the monthly premiums required will relate directly to your situation. If you have few savings and need to ensure that your funeral costs are covered, with the average cost of a funeral being £4,000 in the UK, this may be a good cover amount. If you have no debts and want to leave a fixed cash sum to dependents as a gift, perhaps £12,000 might be an appropriate level.
As you can see, no two personal circumstances are the same, and you should get the coverage that you think will work for you.
What is the cost of cover?
The cost of cover refers to the monthly premiums that you pay into a policy, which corresponds to a certain level of payout. For a small payout amount to cover a funeral cost, the cost of life cover may start with premiums as little as £5 a month.
What is the maximum entry age limit?
Insurers will have a maximum age for those they accept as a policyholder. For an over 50s life insurance plan, this is typically 80 years old, although this can range slightly lower or higher depending on the insurer.
What is the claims process?
When selecting a particular insurer's policy, it is prudent to look at how long a payout takes once a claim is made. The claims process is available in the policy terms and conditions. If additional comfort is required, it is also worth looking at the insurer's payout level, which is expressed as a percentage; a high payout amount is preferable.
Looking for the best over 50 plan? Insurance Hero is a leading independent life insurance broker with extensive experience in providing life insurance for the over 50s. Contact one of our friendly but professional staff today on 0203 129 88 66 for a no-obligation quote that will closely align with your circumstances.
I Need A Higher Level Of Life Cover- Are Other Options Available for Over 50s?
If you are over 50 and require a more substantial level of life cover than is available under an over 50s life insurance plan, you may have to look at other life insurance products. Two scenarios where this may apply may be to provide cover for an outstanding mortgage or make sure there are sufficient funds in place to pay an Inheritance Tax Bill.
Mortgage Repayment
If you are over 50 years of age, you may have decided to take on a new mortgage, equity release, or another type of secured borrowing. Such a significant financial obligation will require a protection policy, so the debt is repaid in full should you die, and dependents are not left with an estate saddled with creditors.
Inheritance Tax
If you are a UK resident and have a substantial estate that you will pass on to your family, there will be an inheritance tax bill to pay to the UK government. A life insurance policy can be tailored to pay off an IHT bill when you die, so the beneficiaries inherit your estate free and clear of debt.
If you have significant financial commitments, there are two life insurance options that you will need to consider.
Fixed-term insurance
Fixed-term life insurance is the most common of the life insurance over 50 products, whereas for younger policyholders it typically covers a mortgage. It is available for over 50s, but as a traditional life insurance product, it does require a strict medical examination and the disclosure of pre-existing medical conditions to be accepted for a policy.
Term life insurance provides insurance coverage for a set duration, meaning once the policy expires, no payout will be due should you die. As mentioned, fixed-term insurance is typically used to match up with a mortgage or fixed-term loan like equity release, and it means if you pass away the debt is repaid in full. Other uses for fixed-term insurance include paying an Inheritance Tax Bill or covering the cost of private or further education for your children.
Whole-of-Life Insurance
Whole-of-life insurance is the most-costly insurance type, especially if you are over 50. Full medical screening and the disclosure of medical conditions are mandatory to be considered for this insurance product. Unlike term insurance where a policy lapse after a fixed payment term, whole-of-life does not have a fixed duration and will continue until you die, whenever that is.
Like term insurance, those with whole-of-life are typically looking to cover significant financial obligations should they die.
Both term and whole life insurance become increasingly expensive as you get older, as there is a higher risk of something happening to you compared to a young and healthy policyholder. For an over 50, the cost may be very high, but you should not let this deter you. It is still crucial to look around as there are competitive life insurance quotes out there offered by specialist insurers.
Life Insurance Quotes Over 50. How Can Insurance Hero Help You?
Insurance Hero is an Independent Life Insurance Broker with extensive experience getting cover for over 50s and for those entering into retirement. This includes over 50s life insurance plans, fixed-term insurance, or a whole-of-life policies. Being an independent broker means that
Insurance Hero does not align with a particular provider, and instead, it works with an extensive network of specialist underwriters. Insurance Hero knows both the application process and the claims process intimately to ensure over 50s have the best policy aligned to their circumstances.
Contact Insurance Hero today for a competitive, over 50s life insurance quote that closely aligns with your circumstances. Our professional team of brokers is available on 0203 129 88 66 and will be happy to run through your best over 50 plan options.
Summary
If you are over 50 years old, you may already be a homeowner, and the reason for taking out over 50s life insurance might be to clear small debts, leave a financial gift, or cover your funeral costs. Of course, if your needs are more substantial such as paying off inheritance tax, a policy that requires medical vetting rather than guaranteed acceptance will be more relevant. In all cases, it is essential to be clear why you are taking out insurance and then use a reputable broker's services to ensure any policy closely aligns with your circumstances.