Best Life Insurance For Smokers & Vapers 2022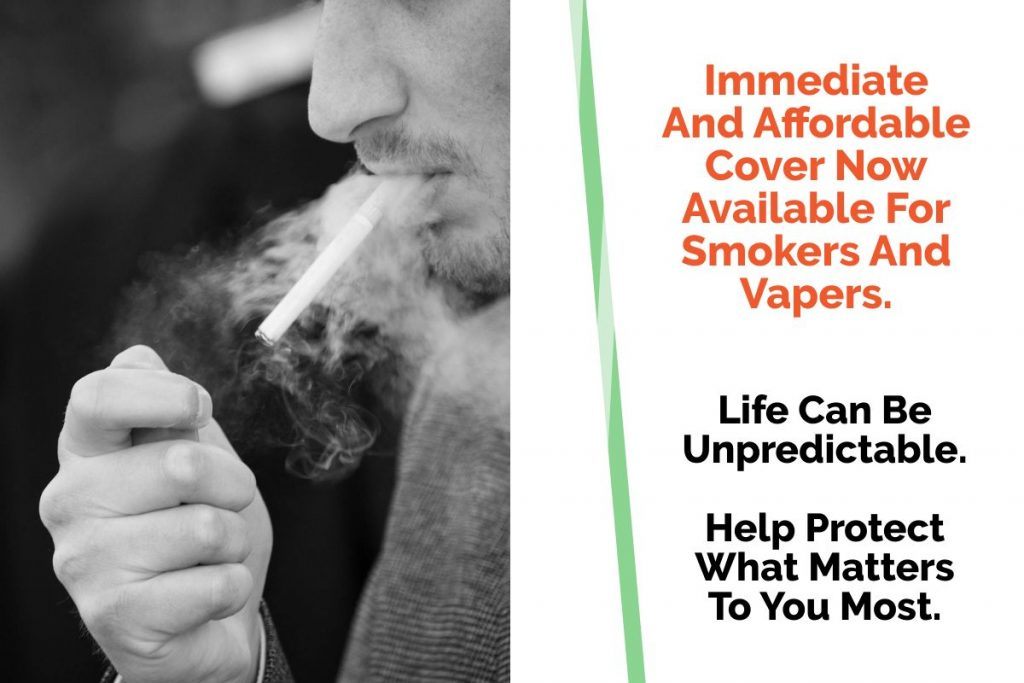 Estimates in the UK still indicate over 9 million people smoke despite smoking restrictions in indoor public places. Smoking-related deaths are also still elevated at close to 100,000 per year.
Are you one of those UK residents that smokes? Do you ever worry that your bad habit will impact your family should you die early from a smoke-related illness? Despite what you may have heard, life insurance is still available for smokers and may not cost as much as you think. Read on if you want to find out more.
Without Proper Life Insurance Protection, How Would the Following be Covered?
Will your estate be free from an Inheritance Tax Bill when you pass away?
Provision of cash gifts to relatives?
Mortgages and other significant financial commitments. How will these be repaid if you die?
Outstanding debts in your name
Planning for a funeral
Life Insurance For Vapers & Ex And Current Smokers. No-Obligation Quote Form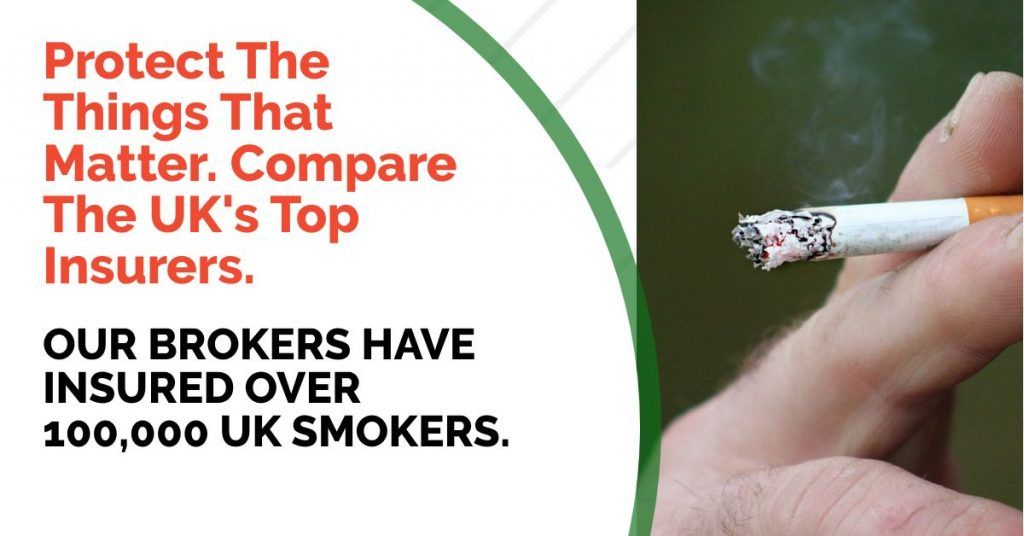 Reasons to Choose Us:
Compared With The Main Competition There Are Fewer Exclusions For Smokers And Vapers
Secure Online Quotes. 5 Star Rated Service
Safeguard Your Financial Future. 60 Second Form. Great Selection Of Insurance Plans. Protect Your Family
Reliability – Honesty – Caring – Trustworthy – Amazing Prices – UK-Based Staff And No Overseas Call Centres
Premiums For Older Individuals Routinely Preferable To Other Insurers
Can You Get Life Insurance If You Are a Smoker?
If you are a person who smokes on a regular basis, it is possible to get life insurance. A premium is likely to be higher than for a standard insurance policy, reflecting the increased health risks of lung cancer, other cancers, heart attack and serious health implications. It means you may die younger due to your smoking-related activities compared to a tobacco or vape-free adult.
Life insurance companies have different ways of classifying someone who smokes as compared to a non-smoker. The aim is to put in place a policy that accurately reflects your habit to minimise any risk of a payout dispute with an insurer should you die.
The main difference between life insurance for smokers versus non-smokers is the cost of cover and how likely you will be accepted for cover. Although rejection is uncommon, insurers will look at pre-existing health conditions related to your smoke-related activities.
Why You Should Consider Life Insurance as A Smoker
Smoker's life insurance provides a financial lump sum for your dependents should you pass away and is funded by paying monthly pre-defined premiums throughout a life policy.
If you have any of the following financial commitments, which your loved ones may struggle to pay if you die, then you should consider life insurance:
An outstanding mortgage or equity release loan
Unsecured personal loans
Credit card debt
Childcare or other education fees
No savings
One family income
Who Do Insurers Classify as A Smoker?
An insurance company will classify a person who smokes as anyone that has smoked or used nicotine replacement products like nicotine patches within the last twelve months. Depending on the life insurance provider, a classification for someone who smokes can exist for up to five years from stopping.
Some insurance companies are willing to look at how much you smoke. There is a thin dividing line between classification as a full-time and an occasional smoker for life insurance purposes.
Compare Life Insurance For Smokers Quotes >> 60 Second Form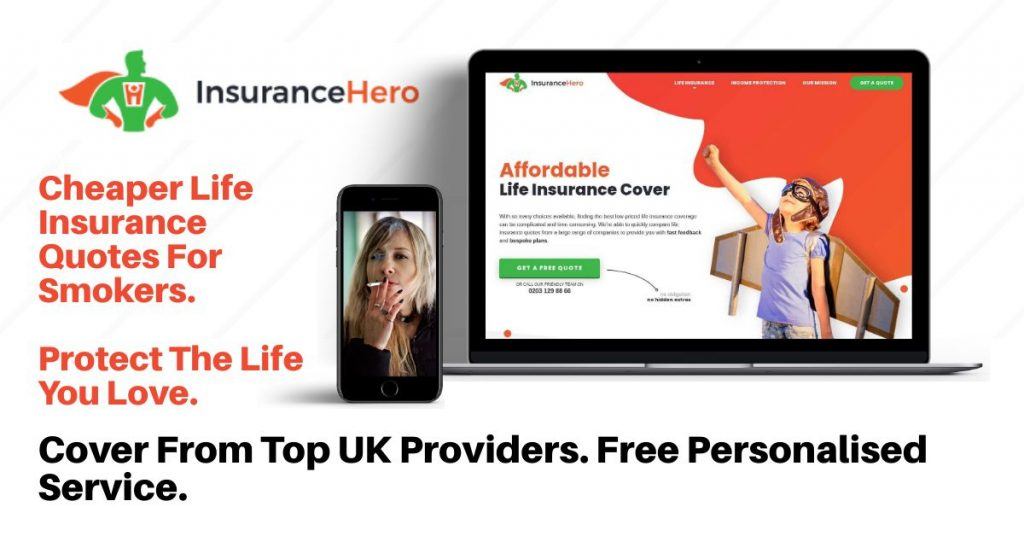 Is Vaping Classed as Smoking?
If you vape with e-cigarettes regularly, you are considered a smoker by underwriters, even if you use liquid that is non-nicotine based. Vaping, like cigarette and tobacco consumption, depending on insurance companies, can also result in your premium classification and smoker life insurance rates staying in place for up to five years from when you stop vaping and certainly for a minimum of twelve months.
How Much More Does a Life Insurance Policy for a smoker Cost?
The life cover cost difference between someone who smokes and non-smokers is not as marked as you may think.
There will be an increase in premiums if you are someone who smokes; however, if you are young, in your twenties, and get through ten cigarettes a day, the premium increase is quite negligible. Someone in this age category can expect to pay around £7 a month in premiums, with a similarly-aged non-smoker paying around £5 a month.
Insurance companies look at the likelihood that you will die from your smoke-related activities. The number of cigarettes smoked a day, the length of time you have smoked, and your age at the time of applying will all be a factor in determining premiums.
If you are someone who smokes and is aged 50 when applying for life coverage, a quote is likely to be double that of a non-smoker quote. It may start at £40 a month depending on the extent of your smoke-related activities.
How Can Insurance Hero Help?
Insurance Hero is an independent broker that has experience in providing term life insurance for smokers. We have relationships with underwriters specialising in offering cover to those in higher-risk insurance categories.
As an independent broker, we compare the best life insurance quotes from many underwriters meaning that we get not just affordable life insurance for smokers quote, but also one that closely aligns with your circumstances. If you have stopped smoking, we can also help you put in place a non-smoking life cover after twelve months of being habit-free.
Compare The UK's Top 10 Insurers for Smokers. Find the Best Policy & Save Money Today

What Is the Best Smokers Life Insurance?
The best life insurance policies are not just the policies with the most competitive premium quote. The best insurance for smokers' life policy is one that closely aligns with your smoke-related activities. A close alignment is essential because it reduces any possibility that a lump sum payout is withheld due to discrepancies in a policy quote's accuracy over your activities and personal circumstances.
What Are the Key Questions Insurers Will Ask About Your Smoking?
You will need to answer questions honestly regarding the extent of your habit as underwriters can request that you undertake a cotinine test if a pre-policy medical is a requirement. The test is how life companies know if you are someone who smokes.
Typical questions you will be asked as part of a fact-finding questionnaire regarding your smoking activities can include the following:
What type of nicotine or tobacco products do you use?
How many cigarettes or vapes do you get through a day?
Have you any pre-existing health conditions resulting from your habit?
How long have you been a smoker?
What Happens If You Stop Smoking After You Get Life Insurance?
If you stop smoking after starting a plan as a smoker, you will not see an immediate reduction in premiums. As mentioned, depending on the insurer, an adverse status can be retained for up to five years once you stop a habit.
You must advise your insurer when you stop smoking. Sometimes, once you stop, it is worth checking quotes from other insurers to see if it is possible to reclassify as a non-smoker.
What Happens If You Start Smoking After You Have Life Insurance?
If you have a standard non-smoking life insurance policy, it is crucial to advise your insurer if you start up a habit as it will affect the terms of the plan and the cost of cover.
Suppose you should die from smoking-related activities, having failed to advise your insurer of your habit. In that case, it may invalidate any payout due to your loved ones who are named as beneficiaries on your life cover plan.
Contact Insurance Hero today for a fast and cheap life insurance quote. We are specialists in tailored, competitive quotes for smokers and vapers. Contact our team today on 0203 129 88 66
The bottom line is that quitting cigarettes will have a real financial upside to it in the long term, not to mention the benefits to your health.
If you took out life insurance when you were a smoker, you can request a review of your premiums due to a change in circumstances, provided you've been smoke-free for at least one year. Not all insurers will lower the premiums, but it's certainly worth asking because you could very well find that you're able to save substantially on your life insurance premiums.
Can You Be Denied Life Insurance If You Smoke?
No, you can't be denied life insurance if you smoke. However, life insurers can charge you higher premiums and may deny coverage for other health problems. All life insurance companies use your risk pool to determine your eligibility for coverage and premiums.
That is the likelihood of your death before receiving all benefits. Insurance companies compare the life expectancy of smokers with that of non-smokers when determining how much to charge for life insurance premiums. As most people realise, smoking can affect your health, leading to conditions such as cardiovascular disease.
Do You Have to Tell Life Insurance Companies If You Start Smoking?
No, you do not have to tell your life insurance company if you start smoking. The insurance company will only take your smoking into account if you already have a condition that puts you at risk for certain kinds of cancer or heart disease, or if you have a family history of those conditions. They will generally not take into account your tobacco use if you are healthy.
How Do Insurers Know If You Smoke?
Most insurers ask about smoking as part of the quote or application process. You can add "non-smoker" or "smoker" to your insurance application. They can also check your medical records. Recently, some insurance companies have been using lifestyle questionnaires to assess the risk of their customers.
Life Insurance for Social Smokers
The boundary of where an occasional smoker turns into a smoker for life coverage purposes differs between insurers. In most cases, being a social smoker will not give you a smoker's classification. However, if you are someone who smokes occasionally, it is vital to compare quotes with an independent broker like Insurance Hero to ensure that you are considered for standard terms.
Life Insurance for Smokers Over 40
If you are over 40, the life cover cost will be higher than for a younger smoker, and the acceptance criteria will be more rigorous. The insurer will likely require more information on your medical history, possibly from your GP, and a medical examination before being accepted for a plan.
For those over 40 who smokes, it is vital to apply as soon as possible for a life plan. The longer you leave it will result in premiums escalating in cost.
What About Life Insurance for Other Types of Smoking Activities?
Two other types of smoking activities include cigars and cannabis.
Cigar smoking is another form of nicotine intake, the extent of which will affect the level of premium. Again, there is a blur between what is classified as social and regular smoking.
Cannabis, although a form of smoking, classifies as recreational drug-taking. Subsequently, you will need to declare cannabis use when you complete an application form. Failure to disclose recreational drug-taking will void a payout should you die resulting from drug-taking activities.
What About Smokers Critical Illness Cover?
Many life policies include critical illness cover as add-on protection for your life plan or a stand-alone policy. Critical illness pays out a lump sum should you no longer work following the diagnosis of a critical illness. For smokers, thorough medical screening, including a chest x-ray, is often an essential step needed to be accepted onto a policy.
How Does Smoking Affect Life Insurance for Joint Policyholders?
One way that smoking affects life insurance is through joint life insurance policies. When two people are insured under the same policy, both people's health histories are considered when determining premiums. In addition, many insurance companies offer a discount to a person with a non-smoker status. As a result, being a smoker can significantly impact the cost of a joint life insurance policy.
Summary
If you have read this guide and are a smoker considering life insurance, you should be heartened that, although premiums are higher than for a non-smoker, the focus of a proficient broker is not just cost but also putting in place a watertight policy. It means that should you die, having a plan that closely matches your smoking activities means your loved ones will get that financial payout they deserve.
If you'd like to explore more life insurance guides, our website offers various resources that can help you learn more about the life insurance specific to your job, health condition or personal circumstances.