Life Insurance For Smokers 2021 Guide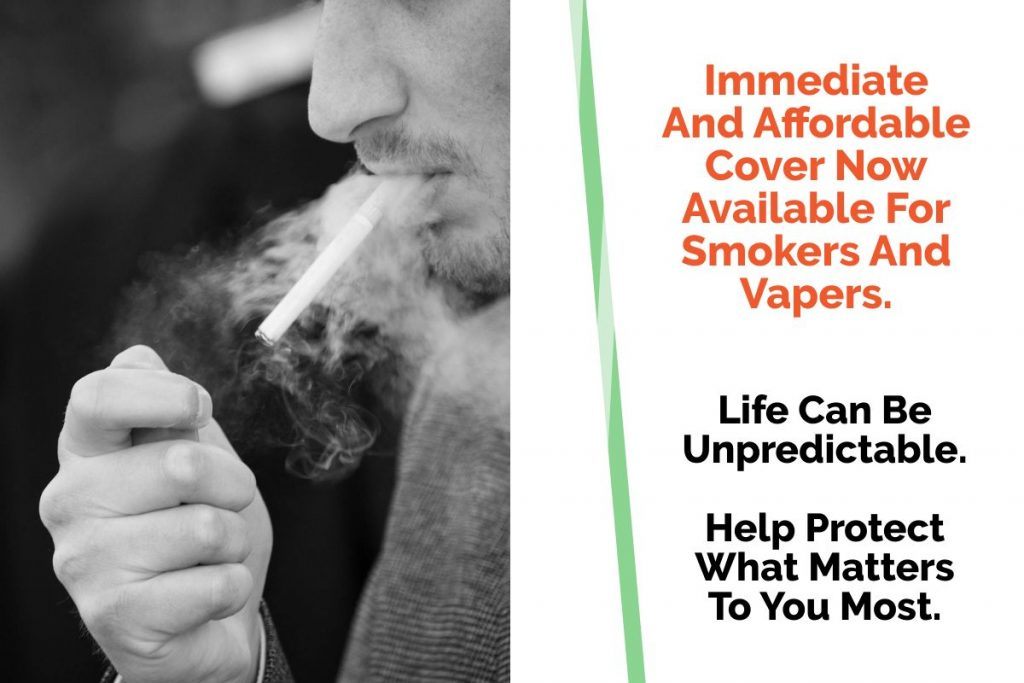 Four years ago, Stoptober was launched, which officially sees the first day of October begin a 28-day smoke-free period.
The support is there for those who are ready to give stopping a go, and if you aren't quite there yet when you see the figures below, you may want to mark the 1st of October (Stoptober) on your calendar for next year… and that's if you don't try yourself before that.
Life Insurance For Vapers & Ex And Current Smokers. No-Obligation Quote Form

According to the Office of National Statistics, 19% of Brits are smokers. Back in 1974, 46% of the nation smoked tobacco products, so there are fewer people smoking.
What we also know from the research is that of the 19% of people using tobacco products, a staggering 67% want to kick the habit. Some for health reasons, others who may be struggling financially or simply unwilling to pay the high prices for cigarettes, which from March 16th, 2016 rose by 21p per 20. "16.5% of the retail price plus £196.42 per 1,000 cigarettes" is what retailers pay for the Tobacco Duty Rates.
There is Real Money Going Up In Smoke
The cost of smoking any tobacco product is expensive. It's nearly £10 (£9.60) for a 20-pack of cigarettes, depending of course which brand you smoke. The even more bad news is the prices are set to rise again. Government proposals are considering hiking the price to around £15 per pack of cigarettes by the year 2020.
Smokers in the age group of 25 – 34 years old will smoke approximately 10 cigarettes a day. That's going to cost approximately £35 per week, and quite possibly more since there's no price cap, only minimum pricing on tobacco products. An annual spend would be around £2,000 for the average smoker.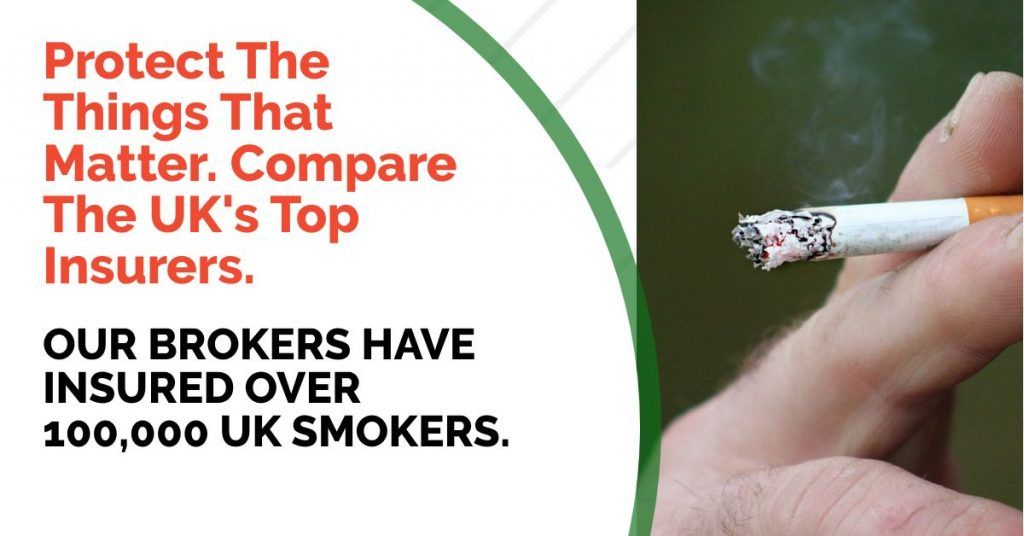 Compare Life Insurance For Smokers Quotes >> 60 Second Form

Life Insurance Policies And Cover For Occasional And Regular Smokers
Better health and more money in the bank. Perfect scenario!
Guide Rate Figures Released by Go Compare on Life Insurance Estimates
A 20-year old healthy non-smoker would pay a life insurance premium of £5.64 on average. A smoker though would expect a quote of around £8.10 monthly.
Five years later, by the age of 25 and still not smoking – £6.87 would be the average monthly premium for life insurance for a non-smoker. For smokers, that's going to rise to £10.24.
By the age of 30, the average premium for a non-smoker is £8.44. Smokers, the same age would have a higher premium of £14.63.
That increases again by the age of 35-years to an average of £11.24 for a non-smoker and for smokers you can expect to pay around £20.98.
Taking out life insurance at the age of 40 can see premiums average £16.04, however, for smokers, the cost is an astronomical £34.19 per month.
What's worse for smokers are that those estimations are based on 25-year term life insurance policies. If you haven't stopped smoking by the age of 40, a 25-year term policy will cost you in the region of £10k for cover from the age of 40 up to 65. The reason being, smoking is linked to several health conditions and a higher risk of possibly fatal conditions such as heart attacks, strokes and cancer, to name just a few.
Given that the majority of term life insurance policies are going to come under review periodically, taking a policy out as a smoker at the age of 20 would still see your premiums increase after every policy review due to the smoking status.
12 months being tobacco-free and the premiums will come down. That's provided you shop around because some insurers will treat a year of being tobacco-free as you being a non-smoker, with others slightly increasing the cost of cover due to being an ex-smoker.
What's more, is that…
Vaping is Not Excluded: Life Insurance For Vapers In The UK
Electronic cigarettes have been used by people in a bid to stop smoking. In the eyes of insurers though, it's still treated the same and you will be considered a smoker, and subsequently quoted as such if you use vaping machines or e-cigarettes.
The problem with vaping is that whilst it has proven to be healthier than smoking tobacco, it's not been proven safe. There's no knowledge of the long-term possible health implications, therefore, using e-cigarettes or vaping as it's referred to still counts as smoking by insurance firms. Nicotine is still entering your system, so you're only avoiding the tar associated with smoking and still consuming nicotine.
The bottom line is that quitting cigarettes will have a real financial upside to it in the long term, not to mention the benefits to your health.
For those who have taken out life insurance when you were a smoker, you can request a review of your premiums due to a change in circumstances, provided you've been smoke-free for at least one year. Not all insurers will lower the premiums, but it's certainly worth asking because you could very well find that you're able to save substantially on your life insurance premiums.