According to a recent study, more than 13 million citizens of the UK reside outside the borders of this region, more than five million of them permanently domiciled in foreign lands.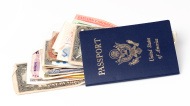 More UK residents are leaving their home territory now than was the case ten years ago.
Residents of one country who live in another are referred to as expatriates and their reasons for leaving pertain to work, education, and personal life. If these individuals act similarly to other residents of the UK, 34 percent of them will have life insurance cover when crossing UK borders.
Increased Exposure to Risk
The problem with leaving the UK with life insurance in force is that many policies will not continue cover after relocation. Millions of UK expatriates are paying for insurance cover that can never be used, leaving their loved ones with increased financial exposure.
An insured with a dependent or one who has a long-term financial commitment such as a mortgage is taking a major risk and may be unaware of this. If the individual dies, beneficiaries may go bankrupt and become homeless because they cannot survive financially. Less extreme consequences include the inability to pay educational fees for minor children and a declined standard of living.
Expat Life Insurance From A UK provider. For Expats & Business Travellers. Flexible Policies Tailored For You
Key Ex-Pat Life Cover Features And Criteria…
Life Insurance, Critical Illness Cover, Whole of Life and Family Income Benefit options
Level and Mortgage Decreasing term assurance options, international term life insurance
Available to Non-UK residents with an insurable interest or financial liability in the UK
Examples include a UK mortgage or debt, dependent spouse or children, UK inheritance tax liability, school/University or care home fees in the UK or a UK based company with overseas key people or shareholders
Must be able to pay the premiums from a UK, Channel Islands, Isle of Man or Gibraltar bank account
Provided by a UK based insurer and priced accordingly with no cost loading applied
HSBC expat life insurance and Friends Provident expat life insurance
If an expatriate is the main source of income for the family and he or she dies, surviving dependents will fall into severe financial distress if life insurance cover is not in force. An employed surviving spouse may need to obtain secondary employment while one who is not working may need to get a job.
If this adult was out of the workforce due to childrearing, alternate childcare arrangements become necessary and these typically come with a high price tag. This can make it even more difficult to cover living expenses such as groceries, utilities, and rent or a mortgage.
Life Cover For Non-UK Residents
Before UK residents move abroad, they should determine whether their life insurance policies will travel with them. If not, serious consideration should be given to purchasing a new life plan. An expat who does not have cover in force before exiting the UK should assess whether purchasing one is a smart investment.
Unstable political conditions make it risky to live in many foreign countries particularly . Even residing in one of these countries temporarily could be dangerous because it can increase risks to health and overall well-being.
Insurance for expats is special cover for individuals with residency in one country who live in a different one. These policies are offered by some international insurance companies but their availability varies based on geographic region.
As an example, British expats living in the Middle East have relatively few options when it comes to providers and policies. Friends Provident International, Eagle Star International, Scottish Provident International, and Royal & Sun Alliance are the major international insurance companies offering life cover to expats in this region.
An expat may find local cover but many insurance professionals are wary of this approach. Beneficiaries of expats who die outside of the UK often find it difficult to make claims with insurers local to where the deceased lived. Experts recommend that expats instead select an internationally recognized insurance company.
Specific Relocations
After relocating to the Middle East, residents of Britain and northern Europe can find cover through Friends Provident at British rates. Other providers offer investment-linked whole of life policies that are usually more expensive but have value upon surrender if the plan is no longer needed.
A UK expat relocating to Lebanon, Israel, or certain other regions may discover that insurance policies do not include war risks. When shopping for cover, these individuals should review the conditions, terms, and exclusions of each available policy carefully and ask questions that arise during the process. This will prevent unexpected gaps in cover and surprises if a claim becomes necessary.
Existing cover including benefits for death in service included in employer-provided pensions should also be reviewed. Benefits are typically a multiple of the salary but may not be enough to provide surviving beneficiaries with a comfortable lifestyle.