Best Cancer Life Insurance And Critical Illness Quotes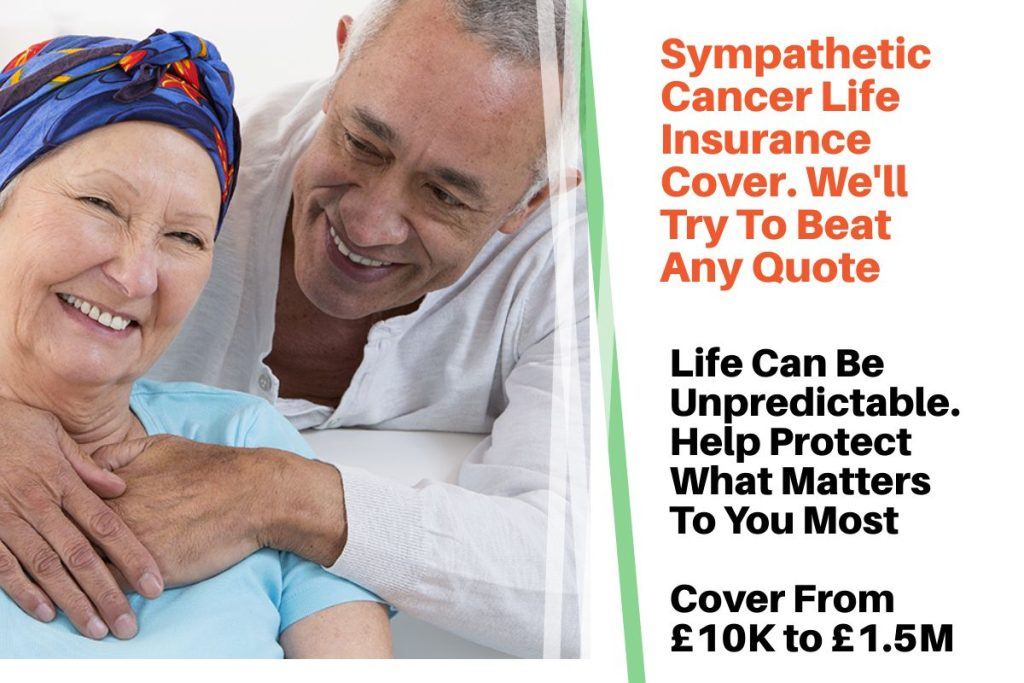 When a medical tragedy strikes, knowing there is financial support for you and your family can bring a lot of relief to everyone involved.
Cancer is not an easy topic to discuss but the statistics surrounding this devastating illness makes cancer insurance something to seriously consider when looking at a life insurance policy and critical illness cover.
Adding cancer life insurance to your insurance coverage portfolio can help protect you and your family's financial future and aid with the high cost of medical bills associated with this illness.
Having this type of protection can allow the policyholder and his or her family to focus on recovery rather than financial issues. There are many options available when it comes to cancer insurance and Insurance Hero is here to help you find a policy that best fits your unique needs.

Compare The Leading Life Insurance Companies Get The Best Deal – 60 Sec Form
Important Information Regarding Cancer Life Insurance
Generally, critical illness policies that include cancer life insurance will provide coverage for individuals up to age 70 or 75 and select plans will even cover individuals up to the age of 85. When thinking about purchasing this kind of insurance, it is important to remember that almost 10 percent of all new cancer diagnoses occur before the age of 50 and almost 55 percent of new cases occur before the age of 75. Researching and purchasing this policy early on may be a great decision based on these statistics.
Premiums associated with cancer life insurance generally increase over time, so purchasing this type of coverage early can help lock in lower rates. If you already carry cancer insurance, it is also important to review the types and stages of cancer that will be covered. With advances in screening and treating this disease ever-improving, critical illness and cancer coverage can change and some policies may even become outdated as this disease is diagnosed and treated in much earlier stages than previously.
What Conditions are Covered Under Cancer Life Insurance?
The two most commonly diagnosed forms of cancer are the cancer of the prostate and cancer of the breast. These two forms of cancer are generally covered under most cancer insurance and critical illness cover policies and most policies also offer additional coverage for the earlier stages of these particular diseases.
Breast cancer accounts for approximately 30 percent of all cancer diagnoses in women of the United Kingdom while prostate cancer accounts for approximately 25 percent of all cancer incidents in men.
Recent changes in cancer insurance now cover additional procedures to reflect the changes in medical screening and diagnosis. Previously, coverage for surgeries for women was limited only to mastectomies whereas recent coverage now supports any number of different procedures.
Also, cancer life insurance issued by a number of different providers now covers lower grade prostate cancer for men. These changes in coverage help insurers stay up to date with the latest advances in the medical field.
Not All Policies Are Created Equal
Although cancer is considered a core critical illness under most critical illness cover policies, not every policy covers less advanced forms of this disease. Because of this, it is important to thoroughly research any cancer insurance policy and make sure it will meet all of your coverage needs. The Association of British Insurers, or ABI, defines cancer as "any malignant tumour diagnosed as positive and characterised by the growth of malignant cells and tissue invasion."
This definition applies to illnesses such as sarcoma, leukaemia, and lymphoma. Because of how cancer is defined by the ABI, some policies may not include coverage for conditions such as pre-malignant tumours, non-invasive tissue, borderline malignancy, low malignant potential cancer of the situ, low-grade prostate cancer, early stages of breast cancer and a number of other circumstances. Make sure to review any cancer insurance policy and fully understand which diagnoses may not be covered.
A cancer diagnosis can be a devastating shock to any individual and his or her loved ones. Although no amount of planning can prepare a family for dealing with this terrible disease, purchasing critical illness cover with cancer insurance can help those who are suffering from cancer and their families have one less thing to worry about.
Cancer life insurance can be tremendously helpful in managing high medical expenses and choosing a policy that fits your needs can only further ease a policy holder's mind. Mortgage life insurance with pre-existing medical conditions is also available through the Insurance Hero team.