Motorsports Life Insurance & Critical Illness Plans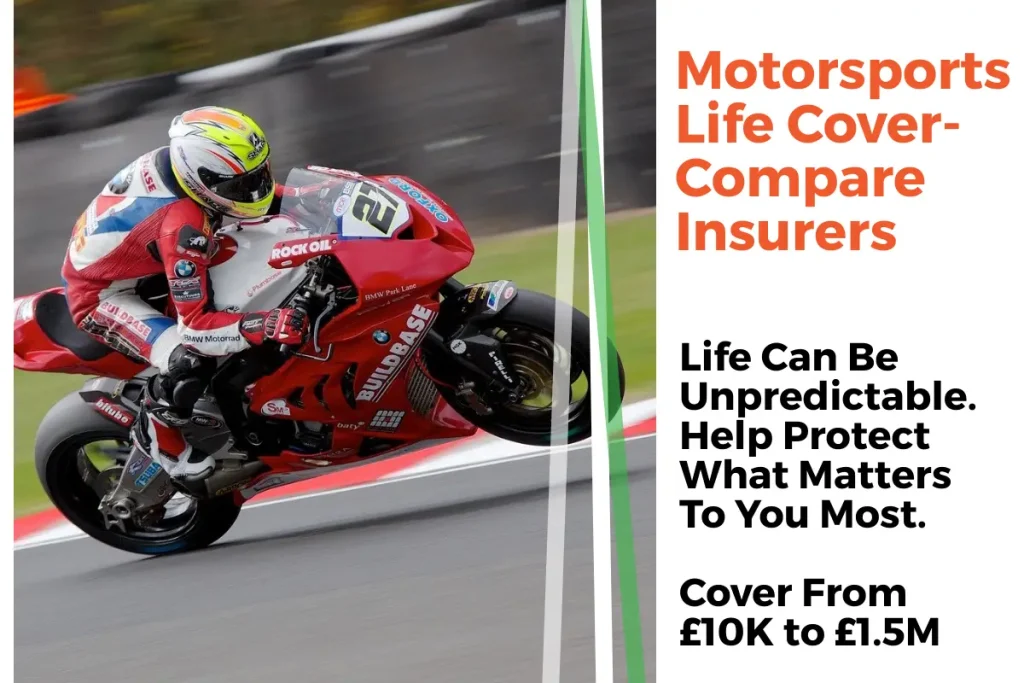 Whatever your participation in motorsports, do you want continuous peace of mind? Carry on reading and find out how Insurance Hero can provide life cover for your loved ones allowing you to undertake your chosen motorsport with complete peace of mind.
Some sound reasons to consider getting a quote today:
Those involved in motorsports (amateur and professional) can get affordable, comprehensive life insurance
Get a quick and free quote without having to visit an office
You are not required to purchase insurance after you have received your quote
You have many options for coverage. These include mortgage and critical illness coverage.
Flexible coverage for whole-life insurance plans
Outstanding customer service reviews have been received
Great rates for shared coverage policies
We will let you know how much motorsport life insurance costs and which policies are most suitable for your budget.
Excellent rates on shared coverage for same-sex couples
You can get critical illness coverage separately or together with your life insurance for a small additional cost
After You Die It's Too Late For Life Insurance! Protect Your Family. Get A Free Quote Today!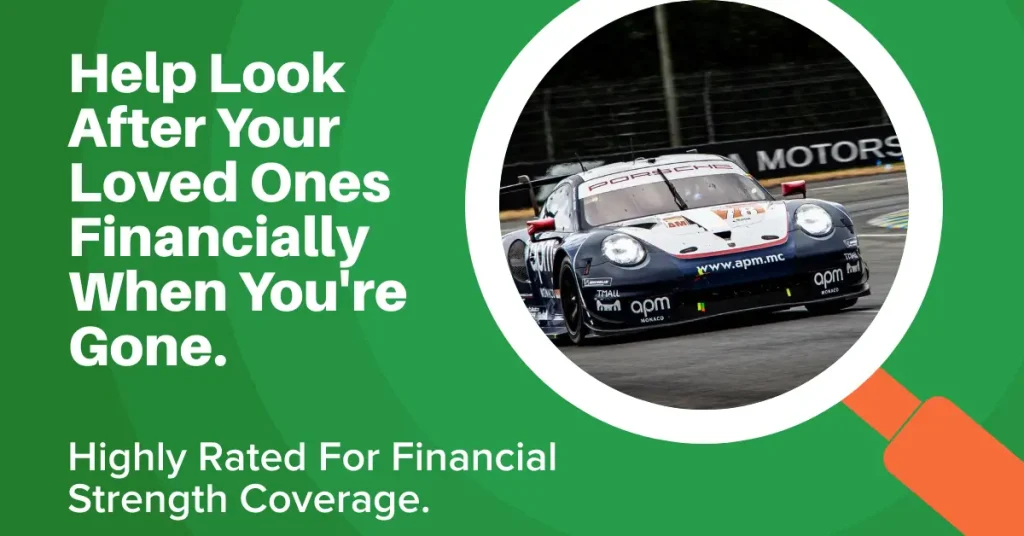 The Impact Of Motor Sports On Life Insurance and Associated Covers
Motorsport is an activity that has a broad variance in risk. Events in motorsport are extensive. For life insurers, this can be challenging.
Consider the shortlist below for an idea of the breadth of participation in motorsports:
Are you a professional racing driver?
An instructor
Participate in motocross
Participate in car rallies and endurance events
Take part in regular track days
Do you participate in offshore powerboat racing?
Insurance Hero Will Quote To Include Your Motor Sport Activities
Insurance Hero has forged strong relationships with specialist underwriters, including those insuring motorsport activities.
Our aim, wherever possible, is to have your motorsport activities included as part of your sportsperson life insurance policy and not excluded. Depending on your motorsport participation, insurers may load premiums, not quote, or prohibit your activity from the life cover.
We want to know the nature of your motorsport activities fully. We use a fact-finding questionnaire which we complete with you, allowing us to pass accurate details of your motorsport participation to underwriters.
For insurance underwriters, they will want to know the extent of your motorsport activities before offering motorsports life insurance, income protection, and critical illness cover.

Protect Your Family For Less – Compare & Save – Policies From Leading Insurers – Quick Quote

Typical questions may include:
What type of motorsports are you involved?
What is the frequency of your sporting activity?
Are you involved in cars, motorbikes or boats?
What is the horsepower or engine used in your motorsport activity?
What is your level of participation in motorsports?
Recreational
Amateur
Semi-professional
Professional
How Does Life Insurance Cover With Motor Sports Work?
Life insurance cover provides a financial lump sum to designated beneficiaries on a policy should the policyholder die. The size of the pay-out is at the outset of the life cover policy. Insurance Hero, through a fact-finding questionnaire, will get an overview of your circumstances.
There are reasons for getting life insurance. One of these is to make sure any financial debt settlement should you die.
Such commitments may include but not be limited to the following:
Personal loans
Outstanding mortgage
Credit card debt
Car loan
Hire purchase agreements
Equity release
Hire purchase
Bank overdrafts
Another reason may be to provide your family with a regular income to replace your salary should anything happen to you, useful if you are the primary breadwinner Mother, Or Father in a household. Even if you have no debt and no mortgage, providing your wife and children in the event of your death is useful.
Our friendly team can help you get that motorsport life insurance quote tailored to your needs, including your motorsport activities. Contact our brokers today on 0203 129 88 66 for a no-obligation chat and quote.
Critical Illness Cover Explained
What would happen to you and your dependents if you are no longer able to work following the diagnosis of an illness or a life-changing medical procedure?
A critical illness policy, like other types of life cover, provides a lump sum payment in return for paying regular premiums over the life of the cover.
The size of the payout is at the outset of the policy, where Insurance Hero will run through a fact-finding questionnaire to get an understanding of your specific requirements should you be no longer able to work.
To provide accurate information to our specialist underwriters, we will ascertain:
Your monthly financial needs
Your general personal health
Financial liabilities
The needs of your dependents
The nature of the job you do
Participation in higher-risk pursuits including motorsports
Based on this information, we will work with you to come up with a lump sum requirement and policy duration and let the underwriter come back with a corresponding premium.
Not all illnesses or medical procedures have critical illness cover and are in the policy.
An example of diseases generally covered includes but is not limited to, the following:
Progressive supranuclear palsy
Heart attack
Benign spinal cord tumour
Pulmonary artery surgery
Structural heart surgery
Liver failure
Stroke
Cardiac arrest
Heart valve replacement or repair
Multiple system atrophy
Systematic lupus erythematosus
Traumatic brain surgery
Coronary artery by-pass grafts
Liver failure
Creutzfeldt-Jakob disease
Aorta graft surgery
Alzheimer's disease or pre-senile dementia
Loss of Speech permanently
Loss of hand or foot
Devic's disease
A typical policy will pay out if you survive for ten days after diagnosis of a qualifying critical illness which will provide peace of mind for your family.
Do you need critical illness cover that also accounts for your motorsport participation? Contact our professional team of brokers for a free, no-obligation quote today on 0203 129 88 66. Your policy is our priority!
About Motorsport Income Protection Cover
As with other types of associated motorsports life insurance cover, income protection works to provide you with a regular salary, should you be unable to work while you recover from an illness or accident.
It may happen that as an amateur or professional motorsport participant, you have a crash that keeps you from going back to your day job. If your employment contract does not pay you if you are not working or only for an initial period, then income protection cover can fill this gap.
Typically, after a claim, income protection will come into effect after a pre-agreed period from one month up to one year. At the start of the policy, the size of the required premium to meet your salary is required. The duration of the plan is also decided and could be up to retirement age.
Consider income protection if you have financial commitments, including some of the following:
An outstanding mortgage
Equity release
Personal loans
Credit card debt
Car loan
Hire purchase agreements
Bank overdrafts
For more information on all types of life cover, including income protection contact Insurance Hero. We will endeavor to include your participation in motorsports as part of your policy.