Life Insurance For Retirement Or A Retired Person 2021
If you are now retired or are coming up for retirement you may have some of the following concerns which are hindering you from having complete financial peace of mind.
What will happen to any existing life insurance cover as part of my employment contract when I retire?
How can I leave my Estate free from an Inheritance Tax Bill when I pass away?
How can I provide a cash gift to relatives?
I still have a mortgage and other substantial financial commitments so how will this be repaid if I die?
We answer all these questions in this useful guide about why you should consider a life insurance for retired person policy. Read on to find out more.
Are You Retired Or About To Retire? Get A Cheaper Quote No Obligation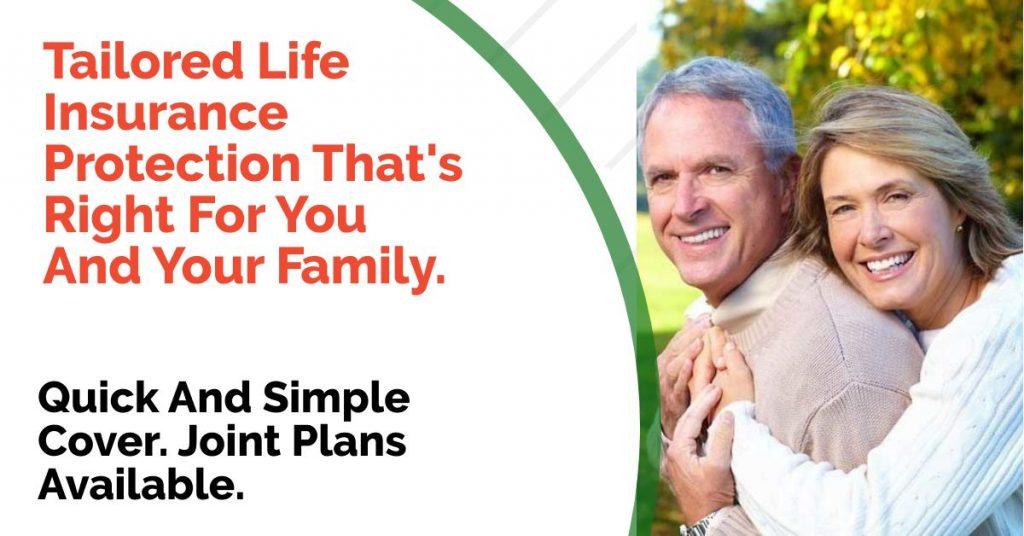 What Is Life Insurance for the Retired Person?
Life Insurance for retired person cover is the payment of a financial lump sum should you die. The insurance payment is funded through monthly premiums paid to the insurer. The cost of insurance premiums will vary according to the size of the required financial payout and whether a policy requires medical screening or is a guaranteed acceptance policy.
Why Do I Need Life Insurance for Retirement Cover?
There are different reasons why you should think about life insurance for retired person protection if you are retired. What you should realise, however, is life insurance is not a one size fits all solution. Here are reasons why you should get coverage. Perhaps one will apply to your situation?
Inheritance Tax Bill (IHT)
If you have assets such as property within your estate that you wish to pass on to loved ones, this will be subject to Inheritance Tax in the UK. Life Insurance can tailor to pay off an IHT bill should you pass away.
Outstanding Mortgage
If you are retired, you may still have an outstanding mortgage on a property, and taking out a life insurance for retirement policy, will mean a mortgage repays if you should die.
Funeral expenses
Should you pass away suddenly, your relatives may struggle to pay for your funeral expenses if you leave no money, and they are also struggling financially. A financial lump sum as part of a life policy can provide a small payout to cover funeral costs and allow you to pass away with dignity.
Settle small outstanding debts
You may have small debts that you owe, perhaps on credit cards, a car loan, or hire purchase agreements. If you die, your loved ones may struggle to pay your outstanding bills. A low-cost life insurance for retirement policy can help avoid this situation and provide the money needed to settle your financial obligations should you die.
Employer cover may cease
For an employee who is 60 or over, retirement is on the horizon. Some employers include a death in service benefit as part of an employment contract where a lump sum pays out should you die. When you leave the workplace, these life policies cease, and putting in place life cover will enable the insurance cover to continue after retirement.
Charitable donations
The best life insurance for retired person policy can be set up for just a few pounds a month to leave a financial cash amount to a favourite cause or charity when you pass away.
Leave money for relatives.
When you have children or grandchildren, a nice touch can be to leave a financial gift when you die. A relative can use a lump sum from a life insurance policy as they wish, perhaps as a deposit on a property, to pay university fees, or to buy a car.
Reasons To Choose Us:
Compared With The Main Competition There Are Fewer Exclusions For Retired People
Secure Online Quotes. 5 Star Rated Service
Safeguard Your Financial Future. Large Selection Of Life Insurance For Retirement Plans. Protect Your Family.
Reliability – Honesty – Caring – Trustworthy – Amazing Prices – Uk Based Staff.
Premiums For Older Individuals Routinely Preferable To Other Insurers
Help Protect Your Family's Future, Compare Top Insurers. Find Your Cheapest Quote

Insurance Hero is an independent broker specialising in life insurance for retirees. We are experts at putting in place the best life insurance for retired person policies which will payout when you need it most. Contact us today on 0203 129 88 66 for a no-obligation life insurance quote.
What Are The Best Life Insurance For Retired Person Options?
Depending on the key reason for taking out life insurance as a retired person will drive the type of policy required and the cost to put it in place. We will now look at the two essential life insurance options available for retired persons – policies with full medical screening and life insurance policies with guaranteed acceptance.
Life Insurance with Medical Screening
If you require the best life insurance for a retired person policy for a large sum assured, an insurer will require medical screening. It will involve full disclosure of your medical history, GP reports, and a complete medical before being accepted for a life policy.
Medical screening is a requirement if you need life insurance for retirement to cover a substantial asset or liability. The primary examples are:
If you wish to cover an IHT Bill, so your estate passes on unencumbered.
You may still have an outstanding mortgage or want to purchase another property with a mortgage.
Life insurance with medical screening often includes a critical illness component as part of the policy.
Under life insurance with medical screening there are two choices:
Fixed Term Life Insurance
Fixed-term insurance is when the duration of the plan is clearly defined. You will pay a fixed monthly amount for the policy duration. If you should die after the policy ends, no payout will be due. Fixed-term insurance is often associated with a defined length financial commitment like a mortgage.
Whole of Life Insurance
Whole life insurance is when there is no end date to the policy and will only cease when you die, whenever that is. It is more expensive than a fixed date policy and is appropriate for an IHT Bill, which is due when you die.
Life Insurance with Guaranteed Acceptance
A seniors life insurance policy known as guaranteed acceptance was made famous by Sunlife and was known as an over 50s life plan. The plan also covers a broader age range of retirees spanning life insurance for over 60 and 65 through to 80-year olds.
It differs from a traditional life insurance policy that requires medical screening as acceptance onto the plan is guaranteed regardless of whether you have any pre-existing medical conditions.
However, there is a trade-off, and it relates to the sum assured, also known as the pay out amount.
Life Insurance with medical screening may offer life coverage for hundreds of thousands of pounds or more. Guaranteed acceptance policies usually cap at approximately £30,000. That is why there is a clear distinction between the two covers. Guaranteed acceptance is used for small payouts such as funeral costs, gifts, or charitable donations.
The best-guaranteed acceptance policies will have the following features:
Immediate accidental death coverage
Accidental death is covered in the first year of the policy and is essential as should you die from other causes during the first year; no payout is due.
Flexible payments
Good insurers will allow variations in premiums, just as long as a minimum monthly payment is maintained. It is a helpful feature for anyone who encounters financial difficulty in maintaining a full monthly premium payment.
Full insurance cover after one year
Reputable insurance providers will payout after the first year, should you die, whatever the cause. Any insurer that inserts a two-year caveat or more should be avoided.
Cease of premium limit
Good insurers will allow guaranteed acceptance policyholders to cease making payments after reaching a certain age yet remain covered. The age varies between 85 and 90 years of age, depending on the insurer.
Payout guarantee
Reputable insurance providers offer a pay-out guarantee meaning that a cash sum is guaranteed as long as you have paid a minimum of half the policy payments.
Different Types of Life Insurance Coverage
For both guaranteed acceptance and plans that require medical screening, there are different premium cover options.
Increasing Cover
Increasing cover ties with the UK annual inflation rate as measured by the government benchmark consumer price index (CPI). It means that the premiums will rise in line with inflation, meaning that any financial pay out will have the same relative value as when a policyholder took out their life insurance for retired person policy.
Decreasing Cover
Decreasing insurance coverage means that premium levels and the subsequent size of financial protection fall throughout an insurance for retired person policy. Often, a decreasing coverage option is taken out if the plan is used to protect against a reducing liability, such as a mortgage that pays off over time.
Level Cover
Level coverage means that the level of premiums and subsequent cash value amount stays the same for the fixed-term policy duration. It means that a policy does not keep up with inflation, and the size of the cash value may be less than was agreed at the start of the life insurance for retired person policy.
How Can Insurance Hero Help?
Insurance Hero is an independent life insurance broker. It means we work with numerous underwriters and are not tied, allowing us to bring you not only the most competitive quote but also the best life insurance for retired person cover to align closely to your circumstances.
As a specialist broker of life insurance for retired person policies, our professional team is well-versed in understanding your needs. It will work with you to put a watertight plan that will allow you financial dignity when you pass away.
Insurance Hero is available on 0203 129 88 66 for free, no-obligation life insurance for retired person quote. Contact our professional but friendly team today.
Summary
To get the best life insurance for retired person plan, it is vital to understand the reason for taking out a policy. It will dictate the type of plan that you will need to take out. You can then move forward and speak with a specialist independent broker who can get put in place the best life insurance for retired person policy that perfectly suits your needs. Why not give yourself the financial peace of mind of knowing your financial affairs will be in order when you pass away.
FAQs
Is it worth having life insurance after 60?
Even the best life insurance for retired person plan can be very low cost, particularly for a guaranteed acceptance plan. If you wish to leave a financial gift to a loved one or ensure you can cover your funeral costs, then for as little as £4, you may consider it worth having life insurance over 60.
What is the best life insurance for seniors?
The best life insurance for retired person and senior citizens is insurance that closely aligns with your circumstances. No two people have the same situation. For example, if you wish to pay an IHT bill so you can pass on your estate free and clear to loved ones, then a traditional plan with medical screening is the best option.
What happens to your life insurance after you retire?
The answer to this question relates to whether you have a death in service benefit as part of your employment contract. If you are coming up to retirement, the life insurance for retirement policy will cease, and the onus will be on you to put in place your own private policy.