Best Merchant Navy Mariners Life Insurance Cover
We are going to outline why you should have life insurance if you work in the merchant navy. Here at Insurance Hero, we are even going to explain how we will get you the most competitive quote! Read on to learn more.
About Merchant Navy Life Insurance, Critical Illness and Income Protection Cover
The merchant navy being the provision of commercial marine services in a private or governmental sector capacity can be a demanding career.
Working on the high seas and away from home for sustained periods is challenging. Occupational risks can vary greatly depending on your role within the merchant navy. Working as a marine engineer in the engine room may expose you to more risks than the first officer on the ship's bridge.
Compare Quotes From The UK's Top Providers, Completely Free Quote Service, Save Money Now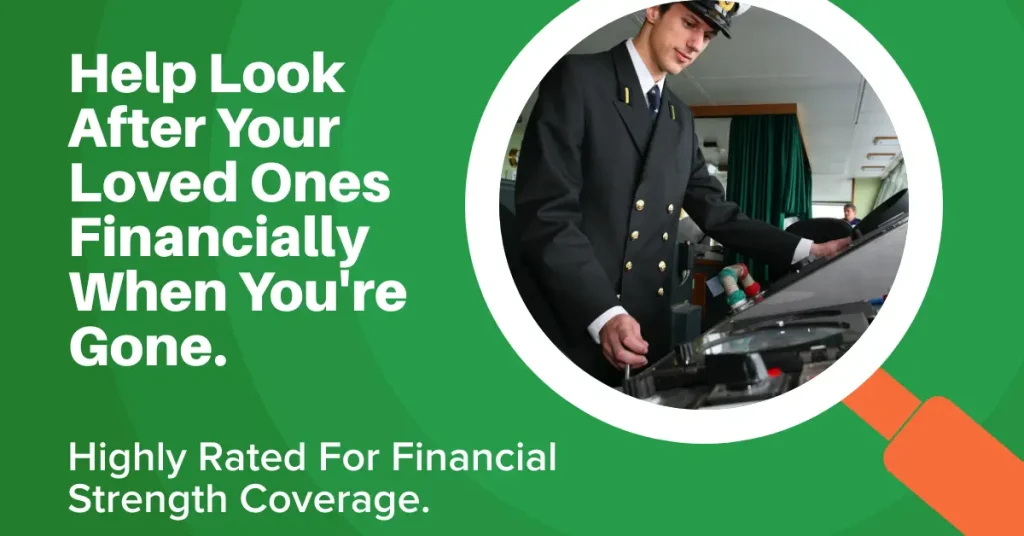 A career in the merchant navy can include diverse roles with varying occupational hazards, including:
Engineer
Captain
First officer
Deckhand
Communications Officer
Commercial diver
All functions carry the danger of the ship sinking in rough seas. If you have a family or dependents it is nice to know that financial protection is available should anything happen to you. Life insurance and other associated covers, including income protection and critical illness are there to provide financial comfort.
How Can Insurance Hero help?
Insurance Hero can help merchant seamen with their life insurance needs. We work with a strong network of specialists who underwrite high-risk professions. They will get you a competitive quote that may not be available from a mainstream insurer. Insurers do consider occupations within the merchant navy as higher risk and as a result, premiums may be higher.
Protect The Things That Matter & Get A Free Quote Today.


Life Insurance Cover for The Merchant Navy
Life insurance cover provides a lump sum payout for dependents should you die in the workplace. The payout is the result of regular monthly or annual premiums. The cost of the premiums will vary if you are employed in the merchant navy and working at sea.
Underwriters will need to know your daily activities at work and the dangers in your role at sea. To provide you with an accurate quote, Insurance Hero will work through a fact-find form with you.
Questions will include:
Do you work with dangerous machinery?
Are you sailing in conflict zones?
How much time do you spend at sea?
Do you work with hazardous materials?
Are you working at a great height?
Are you working in a confined space?
Ahead of getting a life insurance quote, you should also have a good idea of your financial circumstances such as your:
Personal loans
Credit card debt
Annual income after tax
Outstanding mortgage
Dependents income
These factors will drive what length of policy you require, and the potential payout needed and will affect the premium.
For your no-obligation life insurance quote contact Insurance Hero today. Our friendly and professional team is here to help. You should be able to work away from home in the knowledge that your family is protected. Call Insurance Hero on 0203 129 88 66
Merchant Navy Critical Illness Cover
Critical illness is the diagnosis of a disease or medical procedure that stops you from doing your job. Paying regular monthly or annual premiums will result in a lump sum payout for designated beneficiaries. Protecting them while you can't work and allowing yourself to concentrate on getting better without financial worry.
Some of the following illnesses can trigger critical illness cover:
Heart attack
Heart valve replacement or repair
Structural heart surgery
Certain types of cancer
Bacterial meningitis
Alzheimers disease
Coronary artery by-pass grafts
Pulmonary artery surgery
A policy covers not all critical illnesses. It is essential to read the policy. Once diagnosed with a qualifying illness, a payout is typically forthcoming if you survive at least ten days after diagnosis.
For Insurance Hero to provide an accurate, critical illness cover quote, we will need to find out information about you. We will achieve this by completing a questionnaire with you and forwarding it to the underwriter.
Questions will include:
Do you have any pre-existing medical issues?
What is your job in the merchant navy?
Do you work in an open or confined space?
Are you working with hazardous materials?
Are you travelling to tropical destinations?
Income Protection In The Merchant Navy
Income protection is an associated life insurance cover. It similarly offers financial protection through regular premiums. If you are unable to work for an extended period, through illness or injury, you will still receive a steady income. The level of salary that you will receive will be equivalent to the regular premiums you pay. Insurance Hero will work to make sure accurate current financial circumstances in any quote. We want to make sure that your policy premiums are not only competitive but also realistic.
To provide an accurate quote, we will work through a detailed questionnaire to be used by the underwriter to come up with a premium. We work unobtrusively, and we have your best interests to consider.
We will need to ask about your current financial situation, and questions will include:
Gross pre-tax income
Monthly outgoings
Unsecured loans and credit card debt
Existing outstanding mortgage
Other income
Insurance Hero wants to help you provide for your family in case you cannot work. Please contact our professional team on 0203 129 88 66, and we will provide you with a tailored income protection cover quote.
*£8 per month based on a 30-year-old non-smoker taking out £236,250 level term cover over 20 years (L&G) – Prices correct as of February 2022