Extreme Sports Life Insurance & Income Protection 2022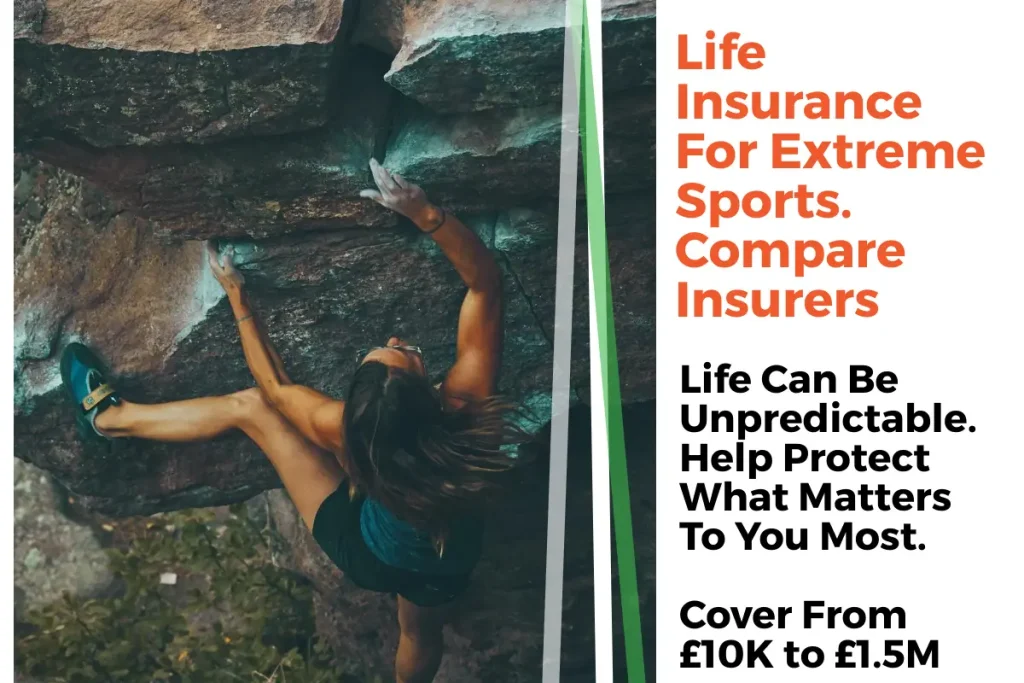 This short guide endeavours to explain why you should take out life insurance. If you have loved ones, read on for how you can enjoy your extreme sports pursuits and still protect your family.
How Does Hazardous Pastimes Life Insurance Work?
Life insurance provides a cover amount payable to designated beneficiaries should the policyholder die. A cover amount is agreed at the policy outset and is funded by paying regular premiums over the fixed-term duration of the policy. The provision of life cover for extreme sports occurs once the level of participation is agreed upon and confirmed.
Involved in extreme sports and need to protect your loved ones if the unexpected happens?
Reasons to get a quote today:
To ensure your loved ones are taken care of financially in the event of your death, and to provide peace of mind knowing that they are protected in case something happens to you
Get specialist life cover offering your family protection without impacting your bank account
Sound customer reviews for customer service
Those who smoke or vape given a fair deal
Reliability – Honesty – Caring – Trustworthy – Amazing Prices – UK Based Staff
Critical Illness coverage separate or in combination with life insurance at little extra cost
We'll let you know the average costs of life insurance plans and which suit your budget, no matter how much money you make
To ensure that your family is able to continue living their current lifestyle if you pass away
Simple 60 Second Quote Form. Family & Individual Plans. Protect What Really Matters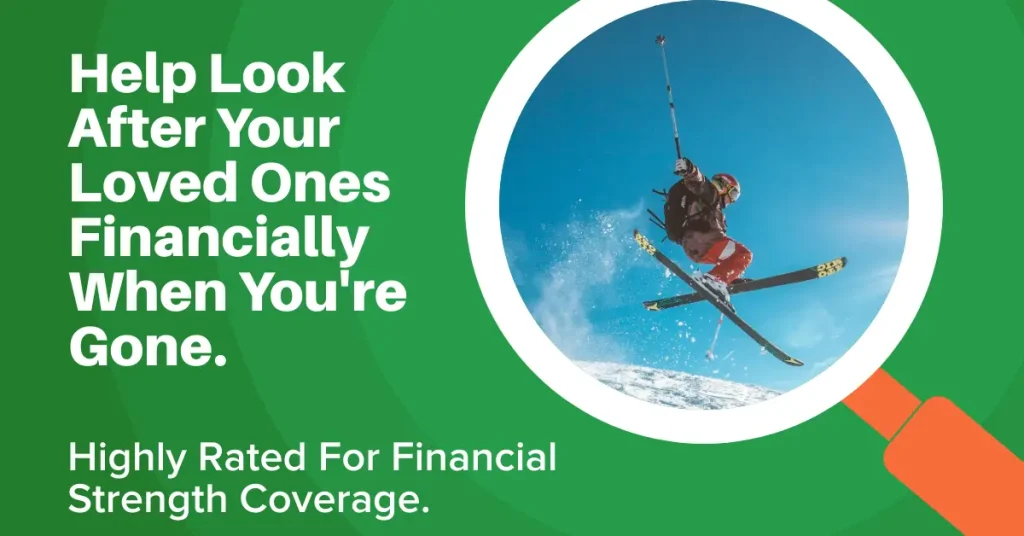 Who Should Consider Extreme Sport Life Insurance Cover?
Do you have financial commitments such as a mortgage, personal loans, or credit card debt? Do you have a family who would suffer economic hardship should you die? If your answer is yes, consider taking out life insurance cover.
What Are Considered Extreme Sports By Life Insurers?
There are a vast number of activities that have extreme sports classification. Life insurers typically have a list of extreme pursuits on their application form. This list has continued to grow as new high-risk activities continuously evolve.
Diverse pursuits include:
Cave diving
BASE jumping
Potholing
Heli-skiing
Big wave surfing
Climbing
Freediving
Paragliding
Mainstream extreme sports life insurance insurers, depending on the activity, will look to either exclude an extreme pursuit from a life insurance policy or include it but with certain restrictions.
Specialist insurers fill this gap and look to provide life cover where extreme sports are included within the policy with no restrictions and not excluded.
Protect Your Family For Less – Compare & Save – Policies From Leading Insurers – Quick Quote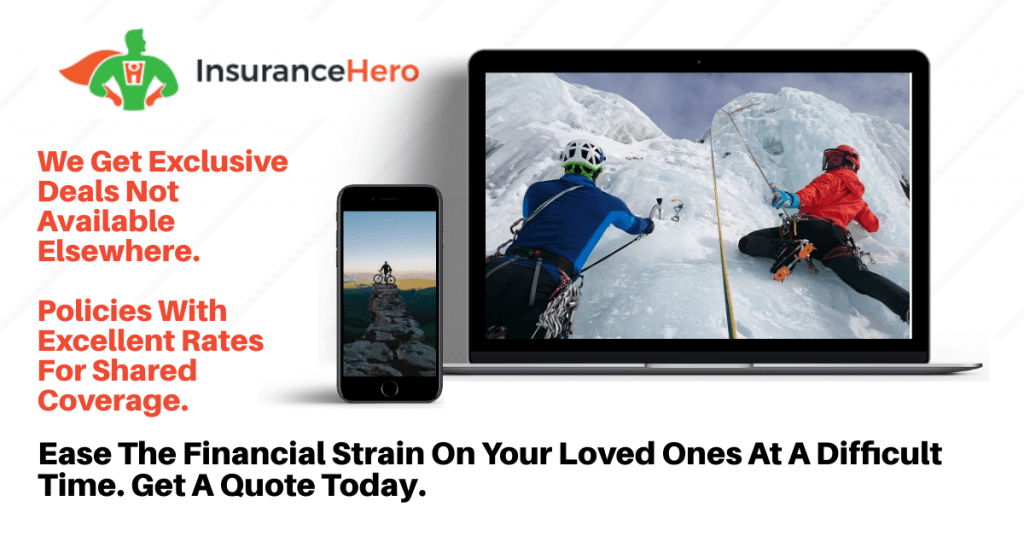 Insurance Hero is a broker with extensive networks of underwriters specialising in extreme sports life insurance cover. Contact us today on 0203 129 8866 for a fast and free quote.
Insurance Hero – Get A Correct Quote First Time, Every Time
If you participate in extreme sports, it is essential to declare the extent of your activities honestly during any questions.
The providers we work with are well versed in working with you to understand the extent of your extreme pursuits in an unobtrusive, friendly manner. They work with extreme sports life insurance underwriters, specialising in high-risk activities. They can be trusted to provide accurate information through a detailed fact-finding questionnaire.
We want your extreme pursuit included within your life cover and not excluded.
Questions that might include but are not limited to the following:
Does your extreme sport take place at great height or in hostile and remote terrain?
Do you participate as part of a group or alone?
How often and for how long do you undertake your high-risk activity?
Do you belong to a recognised professional association?
How many years of experience do you have?
Do you participate with any underlying medical conditions?
Save Money And Get A Quote Now. Protect Your Family Before It's Too Late.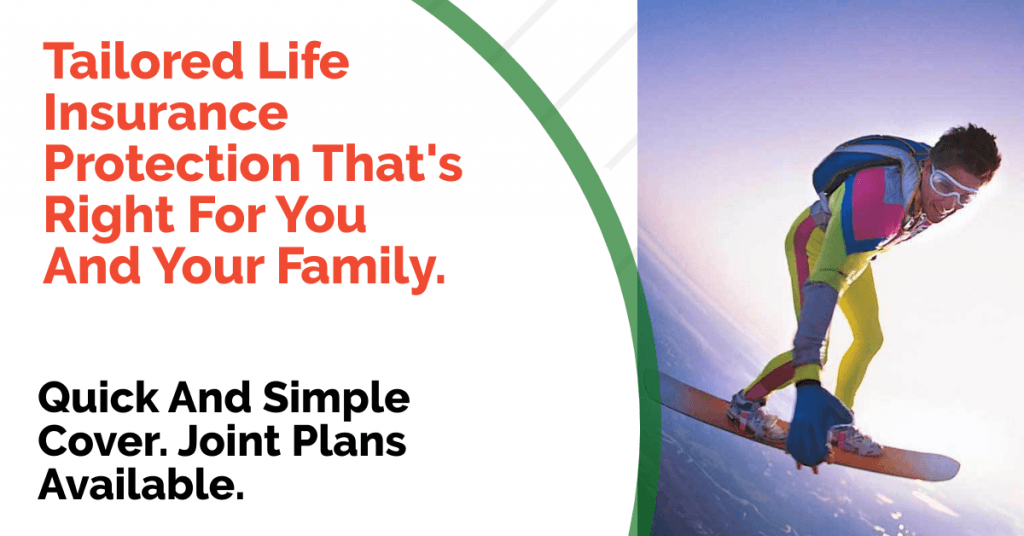 Associated Extreme Sports Life insurance Covers – Critical Illness and Income Protection
Two other life insurance covers provide protection that is not dependent on death. They are critical illness and income protection cover.
Critical Illness
Should you no longer be able to work due to the diagnosis of a disease or medical procedure, critical illness cover provides a lump sum payout.
Regular premiums paid in over the policy fixed term will provide a cover amount, paid out should you survive ten days after diagnosis. The plan offers financial peace of mind for both you and your dependents.
A tailored policy accounts for common illnesses associated with your extreme sport. For example, skydiving has a high risk of bone fracture, which you can specify at the policy outset.
Critical illnesses included in a standard policy include diseases as diverse as:
Traumatic brain injury
Spinal stroke
Liver failure
Progressive supranuclear palsy
Multiple system atrophy
Heart valve replacement or repair
Structural heart surgery
Heart attack
Kidney failure
Parkinson's disease
Coma
Income Protection
Income protection works slightly differently from life insurance and critical illness cover. It assumes that you will eventually get back into the workplace if you are unable to work due to an accident or illness.
A salary is payable after a claim. The salary payment can kick in from as little as one month after an income protection claim
You should consider income protection cover if you have financial commitments and your family would suffer financial difficulty should you be unable to work.
Financial obligations include but are not limited to, the following:
Equity release loan
Mortgage
Credit card debt
Personal loan
Car loan
Hire purchase agreement
School fees
Why not have the peace of mind that if you cannot work because of an extreme sports accident, you will still receive a salary allowing you to concentrate on getting better.
Contact Insurance Hero today for a no-obligation extreme sports life insurance quote. We want to help you get a water-tight income protection cover that will protect you and your dependents. Our direct number is 0203 129 8866, where one of our professional team will assist you with your requirements.