Best Life Insurance For Dads 2022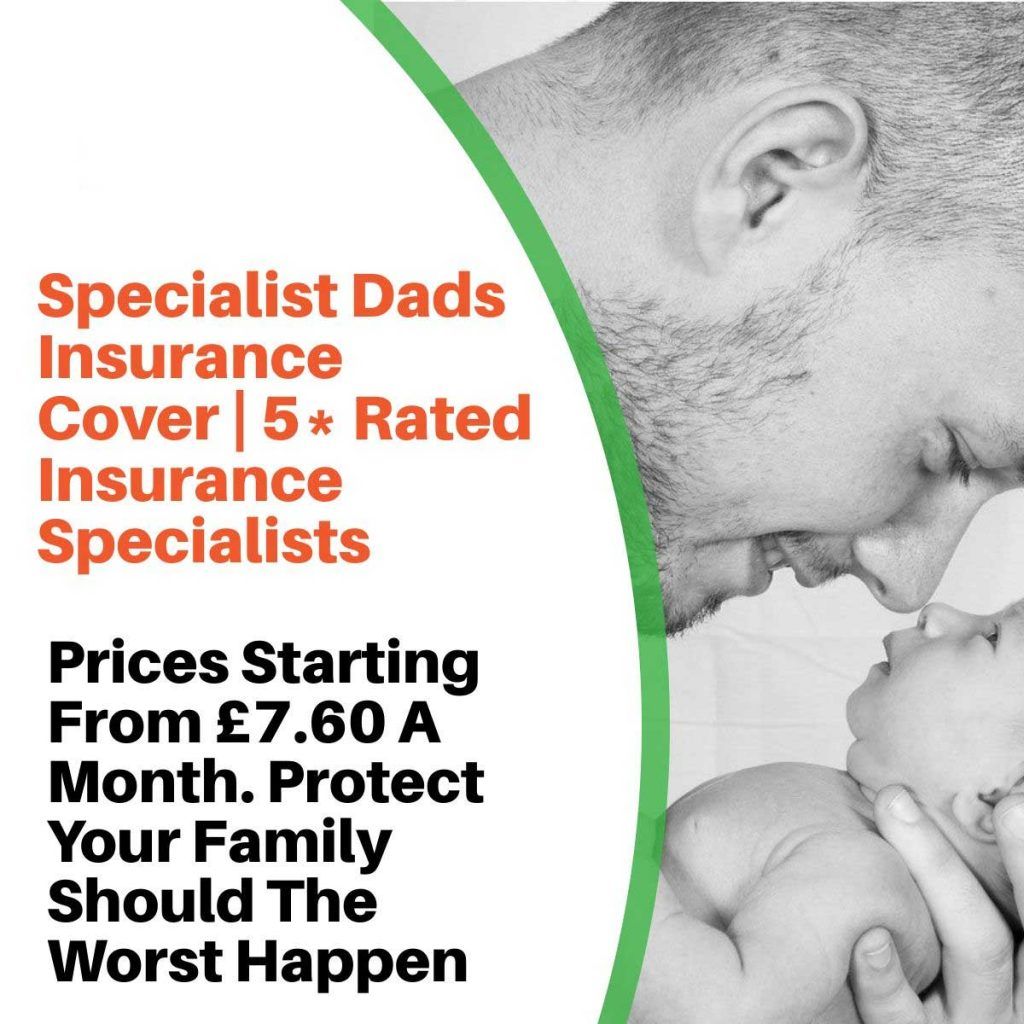 Are you a Dad that has a family to support? Have you thought about what would happen to your partner and children if you were to die unexpectedly?
Who would pay the bills? Who would pay the rent or mortgage? Is your family at risk of eviction? How would they survive day to day, especially if you are the breadwinner? These are all questions that you need to ask yourself to find the right life insurance, appropriate for your situation.
Don't be a Dad that doesn't have life insurance cover for the protection of your loved ones if the unexpected happens.
Get a policy that is tailored specifically for you. Be fully protected whatever happens
Affordable policies, meaning you will be able to find one that fits your budget
Life cover for Dads that gives your family protection without emptying your bank account
Possess sound customer reviews for customer service
Really good rates are provided for new and young Dads
Favourable treatment for smokers and vapers
Reliability – Honesty – Caring – Trustworthy – Amazing Prices – UK Based Staff
Save Money And Get A Quote Now. Protect Your Family Before It's Too Late.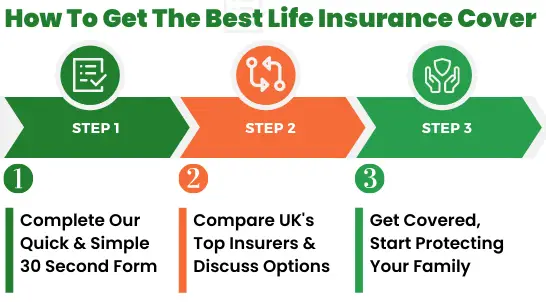 How Does Life Insurance for Dads Work?
Life insurance is a type of financial protection for your loved ones or dependents should you die suddenly. By paying a monthly premium throughout a policy, the insurer will protect you by providing a lump-sum payout in the event of your death.
The payout size is dependent on numerous factors and is agreed with your advisor at the outset of the policy.
As A Dad, Do I Need Life Insurance?
Often, an event may trigger you to think about whether you need life insurance. Perhaps you have lost a spouse and now have to take care of your child as a single parent. Maybe you just got married, or have purchased a property. Plenty of circumstances can motivate you to go out and start looking for the right insurance company.
Questions that you need to ask yourself about a need for a policy include your current or expected financial commitments.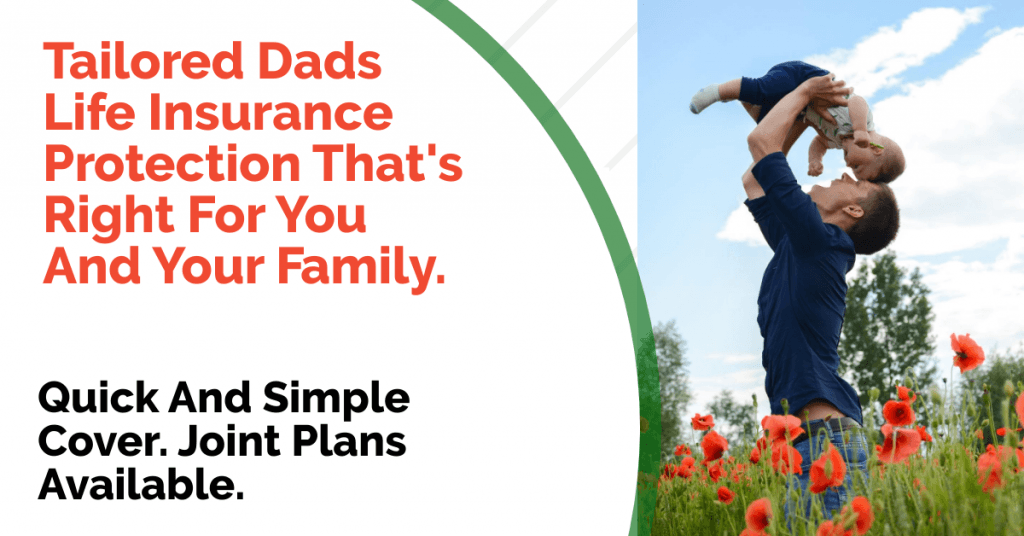 Areas that need consideration include:
Childcare costs
Household bills (including food and utility)
School of university fees
Out of school activities
Emergency funds that your family may require
Further considerations include whether you have any outstanding debt that would still need paying should you die unexpectedly.
It includes:
Car loans
Hire purchase agreements
Debt consolidation loans
Credit card debt
Personal loans
Mortgage
Equity release loan
Bank overdraft
Compare The UK's Top Life Insurance Policies – No-Obligation Quote Form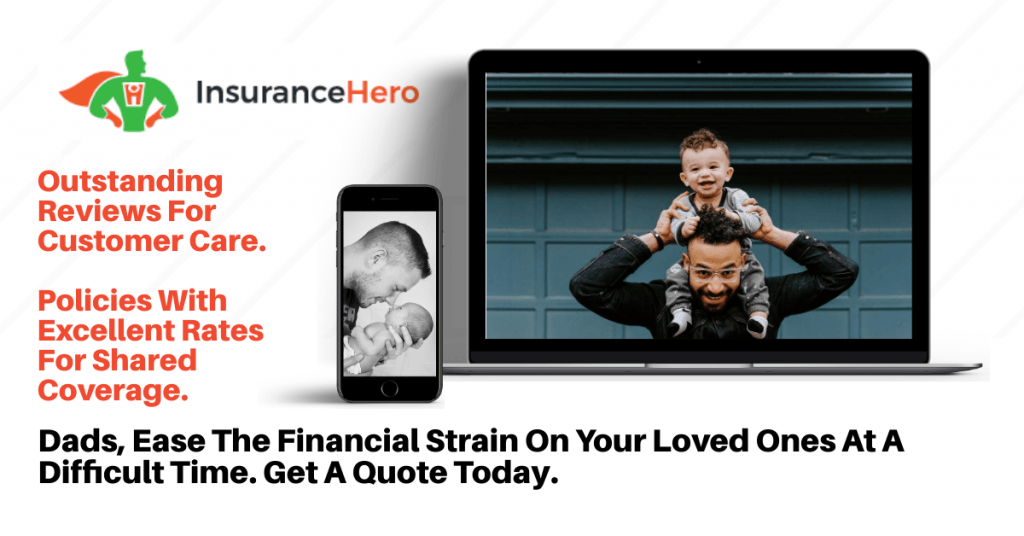 Flexible Life Insurance for Dads with Different Personal Circumstances
As Dads progress through their lives, personal and professional circumstances will change. Life insurance is a very flexible insurance product, and policies can easily adjust to reflect a new situation such as an addition to the family, getting a pay rise, buying a larger house, or even separating from your partner.
There is usually no cost to amend a policy claim as insurers understand that it is unlikely that your circumstances will remain the same for the duration of the policy. Every policyholder is likely to have different personal situations, and a life insurance policy offers maximum flexibility. Below we have listed the main circumstances a Dad may find themselves in to help you envisage how a policy can assist you.
Life Insurance For Single Dads
Following a separation or death of a partner, a single Dad still retains responsibilities for the welfare of his children, monthly bills, and paying rent or a mortgage.
If a life policy is in joint names with the partner, this could be cancelled and set up as a sole policy. In a separation, it can be a good idea to liaise with an ex-partner to ensure that there is adequate protection for all the family, including the children.
Life Insurance For Dads That Smoke
Life insurance is available for Dads that smoke. If you are a smoker, it is crucial at the outset of the policy to declare the full extent of your smoking as this will affect premiums. Premiums for smokers are likely to be higher for smokers than non-smokers, and if not stated, your policy could be invalidated if it ever comes to payout.
Stay at home Dads
If you are a stay-at-home Dad, it often means that your partner is working as the breadwinner and can earn a larger salary. As a stay-at-home Dad, you are probably tasked with the cooking, cleaning, homework assistance, picking up children from school, and food shopping.
If something were to happen to you or your partner, how would you be able to maintain your household expenses, including childcare? Life insurance offers financial protection that provides a lump sum payout to enable the family to keep paying the bills and maintain their lifestyle.
Help Protect Your Family's Future · Compare Top Insurer's · Find Your Cheapest Quote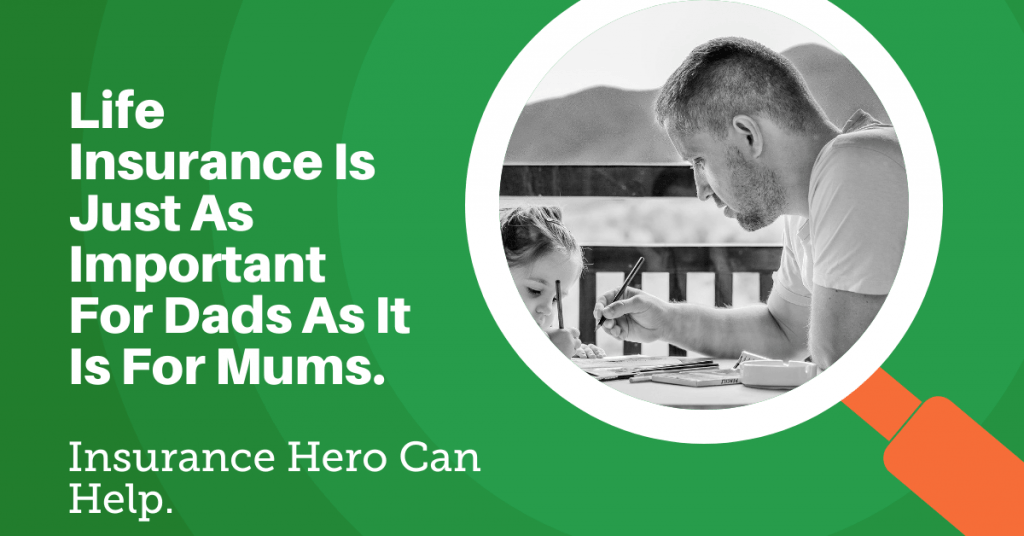 New Dads
If you have recently become a father, it may be worth considering taking out a policy sooner rather than later. The earlier that you take out a policy, the lower the premiums are likely to be if you have no underlying health conditions. Why leave it and risk any adverse effects on your young family should you unexpectedly pass away when your child is very young?
Older Dads
As people live longer or choose to focus on their careers before starting a family, some Dads are starting families in their forties or even fifties. The older you are when putting a life insurance policy in place, the higher your monthly premium will be. An underwriter will look at the risk associated with being an older policyholder and its impact on the likelihood that you could die, particularly if you have underlying health conditions.
If you are in your fifties or sixties, over 50s plans are a cheaper type of policy if you have paid off your mortgage and have children that have finished education and are no longer reliant on you. If you want to provide your dependents with a small nest egg and the funds to pay for your funeral costs, this is an option. We look at over the 50s later in this guide.
Working Dads
Some Dads who work as employees may be covered by life insurance with their employers and enjoy death in service benefit. It gives financial protection for your dependents should you die. If you are covered by death in service benefit, it can still be beneficial to take out life insurance; if you have a large mortgage, the mortgage repayments may not be covered by death in service benefit and require a personal policy.
Working Dads who do not receive any employer-based policy protection can consider either term or whole of life cover.
Self-Employed Dads
If you are a self-employed Dad, you do not have the luxury of a guaranteed salary, should there be a downturn in business, unlike many people who work as an employee of a company. Life insurance can provide that protection and peace of mind where you know that should something happen to you, then your dependents will be provided for financially.
Dads to Be
If you are in a relationship and do intend to have a family in the future, it can be worth taking out protection now rather than waiting for the birth of a child. The younger age you are when taking out a policy, generally the cheaper the premiums assuming you are in good health.
Having a watertight policy in place when you welcome a new child into the world provides you with the knowledge that the child will be thoroughly looked after if anything should happen to you.

Types of Life Insurance Cover
Whole of Life
A whole of life is the most expensive type of life insurance. A lump-sum payout would be due should you die, whenever that is. There is in effect no end date to a whole-of-life insurance policy. The younger you are when you start the policy, the lower the cost. If you create a policy when you are an older dad in your fifties, the price of the entire life policy can be very high.
Term life insurance
Term insurance is a policy that has a set end date. Typically, a term policy is set up to coincide with the end of a repayment mortgage or another financial commitment, which, once paid means you are debt-free. Term insurance is a lower cost than a whole of life policy. Once the policy passes its maturity and you die, no payout would be due.
Over 50s plans
It is possible to get either term or whole of life insurance if you are over 50, but it can be costly. As mentioned previously in this article, another option is an over 50s plan. The payout in this plan is significantly less than other types of cover because it is on a guaranteed acceptance basis.
Usually, over 50 plan payouts are capped at around £20,000 or £30,000 and can be used to cover funeral costs should you die so your loved ones are not left with a financial burden. Over 50s plans can also be used to pay off debts such as credit card balances or personal loans. Alternatively, they can be used to leave a gift for children or grandchildren.
Life Insurance Options – Cover Variations
The flexibility of a policy also extends to the premiums and payouts throughout the policy. Increasing, decreasing, and level cover are all life insurance for dads options that you should consider at the start of your policy.
Increasing life insurance cover
Increasing cover means that your policy will always keep up with the rate of inflation. If you want your payout to be worth the same relative value now as it was twenty years ago, then you should consider increasing premiums. The premiums will rise annually, in line with the rate of inflation, as measured by the Consumer Price Index (CPI), a UK government inflation benchmark.
Decreasing cover
Decreasing cover is when the annual premium reduces over the life of a fixed-term life policy. This cover typically ties to a repayment mortgage and matches the payment schedule of the mortgage over its life. It means that the amount of cover towards the end of the policy will be minimal, designed to match against the remaining mortgage debt should you die.
Level cover
Level cover sees the premiums and subsequent payout lump sum remain the same for the duration of the policy. The effects of inflation will affect the payout as a lump sum agreed at the start of the policy is likely to be less at the end of the policy ten or twenty years later.
How Much Life Cover as a Dad, Do I Need?
Suppose you are considering taking out Life Insurance cover. It is essential to sit down with a broker or advisor and provide them with a clear breakdown of your situation and financial commitments. If the reason for taking out life insurance is to cover against a mortgage, then you usually would take enough life cover to repay the mortgage, should you die before you pay it off.
If the need for a policy is not due to a mortgage, it could be to allow your dependents the ability to keep paying the bills and sustain themselves should you pass away. The cost of the monthly premium correlates to the size of the life insurance payout that you want to put in place.
Life Insurance in Trust
Continuing with the theme of life insurance flexibility, did you know that a policy can also write into a trust? Writing into a trust is a means of getting maximum security out of the terms of a policy. The key benefits of writing a policy into a trust are:
Reducing or avoiding inheritance tax when the payout is above the minimum threshold of £325,000
Being in full control of who receives the proceeds of the insurance payout and when they will receive it
The avoidance of probate, which means payout can take place more rapidly, which could be vital and depends on the financial circumstances of your loved ones should you die unexpectedly.
How Much Does Life Insurance Cost?
For Dads, numerous factors affect the cost of life insurance premiums with age, underlying health, and whether a policy is fixed-term (also known as level-term life insurance) or whole-of-life being essential drivers of price.
As an example, the cost of £100,000 of protection for a 30-year old non-smoker can start from just £5 a month for a 20-year level term policy. For the same person, a whole-of-life insurance rises to £30 a month, and for a 45-year old non-smoker, a whole-of-life insurance quote is from £60.
How much for life insurance for smokers?
For smokers, the cost of insurance does increase. Using the same examples as above, a 30-year old smoker should expect to see £100,000 of term life insurance cost £7. Whole-of-life could be priced as high as £47. Whole-of-life insurance for a 45-year old smoker can quote up to £100.
Getting maximum value on your Dads life insurance
Taking out life insurance is a crucial decision. The policy must provide maximum protection for you and your family with pricing at a competitive rate. The best way to make sure you receive a competitive quote is to compare life insurance provider quotes. It is straightforward to do this by completing a 30-second form and receiving multiple quotes.
You can then speak directly to the provider offering the best quote and ensure that the policy further tailors to match your exact personal circumstances.
Associated Life Insurance Products for Dads
Life insurance provides a financial payout should you die. Other related insurances also offer financial protection, but it does not require that you pass away to benefit.
Critical illness
Should a surgical procedure or a medical diagnosis stop you from being able to work, it may put your financial circumstances under strain. Critical illness cover gives a lump sum payout if you succumb to a qualifying illness. Not all diseases have coverage under critical illness, and a list can be defined at the start of a policy.
Additionally, policies require that you survive at least ten days from diagnosis of a critical illness for a policy to payout.
Examples of procedures and illnesses that are covered under critical illness include but are not limited to, the following:
Kidney failure
Liver failure
Loss of hand or foot
Multiple system atrophy
Paralysis of a limb
Parkinson's disease
Structural heart surgery
Severe lung disease
Cardiac arrest
Income protection
If you cannot work for a long time due to injury or illness, an income protection policy can help you. By paying in regular premiums throughout a fixed term policy, if you cannot work, you will receive a replacement salary until you can return to the workforce. An income protection policy builds around your circumstances which you will discuss with an advisor at the start of the policy. Typically, policy tries to offset the terms of your employment contract regarding being off work.
On one end, civil servants often continue receiving a salary for up to one year after becoming unable to work. On the other, a self-employed person does not get paid if they cannot work. A policy can provide a replacement salary from as little as one month to one year from when you stop working.
If you have ongoing financial commitments which include but are not limited to the following, you should consider income protection:
Personal loans
Mortgage
Equity release loans
Hire purchase agreement
Bank loan
Car loan
10 Reasons Dads Should Consider Life Insurance
Dads often have more responsibilities on their shoulders
Having life insurance cover will help you to support your family
It can help you to build a safety net for your children
Securing coverage will help you to protect your family's future
You will leave a legacy for your family
Having life insurance will help you to make your loved ones financially stable
Making sure a life insurance plan is in place will provide you with a sense of security
Life insurance can ensure your family maintains a similar lifestyle after you die
This market is a large one, there are many providers in the market. Some providers offer affordable life insurance discounts for Dads so it needn't be expensive.
Dad's Life insurance can assist in paying off any legacy debts your family might have
Summary
As we have outlined, all Dads have varying personal and professional circumstances, whether they are a stay at home, older, or new Dads. What life insurance policies can offer is the flexibility to adapt to any circumstance, either at the start of a policy or if a Dad's situation changes during a policy.
From only £7.60 a month, a life insurance policy can provide peace of mind knowing that should you die unexpectedly, your loved ones will be financially protected through receipt of a lump sum payout.
If you think a life policy applies to you, do not delay and put in a policy today!