Best Life Insurance With Pre-Existing Medical Conditions 2022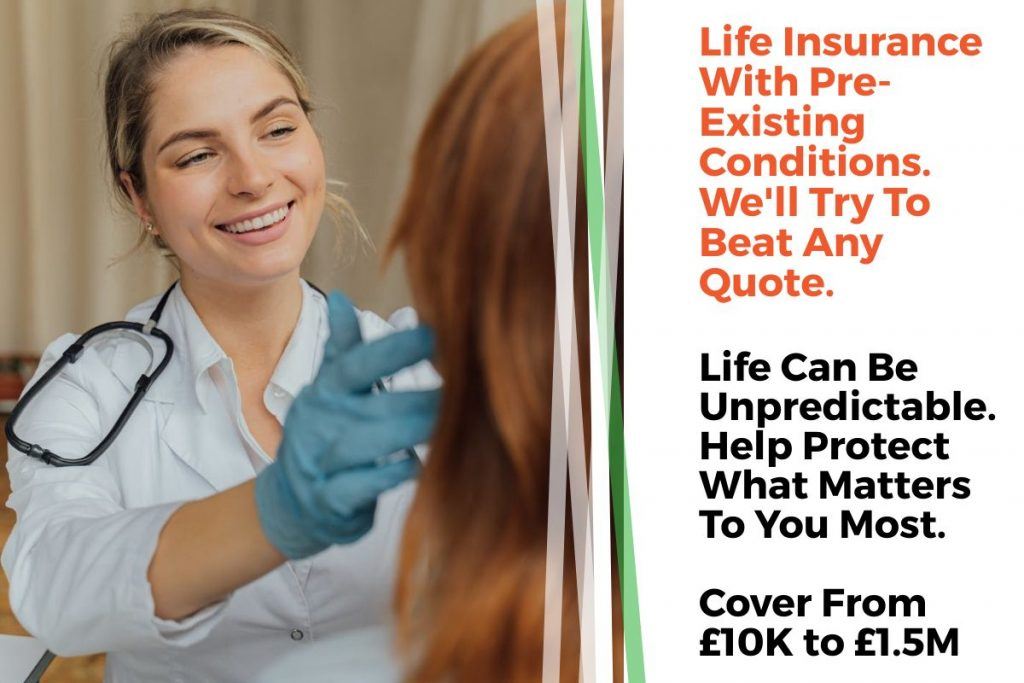 Do you have underlying health issues? Do you worry about what would happen to you or your loved ones if something happens to you?
Did you know that even if you have pre-existing conditions, it is still possible to get life insurance, and yes, it can still be affordable? Read on to determine why you should still consider getting life insurance with pre-existing medical conditions and why it may cost much less than you think.
How would the following be covered without proper pre-existing medical condition life insurance?
Will your estate be free from an Inheritance Tax Bill when you pass away?
Provision of cash gifts to relatives or children?
Mortgage payments and other significant financial commitments. How will these be repaid if you die?
Outstanding debts accrued in your name
Planning for funeral arrangements
What is Life Insurance With A Pre-Existing Condition?
Life insurance is a financial safety net for you and your loved ones should you pass away unexpectedly. Paying a monthly premium into a fixed-term policy allows an insurer to payout a lump sum of money to designated beneficiaries on a life insurance plan should the need arise.
It helps provide you with the financial peace of mind that any financial commitment agreed at the policy start will be covered.
Compare The UK's Top 10 Insurers For Pre-Existing Medical Conditions. Find The Best Policy & Save Money Today

What Is A Pre-Existing Medical Condition?
Pre-existing medical conditions are a wide range of medical issues that are already affecting your life before taking out cover and will affect the cost of life insurance.
A pre-existing health condition can include both life-threatening diseases such as cancer, stroke or heart attack or manageable conditions that typically include but are not limited to the following:
High blood pressure
Diabetes
Asthma
Obesity
Depression
Epilepsy
Smoker-related conditions
Manageable conditions may not necessarily impact the risk of you dying and may even see policy premiums at standard or close to standard terms.
Depending on the severity of a pre-existing condition, it can require the life insurance provider to see your medical records, speak with your General Practitioner and ask you to undergo a medical before they can provide a quote for life cover.
Insurance companies must fully understand the severity of your condition and be aware of its impact on your daily life to accurately put in place a plan that closely aligns with your actual circumstances.
Life insurance with pre-existing medical conditions is a different process from traditional life insurance, where applicants with a normal medical history are offered life insurance at standard terms through an online or voice questionnaire where the insurance provider can quickly provide life insurance quotes without further medical consultation or examination.
Some Reasons To Choose Us:
Compared With The Main Competition, There Are Fewer Exclusions For People With Pre-existing Health Conditions
Secure Online Quotations. 5 Star Rated Service
Safeguard Your Financial Future. 60 Second Form. Great Selection Of Insurance Plans. Protect Your Family
Reliability – Honesty – Caring – Trustworthy – Amazing Prices – UK-Based Staff And No Overseas Call Centres
Premiums For Older Individuals Routinely Preferable To Other Insurers
Help Protect Your Family's Future. Compare Top Insurers. Find Your Cheapest Quote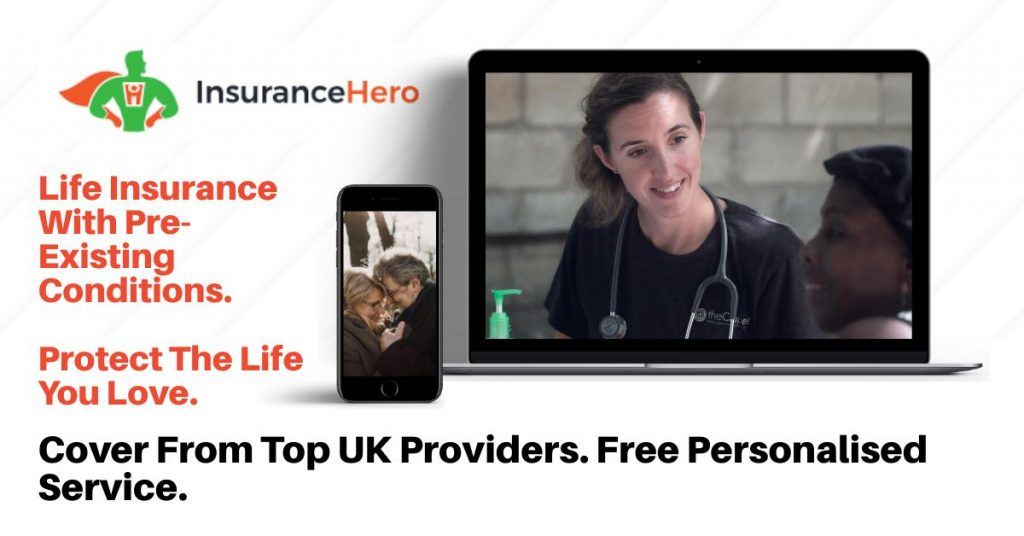 What Do Insurers Think About Pre-Existing Conditions?
Life insurance providers base prices on how likely you are to make a claim. If you have a pre-existing medical condition, it can affect the life cover cost, depending on the severity.
As a general rule, the higher the risk of making a claim, the higher the insurance cover. An insurance provider will calculate the cost using complex mathematical algorithms to provide a monthly premium.
Can You Be Refused Cover If You have an Underlying Medical Condition?
In some instances, with pre-existing health conditions, life insurance may not be offered to you due to the severity of a pre-existing condition, with no insurance company prepared to provide a quote.
However, using a specialist broker experienced in providing insurance to those with existing conditions can make a difference; it can help with the quote process by ensuring any information is accurate and minimise the risk of rejection by underwriters.
How Insurance Hero Can Help You Get Life Insurance with Pre-Existing Medical Conditions
Insurance Hero is independent with experience providing life insurance with pre existing conditions in the United Kingdom.
As a specialist broker, Insurance Hero has relationships with underwriters that exclusively deal with those with a pre-existing conditions and not generalist underwriters.
It means that Insurance Hero knows the life insurance application process for higher-risk life insurance intimately. Through an extensive fact-finding questionnaire, Insurance Hero can provide specialist underwriters with the accurate information they need to move forward and give a quote that works in two ways:
Firstly, it allows the underwriter to accurately ascertain if they need to speak to a GP regarding your medical history and the level of medical examination you need to undertake.
Secondly, it allows the insurer to ensure that any life insurance policy with pre-existing conditions accurately reflects your circumstances closely. It is vital, as if you pass away, you must have certainty that the document put in place is watertight and will payout.
Best Life Insurance Companies. Help at Every Stage. Simple Quote Process – 60 Sec Form

Insurance Hero has experience in providing life insurance for those with pre-existing conditions. Contact our experienced team today on 0203 129 88 66 to see how we can put together a plan that will protect your loved ones should something happen to you.
Why an Honest Approach Is Crucial When Applying for Life Insurance with Pre-Existing Conditions
When answering a fact-finding questionnaire, you must provide honest answers to any questions to ensure a plan accurately reflects your circumstances.
Suppose you pass away suddenly, and it is found that your death results from an undisclosed pre-existing medical condition. In that case, it may stop an insurance provider from paying out on a claim that may financially disadvantage your loved ones.
What About Mortgage Life Insurance with Pre-Existing Medical Conditions?
It is not a legal requirement to have life insurance in place to successfully apply for a mortgage. However, suppose you have a pre-existing medical condition. In that case, consideration must be given to how your dependents will pay the mortgage should something unexpected happen to you, especially if you are the breadwinner.
If a watertight policy is put in place, any lump sum payout can be used to pay off outstanding mortgage repayments, ensuring your family can live rent-free and have financial peace of mind.
What Happens If I Develop A Condition Once the Policy Has Started?
If you develop a medical condition once a life insurance plan has started, this will not affect the policy's terms.
Suppose you have been honest about any pre-existing medical conditions at the start of the plan and develop an illness. In that case, typically, it will not affect the validity of your policy.
What Is the Best Life Insurance for Pre-Existing Medical Conditions?
Selecting the appropriate life insurance with pre-existing conditions cover depends on your specific circumstances and what you are looking to cover.
There are many different elements in a life insurance policy, and we will look at those now so you can get a better understanding of how to select the right life cover. However, a proficient broker will also assist you with this.
Whole of Life Insurance
The highest costing type of life insurance cover is whole of life insurance, especially if you have a pre-existing condition. The insurer will financially payout on a policy when you die, as the insurance plan does not have a maturity date and is open-ended. As such, it is a higher cost than a fixed-term policy.
It is crucial that when choosing a whole of life plan, you take it out as soon as possible, as the younger you are at the policy commencement, the lower the premium. If you decide to take out this plan type when you are in your forties or fifties, it can be an expensive, albeit all-encompassing, insurance plan.
Fixed Term Insurance
Also known as term insurance, a fixed-term policy has a pre-decided duration, which may be anything up to thirty years, and may be aligned to a fixed-term financial obligation such as a mortgage.
Compared to whole of life, a fixed term insurance policy is much lower cost, the downside being that no payout will be due should you die once the policy expires.
Over 50s plans – Life Insurance for Seniors with Pre-Existing Medical Conditions
When you reach fifty years old, it is still possible to submit a life insurance application for whole of life or term insurance, but it will become more costly due to an increased likelihood of you dying. A lower-cost option is an over 50s plan.
The lump-sum payout of this product type is lower than other life insurance with pre-existing conditions policies.
It operates on a guaranteed acceptance basis, where you will automatically qualify for policy cover even if you have an adverse medical record. No medical information, GP report, or medical examination is required for approval of this type of plan.
Any lump sum payout on an over 50s plan is rarely above £30,000, which is certainly not enough to pay off a mortgage.
Typically, this type of plan is employed to pay off small financial obligations, including personal loans and balances on credit card cards. It is also often used to pay for funeral costs or give children or grandchildren a small monetary gift.
Family Income Benefit
Family income benefit is a plan that works in a similar way to life insurance, where financial cover is provided should you pass away.
The critical difference is in how the payout takes place. Whereas a life insurance policy will pay out a lump sum upon the policyholder's death, a family income benefit breaks a payment down into monthly amounts, which makes budgeting easier than receiving a large monetary payment.
Types Of Premiums: Life Insurance With Pre-Existing Medical Conditions
Life insurance is a flexible cover as the circumstances of a policyholder, particularly one with pre-existing conditions, may change throughout the policy.
Flexibility extends to the types of premiums available and includes either increasing, decreasing or level cover.
Increasing cover
The monthly premium and the corresponding level of payout increase throughout the policy. The growth is in line with the UK government benchmark CPI index, a measure of inflation.
Selecting this premium option will ensure that a payout will retain the same level of purchasing power at the end of a policy as it did at the start.
Decreasing cover
With decreasing cover, the life insurance premiums and the corresponding payout will decline throughout a policy. This cover type is typically tied to a fixed-term plan whose purpose is to provide financial protection against a mortgage whose payments also reduce over time.
Level cover
With level cover, the premium and corresponding payout level will remain the same for the policy's duration. The disadvantage of this premium option is that the payout level may be small due to being eroded throughout the policy by inflation.
Associated Life Insurance Cover
Life insurance with pre-existing health conditions is a flexible type of cover. It is often associated with other insurance policies that provide financial coverage, either as part of a broader plan or as stand-alone cover.
Critical Illness Cover
Critical illness cover has a lengthy association with life insurance, often as an additional component within a policy.
Unlike life cover, you do not have to pass away for you and your dependents to benefit from financial cover. To qualify for a payout, you must survive at least ten days from diagnosis of a qualifying illness and no longer be able to work.
Typically, a list of common qualifying illnesses is detailed at the start of a policy, but this can also be tailored to include other specific illnesses.
Standard conditions include but are not limited to the following:
Parkinson's disease
Alzheimer's disease or pre-senile dementia
Systemic lupus erythematosus
Multiple system atrophy
High blood pressure
Heart valve replacement or repair
Loss of hand or foot
Structural heart surgery
Heart disease
Benign brain tumour
Severe lung disease
Coronary artery by-pass grafts
Benign spinal cord tumour
Traumatic brain injury
Heart attack
Income Protection
Income protection is another financial product not dependent on death for the policyholder to benefit.
An income protection policy is set up to provide a replacement wage if you cannot work for a time due to an accident or illness.
When a replacement wage is forthcoming after you can no longer work, it often ties in with the statutory requirements of your employment contract regarding sickness pay.
For example, a company may pay their staff for three months when not in the workplace, which means a replacement salary for any policy would start after three months.
You should think about a policy if you have any of the following financial obligations, and if you have no savings, would struggle to pay them back if you are not able to work:
Hire purchase agreement
Mortgage
Equity release loan
Bank Overdraft
Car loan
Personal loan
Debt owed on credit cards
Life Insurance With Pre-Existing Conditions Summary
If you have pre-existing medical conditions, you may already know that there may be challenges in getting life insurance cover at a fair price that will include your ailments.
To increase your chance of insurance cover, it is crucial to consider the services of insurers that specialise in this area. They will be able to guide you properly through the process and use specialist underwriters who have experience in pre-existing conditions.
Why delay in at least getting a quote for cover? Would you not like the peace of mind in knowing your family will be protected if something should happen to you?