Income Protection Insurance For Vets 2022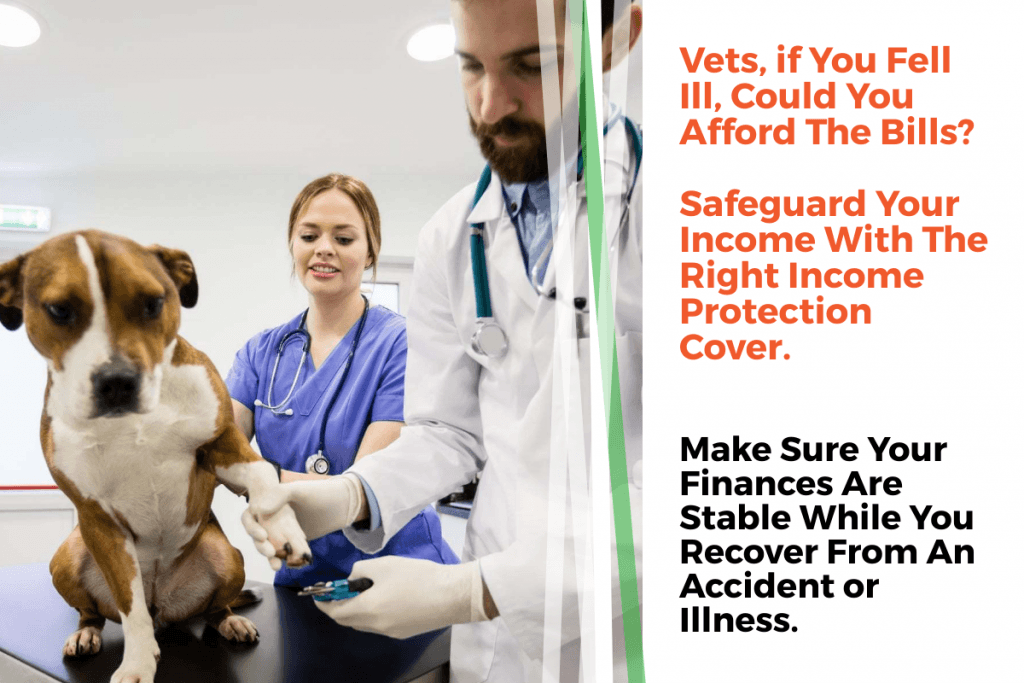 Being a vet can be a challenging yet immensely satisfying profession. Accidents and injuries can happen in the workplace, however, and if you are unable to work for a time, it can result in financial pressure to keep paying rent and bills.
Income protection cover can provide that financial protection allowing you, as a vet to enjoy your chosen occupation with the peace of mind that you and your loved ones are protected should you be unable to work. Please read our detailed guide to find out more.
What Is Income Protection Insurance for Vets?
Income protection for vets is financial protection that is provided by way of a replacement salary if you cannot return to the workplace due to an accident or injury. The size of a regular monthly premium paid to an insurer will correlate to the size of the income benefit.
The Main Benefits Of Veterinary Income Protection
There are four key benefits of taking out income cover. If you are a vet, it is worth considering the following:
You can protect yourself with up to 70% of your regular salary by getting cover with a replacement wage should you be unable to work through accident, illness, or injury
All benefits paid out under an income plan are free of UK tax.
The receipt of a replacement salary enables you to maintain your standard of living even though you are unable to work.
Income protection for vets is a flexible insurance which can be changed on an ongoing basis to meet your ever-changing professional and personal life.
Vets Income Protection Insurance From Top UK Companies. Quick Form. Start The Process Online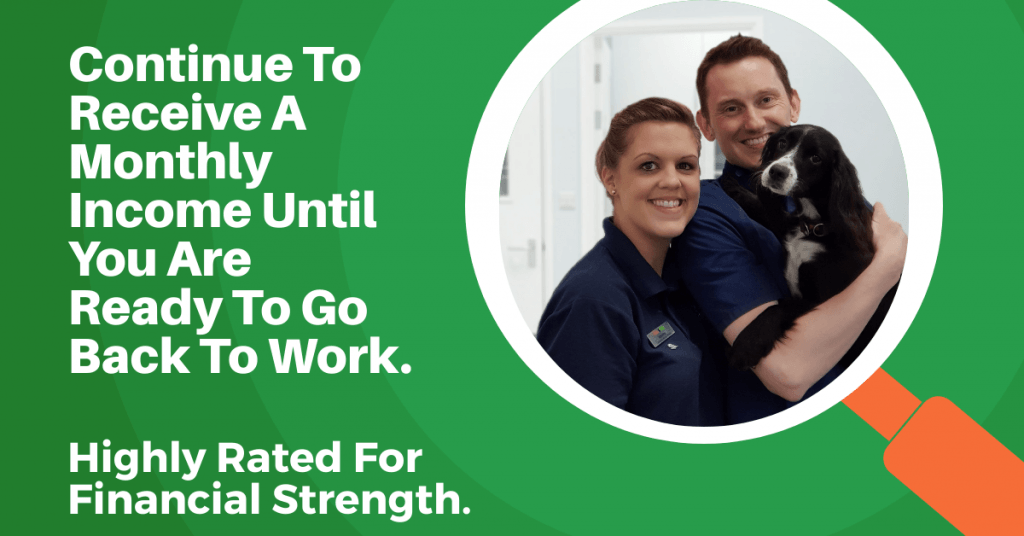 Why Do Vets Need Income Protection?
Being a vet is a complex and varied occupation and combined with specific risks in the workplace can result in a vet being off work for a sustained period if accidents happen. There are four key risks involved in working as a veterinarian.
Injuries inflicted by animals.
Small animals bite, and scratch, which can lead to infections and large animals like horses have powerful kicks which can inflict injuries. Before an animal undergoes anaesthetic, its reaction to a different environment like a vet's surgery can result in unpredictability, possibly causing harm to a vet.
Musculoskeletal injury
Working as a vet can be physically demanding and wear and tear on the body can cause absences in the workplace.
Animals can be cumbersome, and those that are under the influence of the effects of general anaesthetic are like a dead weight. Improper lifting, bending over and standing for extended periods during operations can take its toll on a vet.
The US National Library of Medicine undertook a study in 2012, which found that 93% of vets reported some kind of injury in the preceding 5 years including improper posture leading to musculoskeletal problems such as muscle spasms, ruptured discs, and spinal alignment problems.
Dangerous hazards
Exposure to both X-rays and chemical hazards is an occupational risk working as a vet. Accidental exposure to X-rays can lead to an increase in cancer types and burns to the skin and eyes. Chemical hazards are an ever-present danger which a vet must manage carefully. Dangerous drugs, anaesthetic gases and disinfectants all pose risks to human health and complications can arise if a vet has had extensive exposure.
Diseases
Exposure to disease-causing pathogens is an everyday concern for vets. An accidental prick from a needle contaminated with animal blood, rabies risk from an animal bite or other ailments are all risks that a vet faces in the workplace.
Protect Your Income Today. No Obligation To Purchase. Vets Income Protection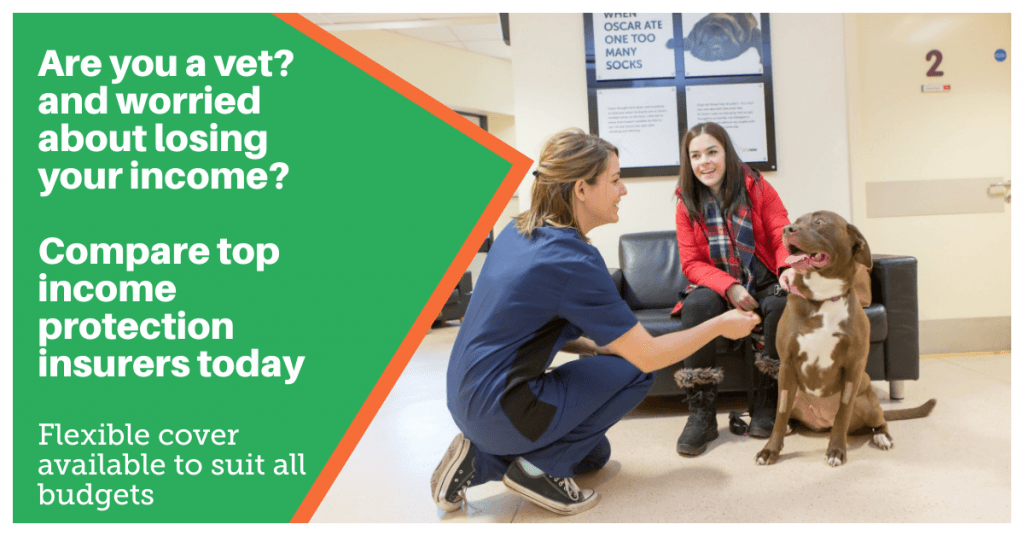 Is Income Cover Appropriate for Your Circumstances?
The importance of income protection as insurance and whether it is relevant for you relates closely to your circumstances. If you cannot do your job for an extended period, important considerations include the following:
Savings
Without a regular salary, for how long will savings sustain you or your family's lifestyle should you be unable to work? Perhaps, three months or six months? What happens if you sustain serious injuries resulting from a workplace accident and cannot work for a year?
Financial commitments
Whether you are single or have dependents, there will be economic consequences of not being able to work. Mortgage or rent payments, personal loans, household bills and school fees all still need to be paid if you are not working.
Work considerations
Depending on how you work as a vet will dictate your circumstances, should you not be able to work. A self-employed vet may have different requirements than a vet working as an employee at a veterinarian practice.
Self-employed vets
A self-employed vet or locum vet working at practice will not have the comfort of receiving an ongoing salary from a method should they be unable to work. Similarly, a vet who is the owner of the practice and operates the business as a limited company will have to consider income insurance in the context of being a company director.
Veterinarians working as employees
If you work as an employee at practice, it is essential to look at your work contract to see how long you will continue to be paid if you are unable to work due to an occupational illness, accident or injury. For example, your employer may cover your salary for six months if you are unable to work. However, what will happen after those six months are up, and you are still unable to return to the workplace?
The UK government only pays out a maximum of 28 weeks in sickness benefits, and it is less than £100 a week. In comparison, a plan that covers up to 70% of your salary is a substantial financial safety net.
What Are the Different Elements in an Income Protection Policy?
Income protection is not complicated insurance. It is essential, though, that you use a broker that specialises in insurance for vets and understands the intricacies of the profession. It is vital that coverage is set up correctly at the beginning and the plan closely aligns to your professional day to day vet activities so a plan will payout when you need it most.
There are several elements to a plan that you should be aware of:
Sum assured
At the start of the insurance, you decide how much of your monthly salary you want to receive if you cannot work. The higher the percentage, the more the cost of coverage. Most insurers will not cover you for more than 70% of your actual salary. The intention with a policy is to support you until you can return to the workplace and encourage you to do so, which may be less of an inclination if a full salary is being received.
Cease age
Cease age is simply the age you will be when the plan ceases to provide coverage. It is common practice to align a plan with your retirement date. The older you leave it to retire results in the higher cost of cover.
Deferred period
A vital element of income protection insurance for vets, the deferred period is the gap between when a claim takes place and when a replacement salary starts to kick in. The length of the deferred period will closely align with any employment contract. If you are self-employed, the deferred period might need to start from the next month's salary, whereas an employer may cover an employee for three months before salary payments stop.
Fixed or variable benefits
You have the option if you want your policy to change with your professional or personal circumstances or stay the same. For example, a mortgage may finish paying, and without rent to pay, a policy that has a decreasing level of cover may be appropriate to your situation.
Length of the claims period
Two types of policy length are available under an income insurance plan:
Short term cover: This is the limitation of how long a payout can last if you are unable to work and is typically between one and five years. It is a cheaper type of plan than a long-term cover.
Long term cover: A more costly type of coverage, it will provide you with a monthly salary until you can return to the workplace or if you are unable to go back to work, until your retirement date.
Optional Features Available With Vets Income Protection
We have highlighted the core features available with an income protection policy. Several additional cover options exist that you should be aware of, but their availability may depend on the plan:
Death benefit
If you have successfully claimed for a payout and are receiving a replacement salary, a death benefit option will provide your dependents with a lump sum payout should you die during this time.
Childcare benefits
If you are unable to work, a childcare benefit option will provide a fixed sum per month for each child until you can return to the workplace. For example, the benefit can pay for further child-minder needs.
Policy freezing or pausing
An insurance plan will not pay out if you are not in employment should there be an accident, injury, or illness. If unemployed, it is advisable to pause your insurance until you find a new job.
Involuntary redundancy
Sometimes it can be an option to include involuntary redundancy or dismissal as an extra feature on a plan. A layoff is not covered on a standard plan, and you would not receive a payout.
Specified injury or trauma
An additional payout may be due if specific injuries or trauma list individually on the policy definitions. The extra payout can be either a lump sum or a top-up of the replacement salary received following a successful claim.
How Can Insurance Hero Help?
Insurance Hero is an independent broker that specialises in providing income cover for Vets and other medical professionals. We work with a network of underwriters that are expert in the intricacies of working as a vet.
With our thorough fact-finding questionnaire, rest assured, we will get to understand the full extent of your daily vet activities. It will ensure a quote is not only competitive but also closely aligns with your circumstances, meaning your policy will pay out when you need it to most.
What is Covered and Not Covered Under Income Protection?
If you are a vet, income protection pays out if you successfully submit a claim confirming that you cannot work due to an illness or accident.
An income insurance plan is not absolute financial security, and not everything is covered, which is why it is essential to outline with your broker what is in your insurance plan at the start.
Different underwriters will classify being unable to do your job in differing ways and will quote accordingly. There are three options:
Inability to carry out your exact job role
Inability to do your job role and a similar job you are qualified to undertake.
Inability to do any type of paid role
The most expensive type of cover is if you are unable to work and perform your exact job role, compared to cover for not being able to do any job.
A job-specific policy will pay out a proportionate payment if you return to full-time employment but in a less well-paid role.
Scenarios that are not covered
Income insurance will not pay out should you be unable to work due to any of the four following reasons:
Pregnancy or childbirth
Accident or illness from undertaking hazardous activities or dangerous sports that are not on an approved list within the plan definitions
Drug or alcohol addiction is stopping you from doing your job
If pre-existing medical conditions prevent you from doing your job
Insurance Hero is an independent insurance broker expert in providing income insurance for vets. Contact us on 0203 129 88 66 to find out how our professional team can provide the financial protection that you deserve.
FAQs
My circumstances are changing, how flexible is an veterinary income protection policy?
Income protection insurance for vets is perhaps one of the most flexible types of insurance. Professional circumstances may include salary increases or the purchase of a practice. A plan will allow for the continual amending of cover levels to continually align with your current situation.
Can any vet apply for income protection?
Any vet can apply for a plan but the criteria must include the following:
You must be no older than 63 years old when submitting a new application.
You must be aged 16 or above.
A holder of a current UK bank or building society account
you are currently paying UK tax.
Registered with a UK medical practice for at least three years
Can I claim for more than one policy?
It is possible to claim for more than one plan as long as the total of all the insurance plans does not make up more than 75% of your regular salary received preceding a claim.
Further reading on this topic: