Best Income Protection Insurance For Contractors In 2022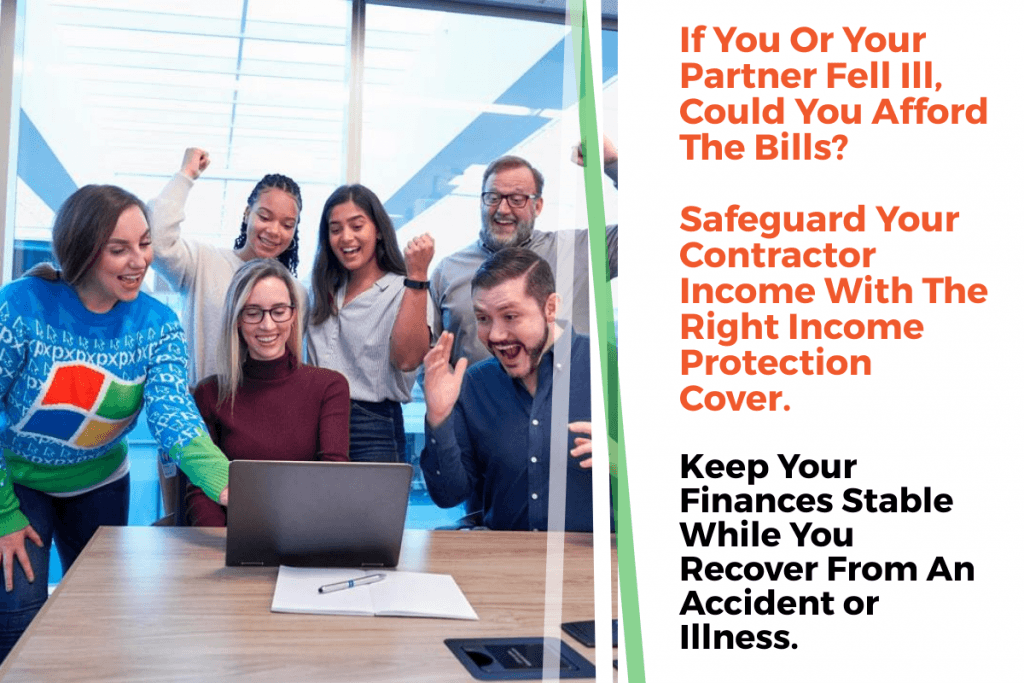 Do you worry about how you will pay the bills should you be unable to work? Do you have loved ones that would suffer from financial hardship without your monthly income?
This comprehensive guide about income protection is essential reading. Find out how a modest monthly payment can provide not only a replacement salary but complete peace of mind.
All About Income Protection Insurance For Contractors
Income protection is an insurance cover that provides a replacement salary should you be unable to work for a time. It gives that feeling of financial wellbeing in return for paying a regular monthly premium into a fixed term policy.
Why Do Contractors Need Income Protection?
As a contractor working either as a sole trader or using a limited company, it is unlikely you are protected by a sick pay policy as offered by businesses to their employees. Depending on the industry, an employee may be paid anywhere from one month to one year of their salary when off sick.
As a contractor, if you are unable to work due to illness or injury, you would receive the UK government sickness benefit which is a payment of just under £100 payable for up to 28 weeks.
Depending on your ailment, further disability allowances may be available. However, for many, these low weekly payments are simply insufficient to maintain a reasonable standard of living. Income protection insurance steps in to close the black hole in earnings should you be unable to do your job.
Income Protection Insurance From Trusted UK Companies. Quick Form. Start The Process Online

The Key Benefits of Income Protection
If you are a contractor, insurance is essential protection that you should consider. There are crucial benefits of having a plan in place which include the following:
If you can't work due to accident, illness or injury, a replacement wage will maintain your standard of living until you can return to employment
Policies can tailor to provide salary payments right up to your retirement if you are unable to ever return to the workplace
Benefits that payout as part of a plan are UK tax-free
Insurers will cover up to 70% of your salary under an income protection plan
It is a flexible insurance and can adjust to ever-changing personal and professional circumstances
Is Contractor Income Protection Relevant for Your situation?
As a contractor, make sure that you are financially secure should you be unable to work through accident, illness or injury. To understand if income protection is for you, consider the following:
Savings
As a contractor, do you have enough savings to last a year without working? Injury or illness could result in being out of the workplace for a long time.
Financial commitments
Have you got financial obligations that may come under pressure should you be unable to work? It includes mortgage payments, personal loans, school and university fees and general month to month living expenses.
Supporting partner
Does your partner earn a good salary that could help cover any shortfall in your earnings should you be out of the workplace?
Keep Afloat When Life Isn't So Buoyant. Cover Expenses If You're Unable to Work.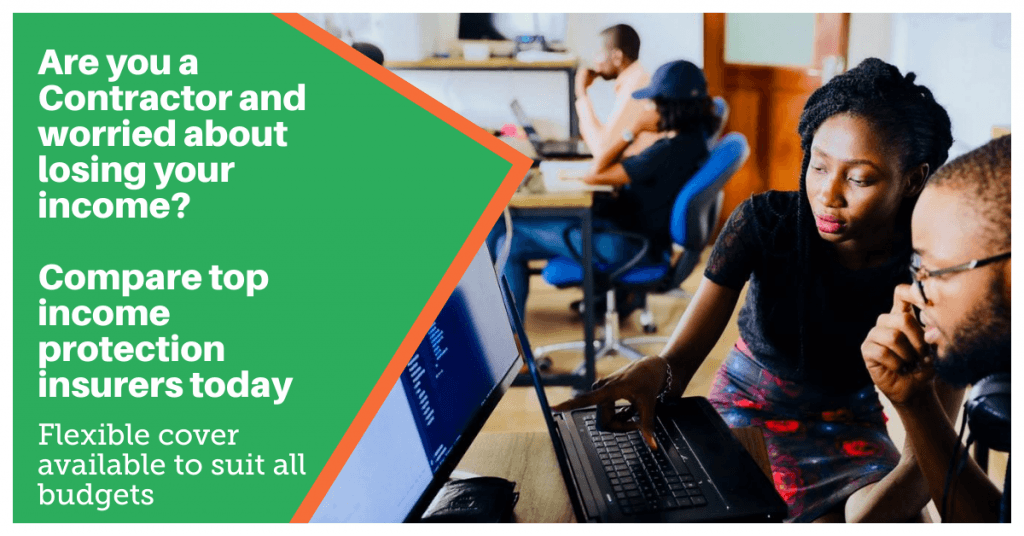 How can Insurance Hero Help?
Insurance Hero provides income protection cover to contractors and the self-employed. Here are a few of the reasons why we can help you:
Insurance Hero is an independent insurance broker. We do not tie to any underwriter; our service is completely impartial. It allows us to find you income protection insurance for contractors cover that is not only competitive but tailored to your circumstances.
Access a team of professional brokers who are experts in the field of contractor income insurance protection. All our staff understand expertly what this policy covers and have a direct line and email, ensuring you have personalised contact when you most need it.
As a broker, we have more substantial negotiating power when dealing with insurers and can provide lower premiums than if you go direct
Our caring team will fully support you during the claim process should you make a claim ensuring the income protection for contractors process is efficient, enabling you to get a prompt payout.
Contact Insurance Hero today on 0203 129 88 66 for your contractor income protection quote. Our friendly team of brokers will work with you to provide a quote that will tailor to your circumstances – We want to ensure that your plan is watertight. Your policy is our top priority!
Income Protection for Contractors – Understanding the Main Policy Features
Ahead of sitting down with an insurance broker, it is vital to understand the main elements of income protection for contractors.
As a contractor, your broker should craft a policy that is relevant to your situation. If you understand what is relevant to you, it will help you make an informed decision before committing to start a plan.
Below are both standard terms and additional features that you should know. Your broker may be a generalist and not understand the intricacies of working as a contractor or specific medical inclusions that may be relevant to your circumstances.
Deferral Period
It is the time-lapse between when you submit a claim and when your replacement salary activates. For employees, this ties in with an employer's sickness policy. A contractor is self-employed and will need to gauge the deferred period with their finances and how long they can afford not to work. The lengthier the deferred period, the lower the premium. Conversely, the shorter the deferral period, the higher the monthly premium cover.
Level of Cover
Self-employed contractors are typically sole traders or operate through a limited company of which they are a director. Sole traders should opt for a personal policy that allows coverage of up to 60% to 70% of regular salary should you be unable to work. Company Directors can opt for a plan allowing up to 80% of salary coverage. There is a separate section covering director income protection insurance later in the guide.
Cease Age
How old will you be when your income protection for contractors policy matures? It is normal to align the plan end date with your retirement date. The later you leave it until retirement, the higher the cost of cover becomes. Insurance providers provide coverage up to the age of 70. Premiums will be significantly higher than coverage for an individual retiring at 60 or 65.
Length of Claims Period
It is the period that will be covered by a replacement salary throughout a policy. Short term cover typically provides a payout from one to five years. The lengthier the payout period, the higher the cost of coverage. Long term cover differs as it allows for the sum assured until retirement should you no longer be able to return to the workplace.
Studies have shown that the average length of a claim period is just under eight years in the UK. It would suggest that taking out a long-term contractor income protection policy is a sound recommendation. Insurance Hero adheres to this view.
Premium – The Cost of Cover
It is the cost of cover in contractor income protection insurance. It represents through a monthly amount paid throughout a fixed-term plan.
Guaranteed Premiums
The monthly premium is 'guaranteed' to stay at the same level for the policy duration. The insurer cannot change the premium level unless it is a request that comes from the policyholder. This premium type can be useful if a policy begins when the policyholder is young and has no medical conditions of note.
Reviewable premiums
An insurer can review the level of premium at any time, typically as a result of unexpected circumstances. Reviewable premiums start as a cheaper option. Upward revisions, however, usually result in the policy premiums becoming increasingly expensive over the policy duration.
Age-banded premiums
This type of cover amount rises as the policyholder gets older. It associates increased age with the higher likelihood of an older person making a claim. Age-banded premiums are cheap at the start and rise progressively over the policy duration.
Indexation
Indexation is an integral part of life insurance, including income protection cover. The insurer uses inflation as a benchmark to raise insurance premiums. Popular references in the UK are either the Consumer Price Index (CPI) or the Retail Price Index (RPI). There are three types of premium cover available.
Level
For the income protection for contractors policy duration, the premium and subsequent replacement salary remain at the same level throughout.
Increasing
Both premium and salary coverage rise incrementally throughout the policy in line with the level of inflation.
Decreasing
The premium decreases throughout the insurance. It can be useful if it protects financial commitments like a mortgage which also has a fixed maturity date and reduces over time.
Worried About Losing Your Job? Get Tax-efficient Cover – 60 Second Quote Form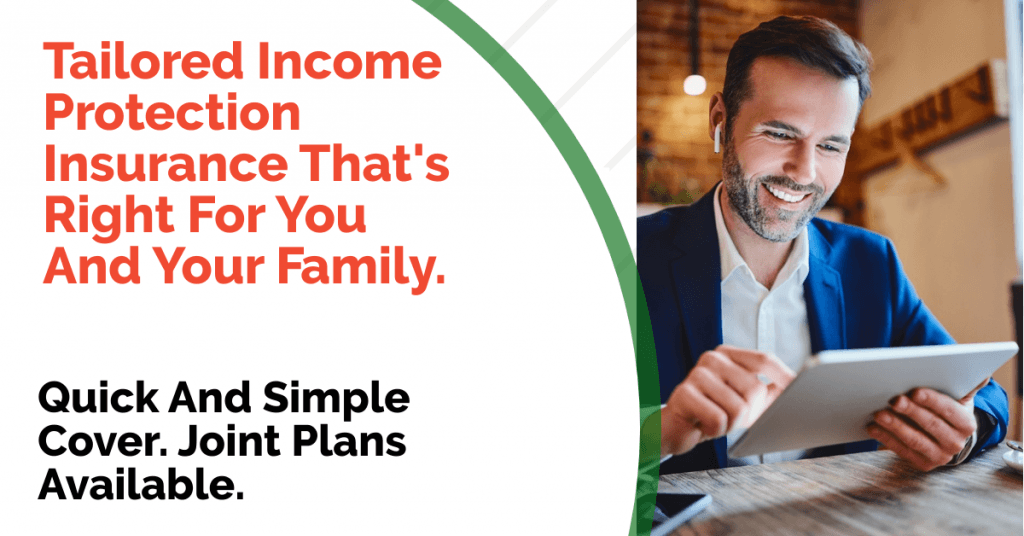 Additional Cover Features
There are other standard features and optional features of income insurance cover that you should be aware of ahead of taking out a UK policy.
Death benefit
If you die while receiving income benefits, this feature allows designated beneficiaries to receive a one-off lump sum payout. A payout may not be due should the injury or accident prove to be fatal.
Specified injury or trauma
A specific type of illness or injury can be an inclusion at the start of a personal plan. If you can't work due to this inclusion, an additional payout is due. The extra payment is usually added to the regular amount when a claim occurs but sometimes can be a lump sum payout.
Childcare benefit
If you cannot work, childcare benefit pays out a further fixed amount for each child specified in the policy. This additional payout is useful for any other nursery, childminder or nanny requirements.
Freezing Insurance
As a contractor, there may be periods that you are in between jobs or voluntarily not working. Pausing can be useful until you are back working as a contractor. The policy does not payout if you are not working and it makes no sense to pay monthly premiums, hence the benefits of freezing.
Involuntary Dismissal
It is perhaps just as relevant for a self-employed contractor as an employee of a company and worth being aware of. Some insurers will include involuntary dismissal as an additional option to a policy. If you think the nature of your job warrants such an inclusion, it is worth speaking to your insurance broker to find out more.
What Comes Under Self-Employed Income Protection?
If you are a self-employed contractor, the attraction of contractor income protection is to provide a replacement salary while you are not able to work.
Income protection for self-employed contractors covers against wide-ranging illnesses, injuries and accidents, but there are areas that you should be aware of that are not covered:
When an incident occurs, if you are working overseas in a country or location not included under the initial terms, this may stop any payout
Any participation in high-risk activities or extreme sports not declared at the beginning
Alcohol or drug abuse
If you are pregnant and childbirth
Pre-Existing Medical Conditions
The declaration of pre-existing medical conditions is crucial at the start of a plan. An insurer will have to be aware of any medical issues within the last five years, and these interpret in any of three ways:
The medical problem excludes from the policy
The medical condition provides coverage on standard terms
The disease has the cover but results in a higher premium level
Own occupation / any occupation
When taking out income protection for self-employed contractors, it is essential to understand how your insurer defines your job.
If you cannot work, different insurers define your inability to do your job differently. There are three types of interpretation:
Failure to do your job or a similar one that you are qualified for
The failure to undertake your actual job
Failure to do any kind of paid work
Should you choose to specify this in your policy; the highest level of coverage (and most expensive) is the inability to do your actual job.
Proportionate payment
A further contractors income protection feature you should be aware of is proportionate payment. If you return to paid employment, but in a lower-paid role, the policy can top up your earnings.
Director income protection insurance
Contractors who are sole traders can operate using a standard income protection personal plan.
Director income protection insurance is relevant for a contractor using a limited company.
All salary and dividends are paid to a contractor through their limited company. The policy is set up in the name of the company, and the business pays the monthly premiums.
If any claim occurs, any benefit taxes as income. It differs from personal plans where the benefit is tax-free due to premiums paying from post-tax income.
Pre-tax income using a limited company enables a higher level of up to 80% of regular salary compared to the lower levels of a personal plan.
Insurance Hero is an independent broker that helps contractors with insurance policies tailored to their personal and professional circumstances. Contact our expert team of brokers today on 0203 129 88 66 for a competitive no-obligation quote. We are here to help you!
Understanding the contractors income protection claims Process
If you find yourself not able to work and need to submit a claim as part of your income plan here are the simple steps involved in the claim process.
Step 1: Contact your broker
Contact your broker or insurer and request an application form to make a claim. You can make contact by phone, email, web chat or written correspondence.
Step 2: Complete an application form
Once you have received the claim form, you will need to complete it and provide any requested information. Standard information required by an insurer is a GP report outlining the medical condition that is stopping you from working. Additional financial information such as payslips, P60s, business accounts and tax returns are required. The nature of information needed will depend if you are a sole trader or using a limited company
Step 3: How is a claim assessed?
The insurer will firstly check your circumstances meet the criteria laid out in your policy. The insurer will then check that the replacement salary is still correctly tied to your salary when you stopped working as well as verifying other payout requirements.
Step 4: Once a claim receives approval
Once an application gets a sign-off, you will receive a call to confirm your bank payment details and when the first payment will occur. Until this has happened, you need to keep paying your monthly premiums into the policy. The claim will review from time to time until you can return to the workplace.
FAQs Around Contractor Income Protection Insurance
Why is my replacement salary not adequately covered?
This insurance type has a cap on how much of your regular income you receive in your plan.
The reason is simple. It will encourage a claimant to return to work. The policy is not to put you in a better financial position than working.
Income insurance for contractors is rarely above 70% for personal plans, and in fact, you can choose a lower level of coverage if you want to keep insurance premiums down.
Is unemployment insurance for all contract workers?
The answer is yes. Irrespective of whether you are a contractor operating as a sole trader or using a limited company, you can take out a policy.
The requirements are being 16 years of age or above, registered to pay UK tax, registered with a UK medical practice for the last three years and have a UK bank account.
Is Income Protection the same as ASU?
No, they are not the same. Accident, sickness and unemployment is a cheaper alternative. It does not offer a long-term option and does not have full medical underwriting.
For contractors, are there other alternatives to full income protection cover?
Yes, there are alternatives, typically lower cost but less comprehensive:
Accident and sickness insurance: Low-cost cover which covers for accidents as well as illness
Sickness insurance for contractors: A cheaper alternative for contractors, this is just cover for illness
Unemployment insurance for contract workers: Specifically covers events in the workplace
Redundancy protection: It exists, purely to protect against involuntary dismissal, its sole purpose.
Mortgage payment protection: A consideration if your primary concern is protecting your mortgage payments against a possible job loss.
What is the cost of income protection contractor insurance?
Without getting a quote, this is difficult to answer as there are so many variables to consider. These include some of the following:
Factors include the length of the claim period, your age and any underlying medical conditions, the percentage of salary covered, the duration of the policy and whether you want the plan indexed to take inflation into account.
How flexible is income protection to changing circumstances?
Insurers understand that as a contractor, your circumstances will evolve over your working lifetime. If you have a change in circumstances, a policy can change.
Changes as part of your private and professional life may include a new mortgage, the birth of a child, an increase or decrease in salary. You should contact your broker whenever you think you have a change in circumstances that will affect your contractor's income protection policy.
Can I have more than one protection policy?
Yes, this is possible. There are genuine reasons that someone may choose to have more than one policy in place.
What should be of note is any payment benefit resulting from all your total benefit claims cannot exceed 75% of your regular salary.
What is the difference of income protection and life insurance?
Income protection intends to provide a regular payment (salary) if you can't work due to illness or injury. The plan can ensure financial security until you return to work or until you retire if you take out a long-term policy.
Life cover provides a lump-sum payout, not a regular payment and effectively, there is only benefit if the policyholder dies.
Can you get a policy if you have an existing injury?
Yes, this should be fine. You must declare your pre-condition at the outset of your policy—the extent or type of injury impacts on how an insurer will consider it.
There are three ways of how an insurer deals with a pre-existing injury. Firstly, they may exclude it altogether from coverage. Then, they may include it but with an additional premium and finally, they may accept the condition in the policy at standard rates.
Is income protection and critical illness different?
Yes, there is a fundamental difference. Income protection insurance for contractors pays out a monthly benefit payment that is up to 70% of your regular salary—its intention is for you to be able to return to the workplace. Critical illness provides a one-off lump sum payment if you live longer than ten days after diagnosis. It assumes that you may never return to the workplace.
Other income protection pages (by occupation):