The average individual has a Body Mass Index (BMI) of 23. BMI is the measure of the ratio between their height and weight.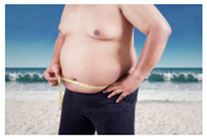 Even for those individuals whose BMI is up to 55, it is possible for them to find life insurance.
Our company specializes in finding individuals who are considered to be overweight the life insurance policy they need and want.
We can also help with other insurance needs such as income protection  and critical illness insurance.
Our company is highly aware of how insurance companies will view applications having a high BMI and we know which insurers will consider the application after years of experience and working with different agencies.
Most importantly, our insurance professionals will do all the work when it comes to interfacing with the insurance provider, making the process simple and much less stressful for the individual applying for the life insurance policy.
High BMI? Compare The Top UK Insurers · No Obligation · Free Quote Below

While there is never a guarantee that our team will be able to get individuals the life insurance they want with a high BMI, they can rest assured that our professionals will explore every possible avenue in order to secure a policy that fits their needs and budget.
We also promise to give clients an honest assessment as to whether or not their application will be appealing to life insurance providers and give some indication of what the monthly premiums will be given due to their high BMI status.
Whenever there is a choice between insurance agencies, our team will help the client to choose the insurer best suited to meet their needs and willing to offer them coverage at the lowest rate, helping our clients to be confident that they will be receiving the best possible policy for their money.
Our insurance professionals will handle all the paperwork, keeping the client updated throughout the process so they know and understand their case is being well managed.
We have a team of specialists working to find life insurance policy options and providers for those individuals considered to be overweight. Although we are working hard to find this information, our team is always available to discuss individuals' specific life insurance needs and any concerns they may have about purchasing a life insurance policy.
Best of all, our company is based in the UK, so individuals will not have to deal with any foreign representatives or call centres.
High BMI Support
In addition to helping our clients find a life insurance provider willing to accept their application, even with a high BMI, we also pride ourselves on being able to help individuals as much as possible when dealing with their pre-existing condition.
Below are links to different resources we have worked with before such as support groups and other useful information for those clients with a high BMI:
What is High BMI?
For faced with a high BMI, they are carrying too much body fat in conjunction with their height. BMI, or Body Mass Index, is a measure of an individual's weight against their height. Many individuals become overweight when they eat more calories during the day than their body is able to burn off.
For residents of the United Kingdom, a BMI of between 25 and 30 is considered overweight, those with a BMI of above 30 are categorized as obese and 40 and above is considered morbidly obese.
Our organization is usually able to secure life insurance for those individuals who are considered obese and have a BMI of between 30 and 55 and sometimes even higher. It is estimated that over half of all the adults in the United Kingdom  have a higher BMI than medical professionals would recommend – approximately two out of five adults are considered overweight and one out of five are considered obese. The number of obese individuals in the UK is rising, particularly among younger adults.
The number of obese adults in the United Kingdom has almost tripled since 1980 and is being considered an "obesity epidemic." It is important, however, to keep in mind that there will always be a range of body weights and BMIs that are considered to be healthy depending on the individual's age, sex and height.
A combination of a number of different factors helps to determine our BMI or weight and it is very difficult to set a specific ideal weight that can be applied to all individuals…
With this is mind, it is still important to strive to be within the recommended range of a healthy BMI number and a healthy weight based on the individual's sex and age. Many individuals have a very distorted perception of what a healthy body weight is – this is due in part to the images of celebrities and media that surrounds body image. For those individuals whose BMI number indicates that they are overweight, some simple changes to their everyday lifestyle can help to make huge improvements.
For those who have a high BMI, it will become important for them to think about how they can make changes to their diet and exercise plan over a longer period of time. Losing weight to reduce your Body Mass Index should not be viewed as a quick fix but more of a change to their overall lifestyle – when individuals participate in crash diets or unhealthy dieting, it is very possible for them to gain back the weight they have lost and more if they do not make permanent changes to their lifestyle.
Individuals who have a BMI that is higher than what is recommended given their individual circumstances, are at a higher risk for a number of health complications including cardiovascular disease, diabetes, and cancers like prostate, colon, and breast cancer.
These individuals are also more likely to have problems with their joints and back and may even find that they become winded easily and have problems sleeping. The higher the individual's BMI, the more these problems affect them. For those with a high BMI and being overweight, there are many health benefits experienced by losing weight, even just the first 5 to 10 percent of their body weight.
For those individuals who are categorized as obese, some of the health improvements they can see by reducing their body weight by just 10 percent include:
Less likely to develop health conditions such as diabetes and cardiovascular disease
Conditions such as osteoarthritis, diabetes, and high blood pressure will likely improve
Chance of passing away at any age is reduced by 20 percent
Reducing BMI and losing weight will be dependent on the balance found between the amount of calories consumed every day and the amount of calories burned through exercise and being active.
When people consume more calories than they burn through activity, they will gain weight and their Body Mass Index will increase – when they burn more calories than they consume, they will lose weight and their Body Mass Index will decrease.
When individuals reduce their daily calorie intake by 500 calories, it is possible for them to lose up to one full pound a week. For those trying to decrease their BMI through weight loss, it is important to set realistic goals.
In order for individuals to not only lose the weight and keep it off, they will need to make permanent changes to how they view food and the amount of physical activity they do every day. In some cases, keeping a diary of everything being eaten every day can help individuals to see how many calories they are bringing in and when they may need to up their calorie burn through exercise.
Information on Life Insurance for those with High BMI
A life insurance policy is designed to provide beneficiaries with a lump sum when the policy holder passes away. Most individuals understand that, when they pass away, it is very possible their family and loved ones will need financial support in order to cover costs and continue paying living expenses.
A life insurance policy is an important product to help ensure the policy holder and their loved ones that financial support will be provided for important expenses, such as an outstanding mortgage.
There are a number of insurance policies available depending on the individual's needs. Our team of insurance professionals is available and willing to help clients with any and all of their insurance needs.
Our agents take the time to understand each client's specifics needs and situation and work to find the more appropriate life insurance policy to fit their needs as well as their budget. Some of our company's most satisfied customers are those who were unable to find the coverage they wanted somewhere else.