Nationwide Life Insurance Reviews And Cover 2022
Nationwide Building Society offers insurance, banking, investment, loan, credit card, and mortgage services to residents of the UK.
The society even has a separate website dedicated to educating young people about safety, financial capability, employability, and sustainable living.
Included in its insurance offerings are policies that cover the home, car, landlord, business, life, and lifestyle. Founded more than 160 years ago, Nationwide is the largest building society in the world and has approximately 15 million members. Read our nationwide life insurance review to discover more.
Without comprehensive life insurance cover would your loved ones be able to do the following, if you weren't around to contribute financially?
Pay off the mortgage
Clear any outstanding debts that are in your name
Fund their current lifestyle
Buy a new property
Plan for a funeral
Deal with inheritance tax
Take Steps To Protect Your Family With Insurance Hero's Life Insurance Comparison Service.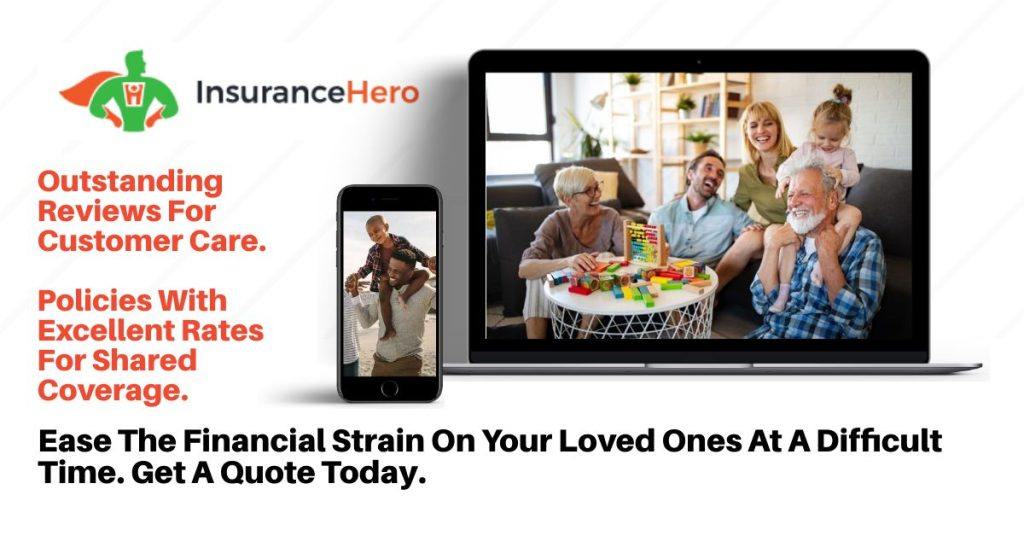 Level Term Life Insurance
Nationwide level term life insurance provided by Legal and General pays a cash lump sum if the insured dies during the plan term. The money can be used for any purpose, including funeral expenses, debt repayment, or living costs. The insured determines the term and the benefit level, which remains the same throughout the policy term unless the insured elects to change it.
Premiums are as low as £6 per month, so nearly everyone can afford this insurance.
Mortgage life insurance
Mortgage life insurance for Nationwide customers is also provided by Legal and General. This is term life insurance that provides a lump sum benefit for mortgage balance repayment. The insured chooses the coverage term and benefit, with both fixed and decreasing benefits available.
With fixed coverage, the lump sum value of the benefit stays the same during the plan term, making this policy suitable for repaying an interest-only mortgage. With decreasing coverage, the lump sum value decreases during the plan term roughly in line with the decreasing debt for a repayment mortgage. Premiums begin at £6 per month.
Critical Illness
Critical illness coverage can be added to a level term or mortgage life policy at an added charge. If the insured is diagnosed as critically ill with one of 39 listed disabilities or illnesses, a lump sum benefit is paid. The consumer may choose either a guaranteed premium and benefit or a premiums and benefit level that may increase every five years to continue providing the coverage needed.
Critical illness coverage is provided for children at no additional charge when a parent purchases a policy. Waiver of premium is another option that applicants may be able to elect for an additional cost. This pays premium benefits if the insured is unable to work for at least 26 weeks due to injury or illness.
Cover For The Over 55's
AXA Wealth Ltd offers over 55s whole of life coverage through Nationwide as Sun Life Direct. UK residents aged 55 to 80 are guaranteed acceptance with no health or medical questions asked. Premiums begin at £7 per month and as long as they are paid until the earlier of death or age 90, coverage will continue for the lifetime. Fixed or increasing coverage is available. With fixed coverage, the premium and coverage level remains the same.
With increasing coverage, the premiums and cash sum increase by five percent of their starting amount each year to help offset inflation. Premium increases are determined at the outset so the insured can budget for them. For applicants under age 69, premiums increase annually for the first 20 years and then hold steady until age 90, when they will cease.
For those age 69 or older, premiums increase annually until age 90, when they end. For both age groups living past age 90, coverage will continue and will increase annually until death.
Funeral Benefit
If the funeral benefit option is selected with the over 55s plan, the individual may have the cash sum paid directly to the Co-operative Funeralcare to assist with funeral costs. This option is available at no additional charge, and those who select it will receive an additional £250 contribution toward their funeral costs.
When conducting this nationwide life insurance review we discovered that the funeral benefit option may be removed at any time, even upon the death of the insured if beneficiaries wish to have the cash benefit paid to the estate or use another funeral provider.
Life insurance policies offered through Nationwide do not have a cash-in value. They run for the earlier of the term end date or when the insured stops making premium payments while still alive. Once a policy ends, a benefit will not be paid, and a refund will not be issued.
The over 55s guaranteed benefit will be paid as long as the insured has paid into the plan for two years or more. If the insured dies within the first two years of the policy, premiums are paid and an additional 50 percent will be provided to the estate.
When they purchase Nationwide life and critical illness coverage together, consumers receive a product with a five-star rating from the independent financial research company Defaqto. An insured may also choose free access to an innovative online resource called Healthy Living, which makes it easy to assess, track, and improve health.
Nationwide Life Insurance Reviews In Conclusion
We research whether Nationwide offers a plan compatible with your needs, based on the information you provide on our online quote request form. If you would like to read our top life insurance companies in the UK guide you will discover detailed breakdowns of term, whole and over 50's cover. We also rank the main providers on a 1-10 scale so you can easily see the pros and cons and decide which coverage best suits your needs.
Further Information:
Nationwide Life Insurance
Head Office Address: Nationwide Building Society, Nationwide House, Pipers Way, Swindon, SN38 1NW
Main Number: 0800 302011
https://www.nationwide.co.uk/products/insurance/life-insurance/life-insurance