Truck and Lorry Drivers Life Insurance Cover 2022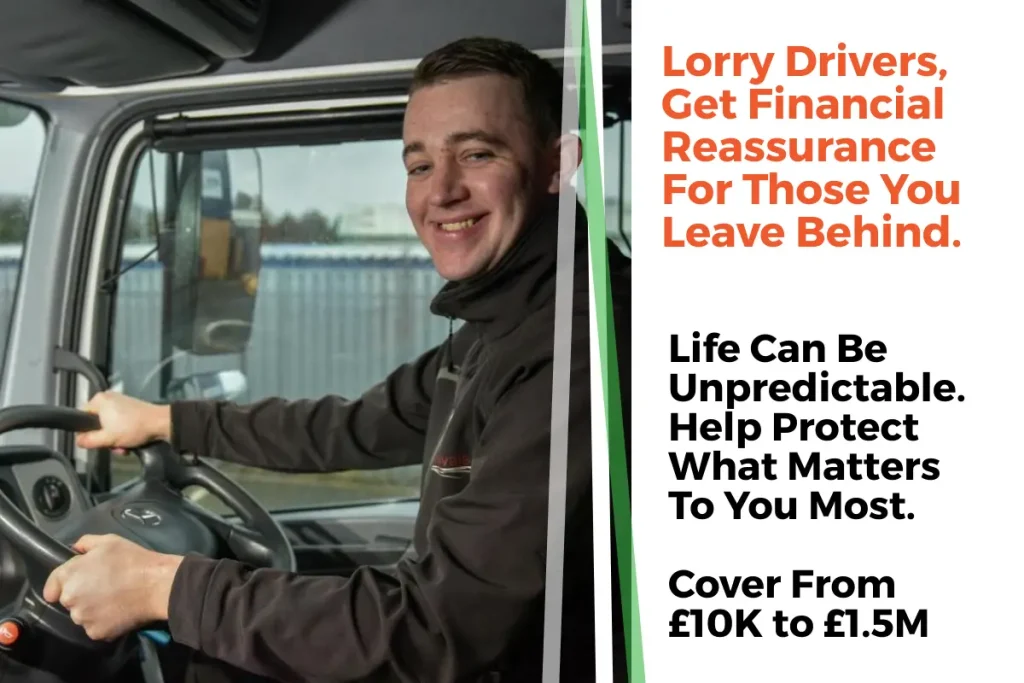 Do you worry about what will happen to the financial security of your loved ones should something happen to you?
Insurance Hero has been providing truck drivers with life insurance quotes for years. Read on about how you can secure your family's financial future.
Many people use life insurance cover for the following in the event of their passing:
Mortgage payments (to make sure your children remain in their family home)
Future family living expenditure (making sure possible lifestyle changes for your loved ones are covered)
Funeral costs (take care of this financial obligation so your family don't have to)
The cost of childcare. So your partner doesn't need to cut back their working hours)
Providing an inheritance gift for your children
Help Protect Your Family's Future, Compare Top Insurers. Find Your Cheapest Quote


Truck Driving from A Life Insurers Perspective
Being a truck driver can be an exhausting and in certain circumstances, hazardous profession.
Here at Insurance Hero, we work with companies specialising in providing life insurance to higher-risk professions, including truck driving. Through our strong relationships with specialist underwriters, they can provide not only competitive quotes but policies closely aligning with your circumstances.
Truck Driving – A Varied Occupation
You may drive an HGV to and from a building site every day which may be mundane and actually low risk. On the other hand, you may transport hazardous materials over long distances in a remote environment.
One activity may result in life insurance being offered at standard terms. The other may result in loaded premiums to reflect the additional risk.
Underpinning truck driving risks are health implications. Traditionally known as a sedentary occupation, long-term health can be affected by poor food choices and sitting down all day.
Insurance Hero – Understanding Your Truck Driving Activities
It is Insurance Hero's job to understand the extent of your truck driving activities fully. The brokers will run you through a detailed fact-finding questionnaire to provide an accurate quote.
They pride themselves on really understanding your circumstances, giving an accurate overview to Insurance Underwriters.
The aim is to put in place a watertight policy that will pay out when you and your loved ones need it most.
Save Money And Get A Quote Now. Protect Your Family Before Its Too Late.

For truck drivers, the following questions might be asked:
Do you transport hazardous materials?
Are your daily activities dangerous?
Do you drive in hostile environments or dangerous locations?
Do you drive to different countries?
Do you drive long distances?
How many hours a week driven?
What is the average length of a driving session?
Do you have any medical conditions caused by your driving?
How does Life Insurance work?
Life insurance cover explains itself through these simple steps:
Contact a reputable life insurance broker
Get a life policy quote
Agree to pay a regular premium over a fixed term
Designated beneficiaries receive a lump sum amount should you die
Who Should Get Life Insurance Cover?
Do you have dependents that would suffer financial hardship should you die prematurely, perhaps through an accident when driving your truck? If the answer is yes, consider life insurance cover.
Any of the following may cause economic hardship:
Outstanding personal loans
Mortgage
Credit card debt
Equity release
Hire purchase agreements
Car loans
High day to day living expenses
School fees
One income family
Associated Life Covers – What is Income Protection?
Income protection cover pays a regular salary should you be unable to work for a time. It might be the result of illness or an accident as a result of your truck driving activities. As with life cover, if you have financial commitments that you cannot meet if you are not working, then you should consider income protection cover.
In simple steps here is how income protection works:
Get a quote from a specialist broker
Agree to the terms of the policy and pay a regular premium
Receive a replacement salary while you are unable to work
Understanding Critical Illness Cover
Due to a sedentary lifestyle association, including poor food choices and sitting down for a long time, truck driving is associated with certain reoccurring types of illnesses.
Critical illness cover is provided by life insurance companies should you no longer be able to work. It provides a lump sum payout should you survive at least ten days from diagnosis of a critical illness or required emergency medical procedure.
At the outset of any policy, specific illnesses can include above the standard list provided by underwriters. With truck driving, there is sometimes a long history of disease due to a poor lifestyle associated with the industry.
Such diseases may include:
Heart attack
Cardiac arrest
Liver failure
Heart valve replacement or repair
Pulmonary artery surgery
Structural heart surgery
For more information on critical illness cover, contact the team at Insurance Hero today. We will help you to get that policy to provide financial peace of mind should you be off work. Call 0203 129 88 66 today