Life Insurance Cover For Construction Workers Simplified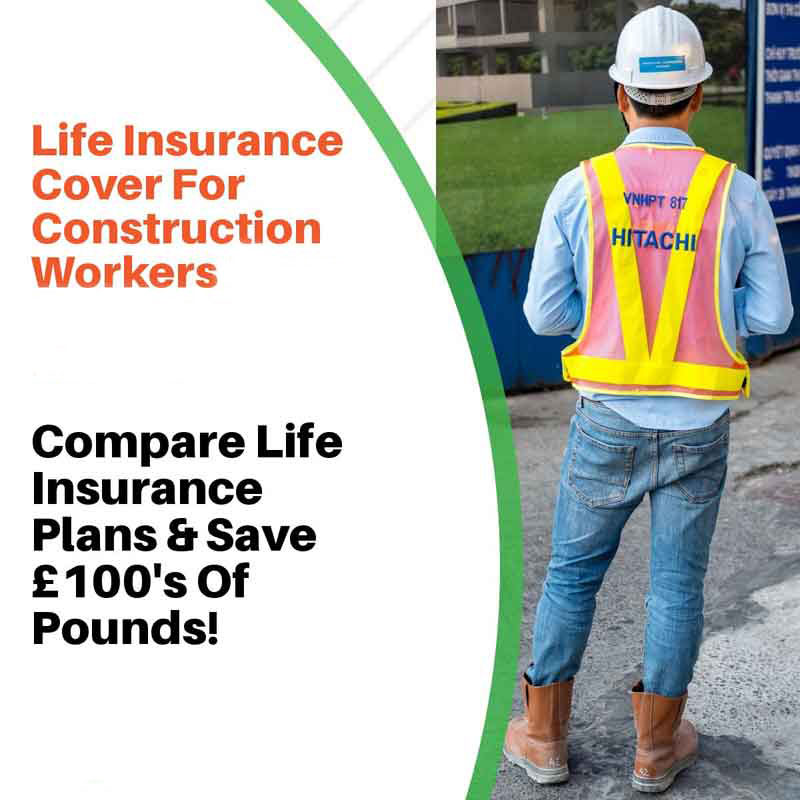 In this article the Insurance Hero team explains the different types of insurance cover available in the construction industry. In fact, we will even tell you how we can provide you with the most competitive quotes!
Life Insurance, Income Protection and Critical Illness Cover for Construction Workers
For those working in construction, also known as the building industry, the nature of activities undertaken in this sector is seen as a higher risk compared to jobs in other areas.

Protect What Matters. Get A Free Quote – Cover From *£5 Per Month
Dangerous activities often undertaken on a building site include:
Demolition
Handling hazardous materials or waste
Operating dangerous equipment
Working at a significant height
Insurance Hero has helped construction workers operating in higher-risk activities find life insurance, income protection and critical illness cover.
Why getting a quote from Insurance Hero will save you £££'s
We have a strong network of underwriters that we work with that specialise in underwriting high-risk occupations. We are not tied to any one underwriter. This is what ensures that we can provide you with the most competitive insurance quote if you work in building and construction jobs with varying degrees of risk including:
Crane operators
Roofers
Iron and Steel Workers
Electricians
Power Tool Operators
Protect Your Family For Less – Compare & Save – Policies From Leading Insurers – Quick Quote

What Is Building / Construction Life Insurance Cover?
Life insurance cover is a lump sum payment for beneficiaries in the case of death in return for regular premiums. The cost of life insurance is going to vary with the specific type of activities undertaken in a construction job. For example, if you are a surveyor, whose role involves periodic visits to a construction site, this would be deemed lower risk than the crane operator who operates at height. This will require additional underwriting from an insurer resulting in higher insurance premiums.
Questions that you will be expected to respond to as part of the quote process may include:
Do you handle hazardous materials such as asbestos?
Does your job involve working at height?
Do you work with dangerous machinery?
What are the typical daily activities that you are involved in on the construction site?
As well as detailed fact-finding information, to provide an accurate construction worker life insurance quote, you will need to specify:
The level of life insurance cover required
How many years the policy is required to last
Who are the beneficiaries of the life insurance cover?
For a fast, free, no-obligation quote for Building and Construction Life Insurance cover please contact us here at Insurance Hero. You can speak directly to one of our friendly team on 0203 129 88 66
About Income Protection Cover for Construction Workers
Insurance Hero can provide competitive income protection cover quotes. If you are unable to work due to illness or injury, by having income protection cover you will be paid a regular income. Typically, the policy will pay out after a pre-agreed period which can vary from one month to one year after you make a claim.
As with life insurance cover, the riskier your occupation on a construction site, the higher the perceived risk; if you work in demolition or work with hazardous materials, your income protection cover premiums are likely to be higher than for a civil engineer due to the additional underwriting required by the insurer.
Some of the common questions asked to formulate a quote can include:
What level of income will you require?
What is your current occupation in the building industry?
Outline tasks involving working at height, with hazardous materials or dangerous machinery
Critical Illness Cover for the Building Industry explained
By paying in regular premiums, Critical Illness Cover is structured to pay out a lump sum if you undergo a medical procedure or are diagnosed with a critical illness and survive at least ten days from diagnosis. The lump-sum is designed to assist dependents a strong financially allowing you to concentrate on your diagnosis and recovery without having financial worries. Life insurance for carpenters is also available via Insurance Hero, so if you work in this field or are self-employed, please feel free to contact us.
The list of illnesses that are part of critical illness cover includes but are not limited to some of the following:
Some types of cancer
Heart attack
Stroke
Alzheimer's disease
Multiple Sclerosis
Blindness
To provide an accurate quote, Insurance Hero will need to ask several questions, including:
How long do you want your policy to last?
Do you want level or decreasing cover?
Do you want to add a terminal benefit to your critical illness cover?
Get a free, no-obligation quote today for Building and Construction Life Insurance cover – Protect your family as you undertake high-risk building site work
Insurance Hero wants to help you get the best quote for you and your dependents. Contact us now for a no-obligation quote on 0203 129 88 66
*£100,000 cover from £5.00 per month* – based on a 30-year-old non-smoker taking out £100,000 level term cover over 20 years (L&G) – Prices correct as of May 2021