Life Insurance, Income Protection & Critical Illness Cover For Security Guards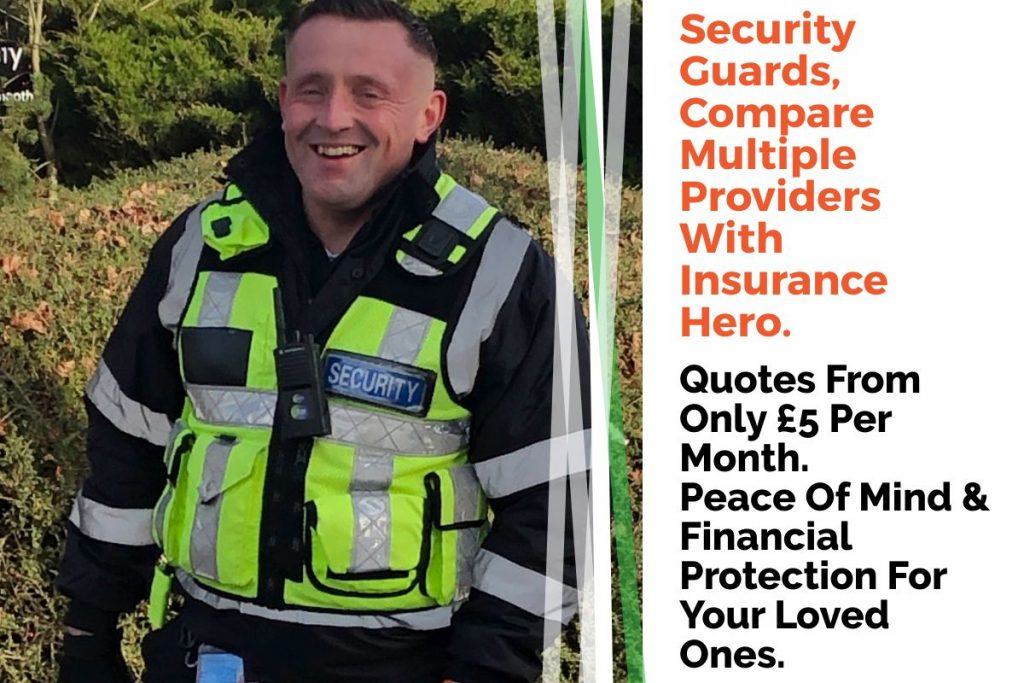 When it comes to life insurance and premium payments, insurance companies will ask for monthly payments that help them to cover the perceived risk the policyholder has of making a claim.
For this reason, individuals often believe that having a high-risk occupation, such as a security guard, automatically means that they will be paying more a month for life insurance coverage. The good news is, this is not always the case – here is what you should know about life insurance for security guards.
Without proper life insurance protection would your loved ones be able to do the following if you weren't around to help out?
Pay off the mortgage
Clear any outstanding debts in your name
Fund their current lifestyle
Buy a new home
Plan for a funeral
Deal with inheritance tax

Bespoke Life Cover For Security Guards · No Obligation · Free Quote Now

Life Insurance Policies
While security guards are often considered to have higher-risk occupations, it does not mean they will find it difficult to obtain a life insurance policy that they can afford. Most United Kingdom insurance companies will offer security guards life insurance policies with standard terms and affordable monthly premium payments.
Since so many providers are willing to offer this, it is important to shop around for the best deals – Insurance Hero can help security guards find the right life insurance for them.
In some cases, a security guard will be required to travel to and work in dangerous locations in order to fulfill the duties of their job.
If this is the case, it is important to report this information to the insurance agent when applying for a life insurance policy. Insurance agents will generally evaluate a security guard's risk based on where they work and, although this may cause for a more expensive policy, it is important to disclose this information in case a claim needs to be made later on.
Income Protection
In the UK, a select group of providers will offer Income Protection for security guards – Insurance Hero can help you locate these providers. When applying for this type of coverage, it is important to use the "own occupation" definition.
"Own occupation" simply means that, when you make a claim, your ability to work will be evaluated based on the exact job and duties you currently hold. This often makes it easier for policyholders to have their claims approved and paid by the insurance provider.
Another important aspect to consider when applying for Income Protection is the deferment period for the policy. The deferment period is the amount of time between making a claim and when the policy pays out to the policyholder.
There is a wide variety of periods to choose from, including one day, 4 weeks, all the way up to 52 weeks. When choosing your deferment period, always consider your financial situation – ideally, Income Protection should begin when other forms of support are about to run out.
Critical Illness Cover
Like life insurance, Critical Illness Cover is available through most providers located in the United Kingdom. Security guards can often apply for Critical Illness Cover and are approved for a policy featuring standard terms and affordable monthly payments.
Again, if your occupations cause you to travel to dangerous or hazardous locations, make sure to disclose this information to your policy provider in order to avoid any complications should you need to make a claim later on.
*£5 per month based on a 30-year-old non-smoker taking out £120,955 level term cover over 20 years (L&G) – Prices correct as of February 2022