Life Insurance For UK Police & MET Officers 2021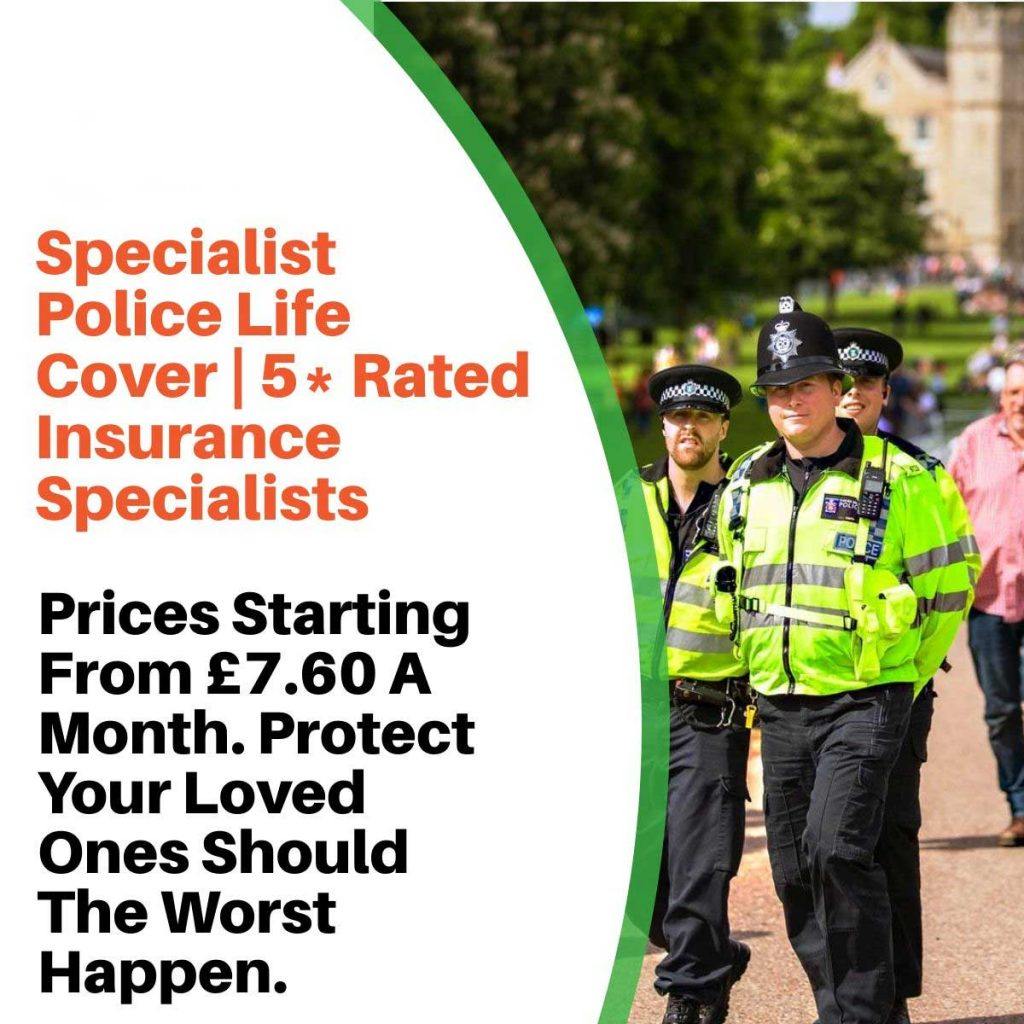 In many cases, being a police officer or working in law enforcement is considered to be a high-risk occupation.
Because of this, many individuals believe that their police life insurance coverage may be difficult to obtain or may carry very high premium payments that they cannot afford.
The good news is that life insurance policies for police officers can be secured with standard terms from most insurance providers.
Here is what you should know about police life insurance, income protection and critical illness cover:
Special police life insurance policy available for serving or retired Police Officers and their families
Compared with the main competition there are fewer exclusions
Whole Of Market Search. Insurance coverage: Life Insurance, Critical Illness Cover, Income Protection
98.3% of individuals claims are paid out including life insurance for retired police
Your monthly premiums are fixed for the duration of your policy, your monthly outgoings will remain the same if you don't make any changes
55% of customers declined elsewhere are accepted through our brokers
Excellent rates are provided for smokers or those who use vaping devices

Compare Police Officers Life insurance Coverage From The UK's Leading Companies – 1 Minute Quote Form
Life Insurance Policies for Police Officers
As mentioned earlier, many life insurance companies will accept an individual's application whose occupation is law enforcement at standard terms with a standard monthly premium payment.
While applications for life insurance are easy to place, it is important to make sure to let your insurer know of any travelling abroad you may be doing as part of your daily occupation as a police officer.
Not disclosing this information can make an insurance claim null and void should the lack of information be uncovered.
Income Protection for Police Officers
At this time, Long Term Income Protection is not available for special constables, police officers and community support officers. Even though this is the case, some insurance companies will consider offering police officers short-term income protection policies, which include unemployment, accident, and sickness cover.
A short-term police life insurance policy will provide protection for between 12 and 24 months should the individual be unable to work due to an accident or injury on the job. This is a popular option, but it is important to make sure your income protection policy begins right as your sick pay ends.
Critical Illness Cover for Police Officers – Met Friendly Life Insurance Plans
Much like a life insurance application, many police officers find that most met friendly life insurance providers accept their critical illness cover applications at standard terms. Although this is the case, it is essential to make sure you disclose any information you have about travelling abroad as part of your occupation and make sure the insurance provider is aware of this travel.
If you need assistance applying for police life insurance critical illness cover, the knowledgeable team at Insurance Hero is on hand to answer all of your questions.