Doctors Life Insurance For 2022 – Private & NHS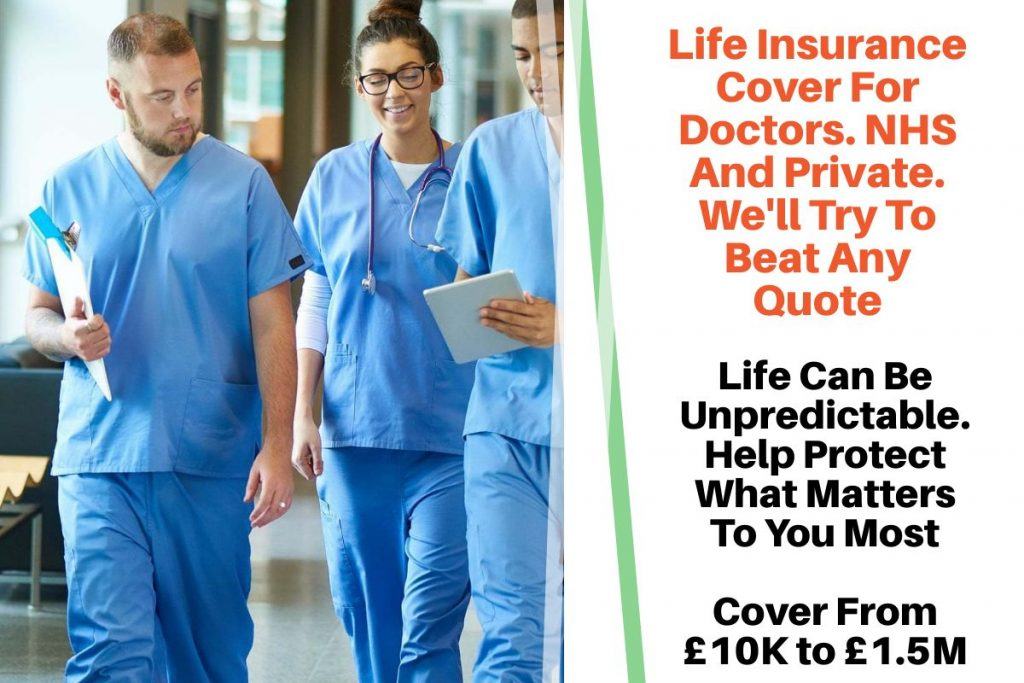 Are you a doctor, and looking for life insurance? Did you know that your daily activities as a doctor will drive how much your insurance premiums cost?
You may be pleasantly surprised to learn that life insurance for doctors does not have to be expensive. Doctor's roles are incredibly varied, and by accurately detailing your daily job activities, premiums may be lower as you are not paying for potentially higher risk tasks that you do not undertake.
Our detailed article will provide you with the information you need to find out how life insurance can benefit you.
Doctors Life Insurance? Reasons to Consider Getting a Free Quote Today:
Outstanding reviews for customer care
Policies with excellent rates for shared coverage
There is no obligation to proceed after getting a free quote, so you have nothing to lose by finding out how much you could save.
You can get a policy that is tailored specifically for doctors, meaning you will be fully protected whatever happens.
Doctors, Protect Your Loved Ones & Plan for the Future With Affordable Cover. Quick Quote Form

What Is Doctor Life Insurance, and Do You Need It?
Life insurance need not be a complex insurance solution to understand. At the simplest level, in return for paying regular premiums into a policy, an insurer will provide a sum assured that will pay out should the policyholder die. The payout amount correlates to the premium and is decided at the start of the policy.
The reasons for taking out doctors' life insurance cover will vary on different personal circumstances, including some of the following:
Repaying an outstanding mortgage
The payment of an inheritance tax bill when you die
The repayment of personal loans, car loans, and other debt
Providing your family with a lump sum to maintain their lifestyle should you die.
Is Being a Doctor a Higher Risk Profession?
The risks involved in being a doctor can be wide-ranging and relate directly to how an insurer assesses risk in the workplace when providing a quote. An NHS doctor working in A+E has a different risk profile from a GP working in his private practice.
Potential dangers of working as a doctor include exposure to toxic substances, infectious diseases, risk of injury and psychological issues. A UK survey of 200 accident and emergency doctors found levels of psychological distress significantly higher than other groups of medical practitioners.
From an insurer's perspective, the full extent of a doctor's activities must be understood and taken into account to provide a premium quote accurately representing the level of occupational risk.
After You Die, It's Too Late for Life Insurance – Protect Your Family. Get a Free Quote Today!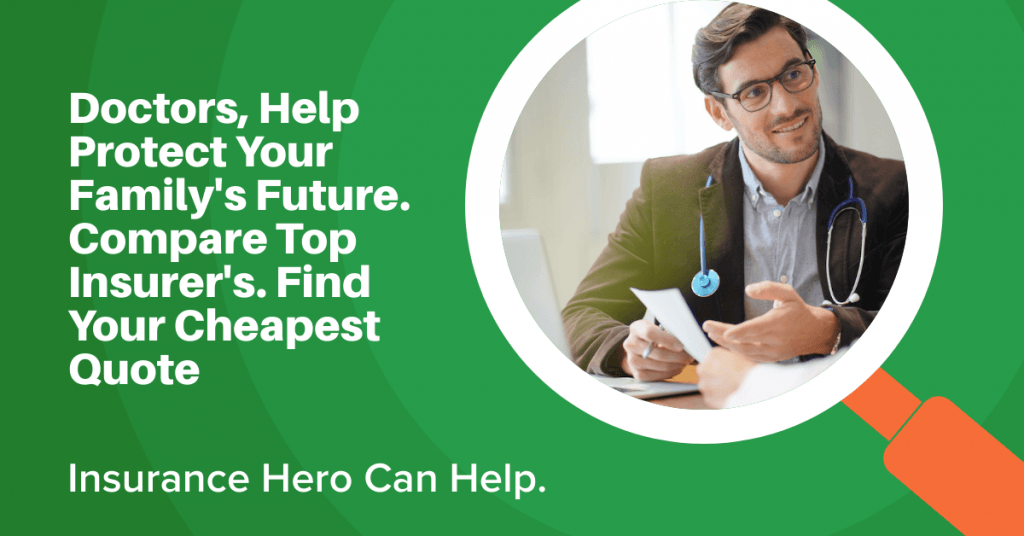 Life Insurance For Doctors. How Can Insurance Hero Help?
Insurance Hero is a trusted broker that works with a wide range of specialist insurers that provide policies to higher-risk occupations, including doctors.
Our experience lies in providing insurers with the information they require to make an accurate risk assessment. We make sure that our part of the quote process is robust. We want you to have a policy that will pay out, and we do this through a thorough fact-finding process.
A questionnaire enables us to fully understand the extent of your work-related activities, which we pass on to the insurer. Our professional but friendly team will ask you detailed questions to make sure we get your details correct the first time.
What Questions Do We Ask to Get a Doctors Insurance Quote?
With the advent of Covid-19, the questions that we ask are even more comprehensive and may include some of the following questions:
What type of doctor are you?
Do you have exposure to COVID patients?
How many hours do you work in a week?
Do you work with dangerous equipment?
Do you work night shifts?
How old are you?
Do you have any underlying medical conditions?
NHS and Private Practice Considerations
NHS doctors may have differing requirements for life insurance than private practice doctors. The death in service (DIS) benefit that is part of the NHS pension scheme provides a financial lump sum should you die in service.
It may be sufficient to cover your doctor's insurance requirements. If not, you may just need to bridge the gap if the DIS level does not match the level of cover you require (for example, a more substantial mortgage), and advice is widely available on this.
NHS Coronavirus Life Assurance Scheme
The NHS coronavirus life assurance scheme was introduced during the COVID-19 pandemic. This scheme will provide a payment of £60,000 to the families of NHS workers who pass away from coronavirus as a result of frontline work. This scheme aims to provide financial assistance to the families of NHS workers who have died as a result of the pandemic. However, this sum isn't likely to be sufficient life insurance for doctors, as it would only provide a limited amount of financial protection.
Life Insurance Options for Doctors
Both NHS doctors choosing to top up their death in service benefit and GPs working in private practices can select which type of life insurance to put in place.
Term Life Insurance
Term insurance is the provision of insurance cover for a fixed-term duration. Typically, it is put in place to protect against a specific financial commitment should you die. A mortgage is one reason for setting up a term life insurance policy where the maturity date of both the mortgage and the policy match, meaning if you die, the mortgage still repays.
Increasing Cover
An increasing cover is a doctor's life insurance option where the premium increases with the rise in inflation; typically, this is calculated by tracking a benchmark such as the UK consumer price index (CPI). The increasing cover is a good option for doctors who want to make sure that their life insurance cover keeps pace with the rising cost of living
Decreasing Cover
Decreasing cover is where the level of financial protection reduces throughout the policy. Usually, decreasing cover is associated with a repayment mortgage, where the principal slowly diminishes over time, and in the end, only interest is paid off. Decreasing cover life insurance for doctors can be cheaper than an equivalent level of term assurance, which offers level cover for a set period.
Level Life Cover
With level cover, the premium stays the same throughout the fixed term insurance policy and is not affected by the effects of inflation. As the premium remains the same for the duration of the policy, it makes it easy to budget for your life insurance.
Whole of Life Insurance
A life insurance option that differs from term insurance as it is open-ended. Whole of life insurance pays out when you die, and there is no time scale as it is an open-ended plan. Whole of life insurance for doctors generally costs more than term insurance.
Considerations When Taking Out a Life Insurance Policy
Many life insurers offer policies that provide cover for doctors, but any plan must match closely with your needs.
The four key considerations to take into account to ensure a robust plan is in place include the following:
Policy length: Depending on your age when you take out a policy, generally, the longer the term, the more expensive the premiums. As you get older, there is an increase in the risk of illness or disease.
Policy type: A whole of life policy tends to be more expensive than term insurance as it pays out when you die and does not require a plan to pay out within set dates.
Sum assured: As the sum assured or the payout amount increases in size, the cost of cover also increases.
Pre-existing conditions: An insurer will need to know about any adverse medical history or underlying medical conditions. It could result in a medical condition being excluded from a policy or making the cost of cover higher.
How Much Life Insurance Do You Need as a Doctor?
There is no one-size-fits-all answer to this question, as the amount of coverage you need will depend on your age, health, lifestyle, and financial obligations.
What are your age and health status?
Health status and age are the two most significant factors in determining how much life insurance you need. You can get away with a smaller policy if you're young and healthy. However, as you get older, your odds of developing health problems increase. That's why it's important to reassess your life insurance needs on a regular basis.
What are your current debts and future financial obligations?
Another major consideration when determining how much life insurance you need is your current debt and future financial obligations. If you have a mortgage or other significant debt, your family will need to have enough life insurance to cover those payments if you die. In addition, you will also need to consider any future financial obligations, such as a child's education By taking a thorough inventory of your debts and future expenses, you can get a better sense of how much life insurance you need to protect your loved ones financially.
Do you have any dependents?
If you have a spouse or children who rely on your income, then you will need enough life insurance to cover their financial needs in the event of your death. This includes things like mortgage payments, school and university fees, and everyday living expenses. If you don't have any dependents, then you may not need as much life insurance.
Do you own a home or other property?
If you own a property, you will need to make sure that your policy is large enough to cover the mortgage or other debts associated with it.
What are your current income and your projected future earnings?
A key factor to consider when determining how much life insurance you need as a doctor is to take into account your current income. This will give you an idea of how much your family will need to maintain their standard of living if you die. In addition, you should also factor in any future earnings potential. This is especially important if you are still in training or have plans to further your career. By taking your current and future earnings potential into account, you can get a more accurate estimate of how much life insurance you need.
These are just some of the factors that can affect the relevant life insurance you need. Ultimately, the best way to determine the right amount of coverage for you is to speak with one of our team at Insurance Hero.
Another factor that can affect how much life insurance you need is whether you work for the NHS or are a private doctor. As a general rule, those who work for the NHS will need less coverage than those who are in private practice. As already discussed, the NHS pension scheme provides death in service benefits, which pay out a lump sum to cover funeral costs and any outstanding debts.
Other Associated Doctors' Life Insurance Products
Life insurance is closely related to other types of protection products. The two most common are doctor's income protection cover and critical illness.
Doctor Income Protection Insurance
An income protection policy works by providing a replacement salary if you are unable to work through accident, injury, or illness. It provides you with the financial peace of mind that all bills are still paid, allowing you to focus on your recovery and return to the workplace.
NHS statutory sick pay is quite comprehensive and is unlikely to warrant a private policy top-up. Depending on the length of NHS service, a doctor with more than five years of employment would receive sick pay for up to a year, with the first six months at full salary and the remainder at half pay. For doctor's working in private practice, income protection cover is a more relevant consideration.
Private income protection cover rarely covers 100% of your salary. Levels typically cap between 70% and 80% of your income. The reason for this is to encourage you to return to the workplace and not benefit financially by being off work.
Critical Illness Cover for Doctors
Critical illness cover provides financial protection should you no longer be able to work due to the diagnosis of a qualifying disease, illness, or other ill-health. Unlike life insurance, you do not have to die to receive a lump sum payout, but you do need to survive at least 10-14 days from diagnosis, depending on the insurer.
Critical illness insurance allows for your ongoing care with the peace of mind that you are entirely covered financially, so if you have loved ones, they will not have a financial burden to shoulder.
Types of qualifying illnesses include but are not limited to the following:
Cardiac arrest
Benign brain tumour
Traumatic brain injury
Primary pulmonary hypertension
Progressive supranuclear palsy
Paralysis of a limb
Multiple system atrophy
Loss of speech
Multiple sclerosis
Liver failure
Heart valve replacement or repair
Loss of hand or foot
Major organ transplant
Third-degree burns
Systemic lupus erythematosus
Alzheimer's disease or pre-senile dementia
Family Income Benefit
Family Income Benefit (FIB) is another type of policy that can be beneficial for doctors. Unlike a regular life insurance claim, this type of policy pays out a regular income to your family in the event of your death, which can help them cover everyday living expenses. The money can be used to help with everyday living costs, mortgage payments, or any other expenses.
Life Insurance for Doctors – The Benefits
While it's not just doctors who can benefit from life insurance, it is an important consideration for those in the medical profession.
In summary, the benefits include:
It can provide financial security for your loved ones in the event of your death.
It can help to pay off any outstanding debts, such as a mortgage, in the event of your death.
It can provide peace of mind knowing that your loved ones will be taken care of financially if something happens to you.
It can help your family maintain their standard of living if you are no longer around to provide an income.
Additional policies, such as critical illness cover, can provide additional protection for you and your family.
Final Tips for Life Insurance for Doctors
Keep healthy – While those in the medical profession are busy taking care of others, it is important to remember to take care of themselves as well. Keeping healthy will help to keep premiums down.
Regular reassessments – As mentioned earlier, it is crucial to reassess your life insurance needs on a regular basis. This is especially true for those in the medical profession, as their needs can change quickly. By staying up-to-date on your life insurance policy, you can ensure that you and your family are always protected.
Put your life insurance policy in trust – This means that the money will go directly to the trustees, who will then distribute it according to your wishes. This can be an excellent way to avoid inheritance tax and probate, and it can also ensure that the money goes exactly where you want it to.
Only take out the insurance cover you need – Don't end up paying premiums for cover you're never going to use. Work out how much you need, and then find a policy that suits you.
Get advice – If you're not sure how much life insurance you need, it's a good idea to speak to someone who can help you assess your needs and find the right policy for you. That's where Insurance Hero comes in to help you find the best life insurance for your particular circumstances.
For more information on doctors life insurance and associated products, contact Insurance Hero. Our professional but friendly team is expert in providing you with a quote that is not only competitive but tailors carefully to your requirements, meaning you only pay for what you need. Please contact us today on 0203 129 88 66 for a no-obligation quote.
Conclusion
Doctors life insurance can be an essential type of financial protection for doctors. With the rise of COVID 19 and its risks for frontline medical staff, doctors already used to working in higher risk environments now face another reason to provide financial protection for their families and loved ones should they die.