Life Insurance & Income Protection For Roofers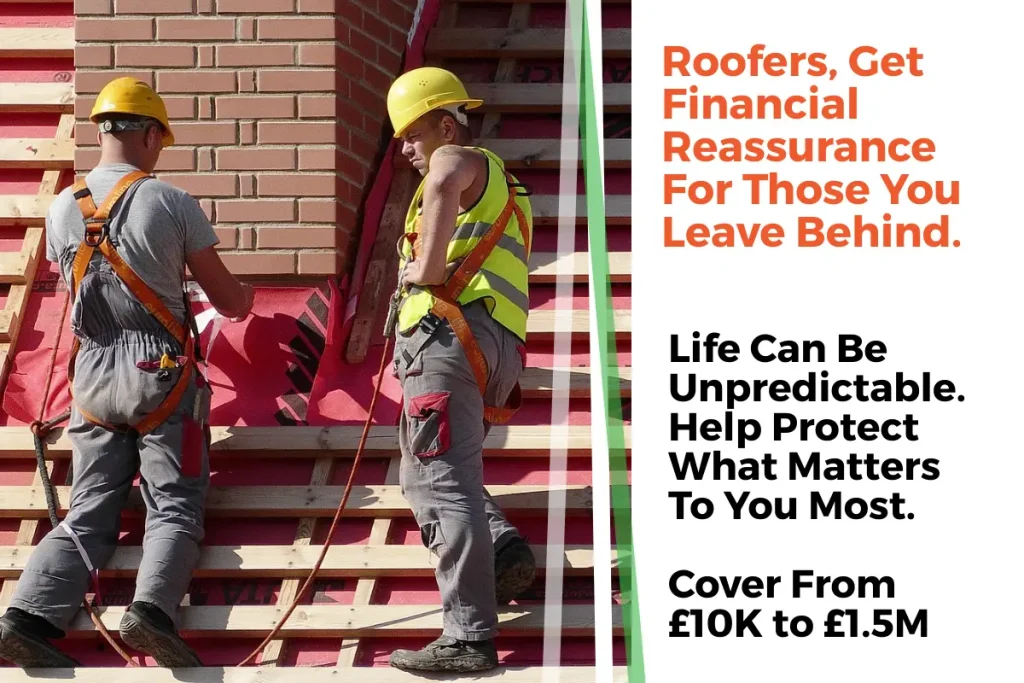 A concise life insurance guide for Roofers. Insurance Hero will explain why you should have life insurance cover as a Roofer. In short, if you want a competitive quote, this guide is for you. Let's get started!
As A Roofer, Why Should I Get Life Insurance, Critical Illness or Income Cover?
As a Roofer, if you have an accident in the workplace, the consequences can be severe. You may have fallen from a great height. The result can be injury or even death. If you have a family or dependents, how will they support themselves financially?
If you have any of the following, you should consider life insurance and associated cover:
An outstanding mortgage
Personal loans
Credit card debts
Sole household income provider

Have peace of mind in the workplace. Have life insurance cover to provide for your family in case of an accident or death.

Why use Insurance Hero?
Insurance Hero has helped Roofers get life insurance, critical illness, and income protection cover. We have a strong network of underwriters specialising in cover for higher-risk occupations. We understand what is required to provide you with not only a competitive but also an accurate policy quote.
The companies we work with will run through a questionnaire with you to make sure you have an accurate picture of your occupational activities. Underwriters appreciate our thoroughness which is why they have strong relationships in the higher-risk life insurance sector.
You can contact Insurance Hero on 0203 129 88 66 for all your life insurance needs. Our friendly and dedicated team will carefully run through your requirements. We ensure we provide you with not just a competitive but also an accurate quote aligned with your circumstances.
Why is Roofing Considered A Higher Risk Occupation by Life Insurers?
Underwriters consider Roofing as a higher-risk occupation. Critical areas of occupational risk for Roofers over standard risk jobs include:
Working at a great height
Working with dangerous machinery
Physical demands of the roofing tasks as you age
Risk of skin cancer from sun exposure
The effect of working outdoors in the rain, cold, heat and wind
Just because Roofing is a higher risk, does not mean that insurance is not affordable. Allow Insurance Hero to provide a competitive, no-obligation quote and find out for yourself.
After You Die It's Too Late For Life Insurance! Protect Your Family. Get A Free Quote Today!

Life Insurance Cover for Roofers?
Life insurance cover is structured to provide a lump sum payout to designated dependents should you die in the workplace. As a roofer working at height, the premiums will be higher due to the classification of Roofing as a higher-risk occupation.
We want to get you the most comprehensive cover for your circumstances even if you are currently self-employed. Rest assured, Insurance Hero has your interests at heart. As mentioned, the experts we work with will go through a friendly but thorough fact-find with you.
For example, what type of Roofing do you specialise in:
Commercial roofer
Industrial roofer
Metal roofer
Hot roofer
Different types of work within the roofing industry including carpenters can affect the cost of life cover in the eyes of insurance companies. By understanding your daily occupational activities and your circumstances, we will get you an accurate quote.
Critical Illness Cover for Roofing Workers
Critical illness cover is designed to protect your family financially if you are unable to work due to the diagnosis of an illness or medical procedure. Survive at least fourteen days from diagnosis, and you and your family will receive a lump sum payout. This payment will correspond to the regular premiums you pay into the policy as a policyholder. Insurance Hero will work with you. We make sure that any policy quote aligns with your circumstances. Critical illness cover typically pays out according to pre-defined illnesses.
The list of diseases and medical procedures is diverse. Here are some examples:
Structural heart surgery
Heart valve replacement or repair
Liver failure
Pulmonary artery surgery
Benign spinal cord tumour
Aplastic anaemia
Traumatic brain injury
Heart attack or stroke
Income Protection Cover for Roofers
Income protection cover will provide you with a regular income if you are unable to work. Illness or injury may result in long periods of recovery. Paying a monthly premium will allow the insurer to provide financial security so you can recover without financial stress.
To ascertain the correct premiums and associated payout, Insurance Hero will discuss your personal and financial circumstances in depth. Questions will include:
What is your current income level?
How many dependents do you have?
Does anyone else in the household have an income?
Do you have a mortgage, or do you own your house outright?
Do you have personal or credit card debt?
Insurance Hero is just one call away from providing security for you and your family in the workplace. Call our dedicated team of agents now on 0203 129 88 66 for a free, no-obligation quote for life insurance and associated cover.