Income Protection Insurance For Dentists 2022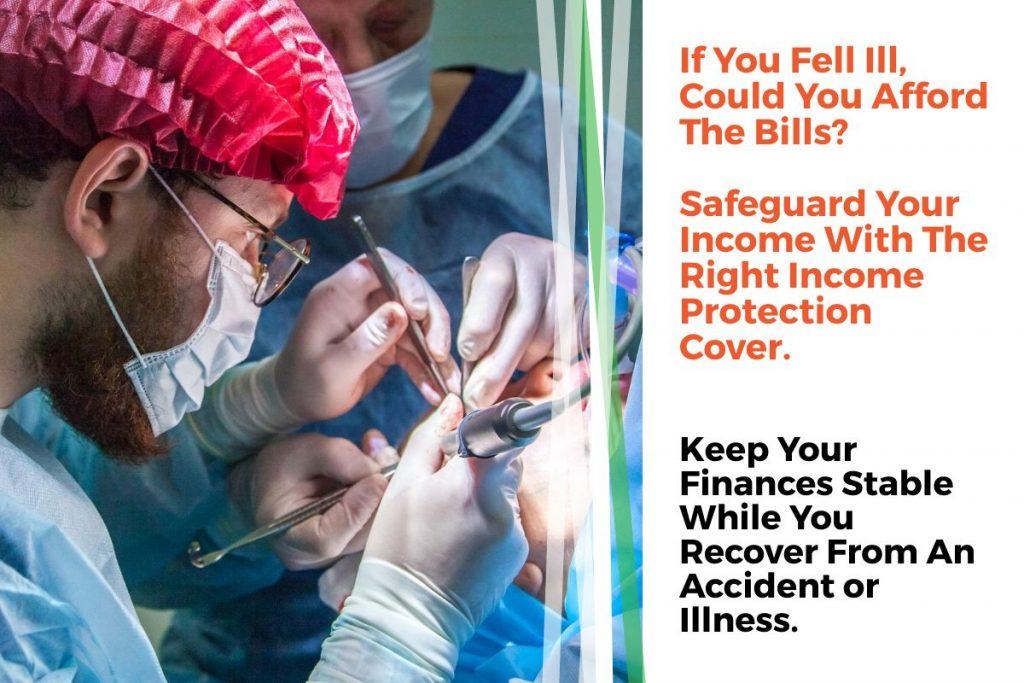 Are you a self-employed dentist or one working for the NHS? Do you worry about what would happen financially to you and your loved ones should you be unable to work?
This easy to understand guide clearly explains, step by step what you need to know about Income Protection and why it is essential. Read on to learn how income protection can help you.
About Dentists Income Protection Cover
In return for paying a regular monthly payment, income protection for dentists pays a replacement monthly wage should you be unable to do your job through accident, injury or illness; and will protect you until you can return to the workplace.
The Key Benefits of Income Protection
Income protection is a type of insurance that every dental practitioner should at least take into consideration as there are essential advantages:
Due to a replacement salary, your standard of living stays the same even if you are not able to work
Any benefits paid out are free of any UK tax
Depending on the length of the claims period, you can continue to receive payments until you return to the workplace, retire or die
You can insure up to a level of between 60 and 70% of your gross salary if you are an employee (or 60% to 70% of net profit for the self-employed)
Income insurance can be flexible and changed to suit your evolving personal and professional situation
Get Income Protection Quotes From The UK's Top Companies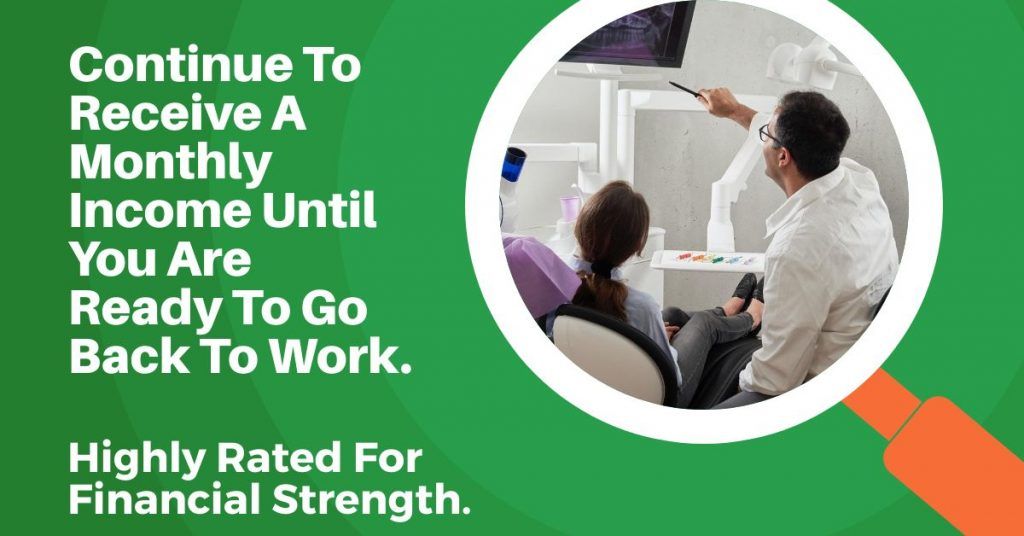 Why do Dentists need Income Protection?
Dental practitioners like in many other professions may find themselves not able to work for a sustained period due to industry-specific injury. Dentists have a propensity to develop musculoskeletal disorders. Research undertaken by Brown et al. in 2010 focused on why they retired through poor health. Musculoskeletal disorders are the reason cited by 55% of dental professionals surveyed.
Regarding specific injuries, a study by the PMC of work-related musculoskeletal disorders in dentistry practitioners found the most common injuries suffered include:
Neck and shoulder pain – caused by an unnatural head position when attending to patients
Back pain – Injury caused by improper posture and repetitive strain
Hand pain – caused by repetitive stress such as hand pressure when scaling and polishing
High stress is another factor affecting dentists. There is evidence that the profession is associated with a high level of job stress caused by the heavy workload from running behind schedule and dealing with anxious patients.
Is Dentist Income Protection Appropriate for Your Situation?
Irrespective of being single or having a family with children; your immediate thoughts should be – If illness meant you were unable to do your job, are you able to pay your bills and financial commitments?
In deciding whether income protection is appropriate for you, take into consideration:
Financial Commitments – Do you have a substantial mortgage or rent payments, personal loans, car loans, overdrafts, equity release, school fees or household bills? Can you keep paying these if you are not able to work?
Savings – If you have substantial savings, you may be able to keep going without a salary for a time. Will your savings last a year or more?
A Supporting Partner – If your other half works and could sustain the family if you cannot work, then perhaps you can afford to maintain your typical day to day living
Depending on if you are self-employed in private practice or a dentist working for the National Health Service has additional considerations over your situation:
Income Protection For the Self-Employed Dentist
Dentists who work in or own private practices have a self-employed arrangement in place.
A self-employed dental practitioner working at a practice without being owners should opt for the standard insurance protection.
Dental practice owners that typically own a practice through a limited company may want to consider dentist income protection for company directors. It differs from standard income protection insurance as it takes account dividends and salaries paid through the limited company.
Should you not be able to be in employment for a time, without insurance coverage in place the financial fallback is the UK Government sickness benefit. It is less than £100 per week and is only payable for a maximum of 28 weeks. It is not an option for many who want to maintain a fraction of a lifestyle.
Protect Your Income Today. No Obligation To Purchase. Dentist Income Protection

Income Protection For the NHS Dentist
NHS dental employees benefit from better salary protection from their employer should they be not able to work.
Depending on the length of service, an employee with more than five years of service would expect to receive a full twelve months of sick pay; full pay for the first six months and a half pay for the final six months.
It means income protection for dentists can be offset against the employer sick pay period. Effectively, the deferred period in the insurance coverage could start a year after an application for a benefit takes place. It helps reduce the cost of the monthly payment into the plan.
How Can Insurance Hero Help?
Insurance Hero is a broker, expert at providing plans for both self-employed dentists in private practices, as well as public sector employees. We have relationships with an extensive network of underwriters. What sets us apart, though, is our thorough fact-finding process. We understand the dental profession and will work with you to create a tailored permanent health insurance closely aligned to your professional and personal needs.
How Does Income Protection For Dentists Cover Your Employment?
When you set up your plan together with your broker, you want to make sure that it will pay out should you be unable to function as a result of your professional dental activities. Policies can tailor to your personal and professional life. Take care that your insurance professionals or brokers include dental-specific definitions within the cover. If your broker is a generalist, you will need to pay attention to these specifics.
We would recommend setting up your plan with an adviser or broker, specialised in providing an accurate dental income protection assessment.
Contact Insurance Hero, specialists in delivering competitive tailored quotes to the dental industry. Call our professional and friendly team of brokers today on 0203 129 88 66 for a no-obligation quote
The key elements – What you need to know
There are many different features, both standard and optional that can tailor to your current or predicted future situation you should be aware of before you enter discussions or take out insurance.
Before you take out insurance you can decide how long before a pay-out occurs should you not be able to work or when you want your replacement salary payments to begin.
Variable or fixed benefits
Choose if you want your payments to increase, decrease or stay on hold according to your circumstances in your professional and personal life
When setting up your insurance, you will run through a thorough fact-finding exercise with your insurer. It will allow getting advice to tailor everything to your personal and professional needs. One area that needs to be adapted is the deferred period. It is the gap between when you make a claim and once the replacement salary kicks in. It can vary from the next day to one year and can be tied to match your employer's sickness terms and conditions if you are not self-employed.
The sum assured is the salary that you would receive should you submit a qualifying application for benefit due to injuries or illness. To encourage a return to the workplace policies will typically not be higher than 60% to 70% of your previous wage. It is up to you to select how much of your salary you want to pay. The more salary to be covered, the higher the cost.
It is merely the age you will be at the plan's maturity. It is standard practice to align this with your retirement date. The older you leave it to retire, the higher the premiums will become.
The Length of Claims Period
When you take out insurance, you need to decide whether you want it with a shorter-term duration of up to 5 years or longer-term that will protect you to retirement.
Short-term cover: This limits the duration of how long a pay-out can occur. Popular duration lengths for protection are between one and five years where there is usually a cap.
Long-term cover: This protection is more expensive in terms of monthly cost but will provide you with a monthly salary either until you can return to paid employment or until retirement if you are never able to operate again in a dental practice.
Like most other professionals, Insurance Hero would recommend taking out a long-term policy. Statistics undertaken in the UK indicate that the average claim length is over seven years, significantly more than the five-year cap on short-term protection. Cheaper is not always better.
Understanding Indexation and Premiums
Indexation is the possibility to tie your protection plan with movements of the Consumer Price Index (CPI), a measure of inflation used by the UK government. There are three types of cover associated with indexation:
The level of premium and subsequent replacement salary will rise in regular increments tracking movements in the consumer price index. It is also known as Index Linked Cover.
With level cover, the premium and subsequent replacement salary will stay the same throughout the plan duration
This type of protection associates typically with an expected reduction in outgoings, such as a reduction in mortgage payments.
A premium is a monthly payment paid throughout the fixed-term duration of the cover, and an underwriter calculates this value.
There are three options for the ongoing premium which you pay every month:
It works to increase the monthly payment amount due as the policyholder gets older; and a higher associated risk of older people going on to make an income protection request for benefit. Age-banded premiums are typically cheaper at the outset, which will then rise incrementally over time.
The underwriter cannot change the monthly payment due throughout the plan duration. It means it is guaranteed unless the policyholder makes changes themselves to the policy. Guaranteed premiums can be a cost-effective option over the policy's term, particularly if taken out when the policyholder was young with no underlying medical conditions.
A reviewable premium means the level of protection can be reviewed at any time by the underwriter. It might be the result of unforeseen circumstances increasing claims. It allows the underwriter to adjust the monthly payment amount. Despite starting better value, over the lifetime of a policy, a reviewable option tends to be more expensive due to periodic upward revisions.
What Is Covered Under Income Protection?
As mentioned, dental income protection pays out if you are not working due to becoming ill or suffering an accident.
Being unable to do your job is defined differently by different underwriters but can include any of the following:
Inability to undertake any type of paid employment
Failure to carry out your actual job
Failure to do your job or one that you are similarly qualified to do
Dentists sickness insurance that provides cover if you are unable to do your actual job is always going to be the most expensive cover, unlike being unable to do any job.
Specific policies will make what is known as a proportionate payment. It will top up earnings if you return to full-time employment but in a lower-paid job.
Not Covered
Most policies do not payout as long as you receive a full salary and to ensure that you do not make a profit, all plans will put a limit on the claim amount. As previously mentioned, the maximum coverage provided is 70% of the actual salary.
Insurers will not pay out if you cannot work due to any of the following:
Existing medical issues that you had before taking out protection. These are also known as pre-existing medical conditions
Inability to do your job due to drug or alcohol abuse
Participation in extreme sports or activities that did not form part of a list at the policy's outset
Childbirth and pregnancy
Additional features that provide Further Cover
Further income protection features, both standard and optional that you and your broker or advisers should be aware of include the following list:
This feature will pay a set amount for each of your children when you are not working. It helps with further childcare costs you may face not working, including a live-in nanny or additional child-minder requirements.
Specified trauma or injury benefits
If you get a specific illness or injury listed on your policy under this inclusion, you are entitled to an additional pay-out. It is typically a regular payment topping up the standard monthly replacement salary but sometimes can pay out as a one-off lump sum.
Taking out this option will allow your dependents to receive a lump sum pay-out should you die while receiving income protection benefits. It should note that if an accident or injury proved fatal at the time, a pay-out might not be due.
Pausing or freezing your policy
Policies are unable to pay out a portion of your salary if you are not working when an incident happens. In the event of unemployment, it is often possible to freeze your plan until you return to employment.
It is often possible to include an additional option onto an income protection policy to cover involuntary dismissal. You can discuss this with your adviser when deciding on the policy terms.
You have made the right choice by having an income protection for dentist plan in place, but what is the claim process if you suddenly find you are unable to keep working.
How to make a claim
Contact your insurance broker by phone, email or correspondence and ask for an application form
Required Information
Return the completed form together with the requested information which will typically be:
A GP or Specialist medical report of your condition
Financial information including payslips and P60 for employees and tax returns and accounts for the self-employed including limited companies
How A Claim is Assessed
Your insurer will review if your current circumstances meet the policy definitions
The payable benefit is typically tied to your salary when you were working, and the maximum payable amount is in the policy documentation. It may be lower should your salary fall once a policy is in place
You must keep paying your premiums until your insurer has contacted you
Once a claim has been accepted
Your insurer will confirm payment details and when you should expect payment
The benefit application periodically reviews while you are not working.
Call today for an income protection quote and your coverage options. Our friendly team of brokers only provide you with watertight protection products so you can receive income when you most need it. Phone Insurance Hero, your professional dental insurance company on 0203 129 88 66
FAQs About Income Protection for Dentists
Can any dental professional apply for income protection?
Any dentistry practitioner can apply for cover, irrespective of whether you operate as self-employed in private practice or the public sector.
The criteria for applying for plans are:
You are aged 16 or over
Not older than 63 when completing an application form
You have a UK Building Society or Bank account
You have a registration with a UK medical practice for at least three years
Are currently subject to the payment of UK income tax
As a dentist, how much will cover cost me?
Numerous factors will affect the monthly payment you will pay. These include but are not limited to, the following:
Will you be taking out short-term or long-term cover?
How long do you want the length of claims period to be?
How old are you, and do you have any underlying medical conditions?
What percentage of your salary do you want to include under the policy?
Do you want indexation in your policy?
Do you want the policy to cover an inability to do your specific job or to include any job?
How much of my income is covered?
For both a self-employed and employed dentist, the maximum amount of coverage is 70% of your regular gross income.
You can choose less than 70% to keep your monthly payment down. The reason for a coverage cap is to encourage claimants to return to the workplace, which may be harder if the salary is paid at 100% within the insurance coverage when unable to keep working. It should not put you in a better financial situation than if you had never made a claim and were working.
Will I be able to find competitive quotes as an NHS dental professional?
For public sector dentists, premiums can tailor around the NHS sick pay scheme. Typically, this will reduce any premiums to less than for a comparable dental professional working in the private sector. As mentioned in the article, public sector dental employees who have worked more than five years in the organisation will be covered to a varying level for up to one year if they cannot undertake their job.
For more information on the NHS statutory sick pay, please refer to Section 14 of the National Health Service terms and conditions of service handbook.
Can I receive other claim money in addition to my income protection dentist plan?
If the total income received from different sources does not exceed 75% of your pre-claim income, this is fine.
You will be unable to receive more than 75% of your monthly income, such as other injury or sickness benefits from other claim sources.
Can I make policy changes once I take out insurance cover?
Personal and professional needs tend to change. Salaries may increase; more children may become part of the household, or a mortgage repays. The list is endless.
It is common sense that you can increase or decrease the level of your income protection to match your changing circumstances.
Other Pages Of Related Interest: