Best Teachers Life Insurance Cover 2022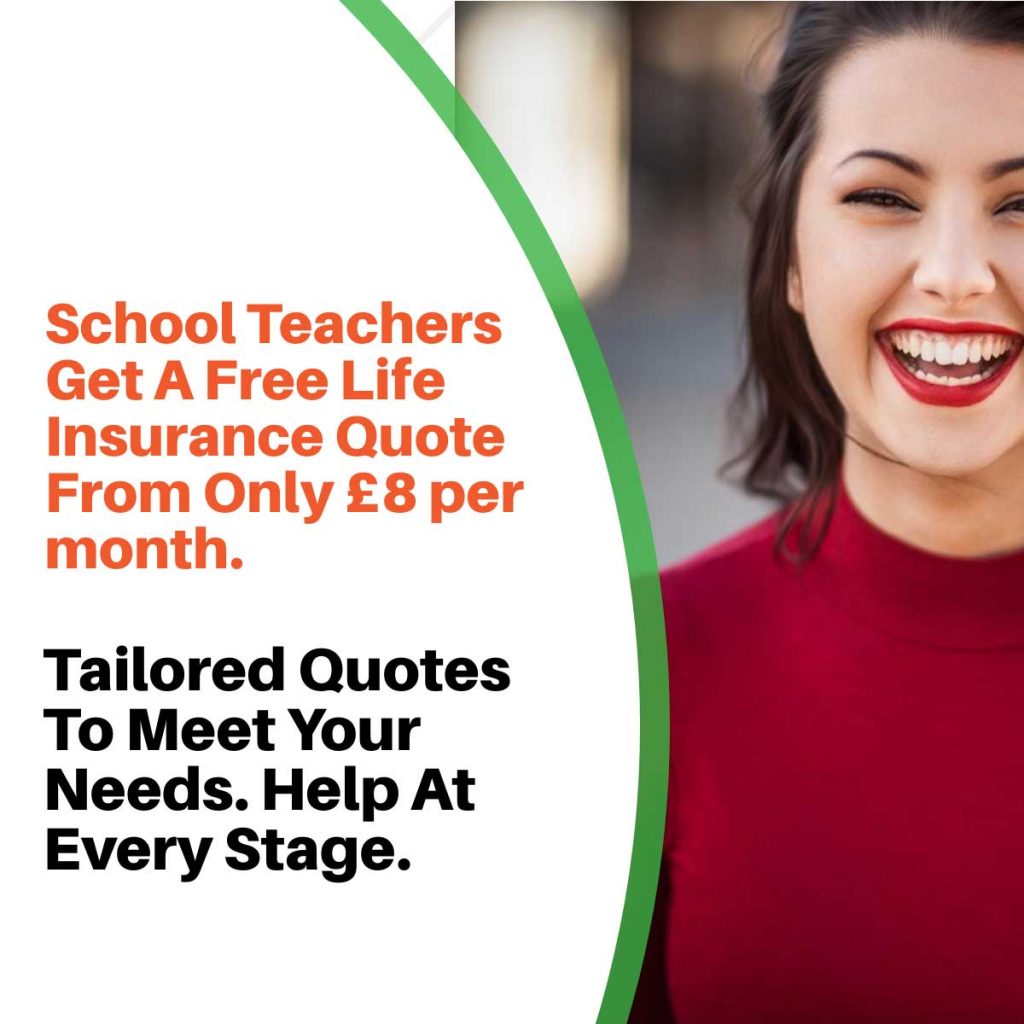 The question is: Why should a teacher consider life insurance and its associated cover?
This short guide to teachers life insurance is essential reading if you want to protect your loved ones. Read on to find out more.
Special Life Insurance Deals For Teachers:
Don't be another teacher without life insurance to protect your loved ones if the unexpected should happen.
Some Reasons To Consider Getting A Free Quote Today:
Life Insurance Plans From Only £8 per month
Get A Policy That Is Tailored Specifically For You. Be Fully Protected Whatever Happens
Life Cover That Gives Your Family Protection Without Straining Your Bank Account
Possess Excellent And Positive Customer Reviews
Favourable Treatment For Smokers And Those Who Vape
Policies With Excellent Rates For Shared Coverage

Save Money And Get A Quote Now. Protect Your Family Before Its Too Late.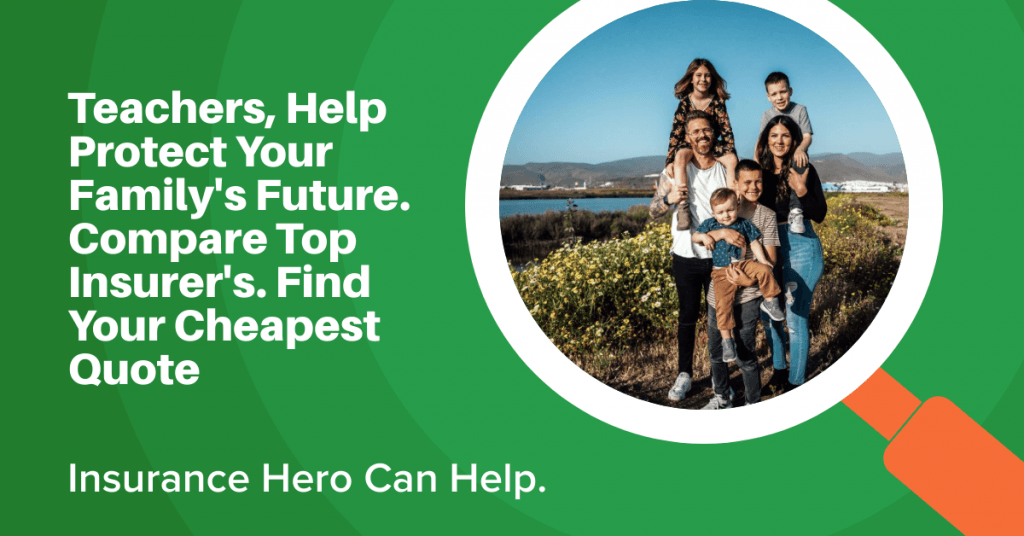 Teaching from A Life Insurers Viewpoint
Life insurance for teaching as a profession is typically available at standard rates. Life insurers may consider raising premiums if you are a science teacher working with hazardous materials or a woodwork teacher handling dangerous or heavy machinery. What is essential is to ensure your teaching activities are included as part of your life policy and not excluded. Using a specialist rather than a mainstream life insurer will help.
How does Life Insurance Cover Work?
The concept of Teachers Life Insurance is easy to understand with the following simple steps:
Contact a specialist life insurance broker
Undertake a telephone fact-finding conversation with a broker
Receive a competitive, tailored quote
Pay an agreed regular premium over the policy duration
Your designated beneficiaries receive a payout should you die
Life Insurance for Teachers in the UK
As a teacher, working and residing in the UK, when should you consider life insurance? Here are some valid reasons:
Do you have a financial commitment, such as a mortgage or a car loan?
Are you the primary breadwinner of your household?
Would your family suffer financial hardship if something was to happen to you?
If your answer is yes to these questions, consider life insurance cover.
Compare The UK's Top Life Insurance Policies – No-Obligation Quote Form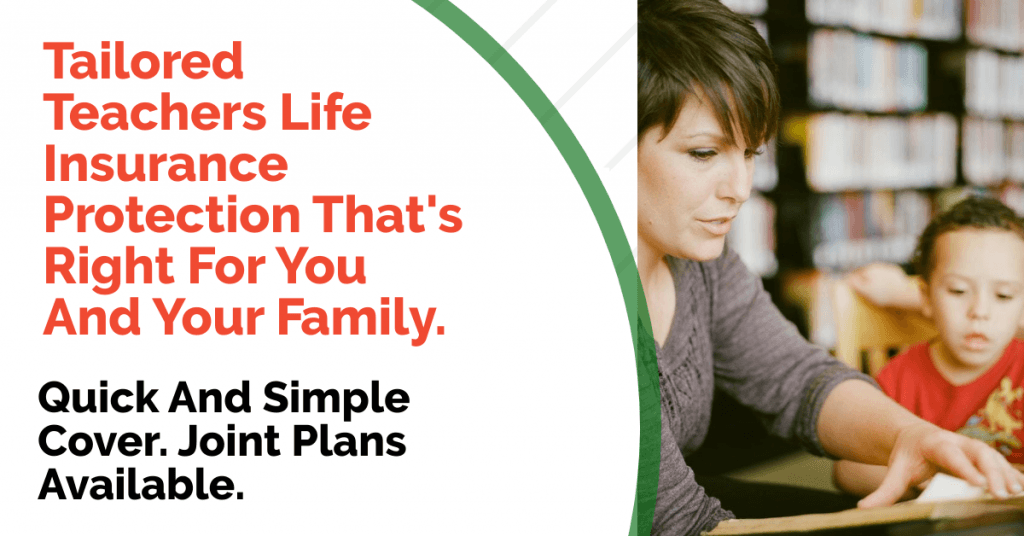 Contact Insurance Hero today for a fast, no-obligation quote. We'll connect you with specialists in tailored, competitive teachers' life insurance and other professional vocations. Contact us today on 0203 129 88 66
Why Consider Using Insurance Hero
Insurance Hero only wants you to be pay premiums relevant to the teaching that you undertake. Should you be paying the same premium cover as a woodwork or science teacher if you teach geography?
The premiums may well all be at standard rates. Still, if it is deemed necessary for a teacher handling dangerous chemicals in a lab to pay a slightly higher premium, Insurance Hero will ensure that the level of premium accurately reflects your teaching activities.
Compare UK Life Insurance Quotes with Insurance Hero
At Insurance Hero, we have strong relationships with underwriters who specialise in competitive teacher's life insurance quotes for residents here in the UK. Underwriters trust us to provide a thorough fact-finding exercise with you to find out your daily activities. Through precise questions from Insurance Hero and honest answers from you, we aim to get you a watertight policy that will pay out if it is ever needed.
Other Associated Types of Life Cover
Life insurance pays out should you die. Two associate types of life cover that are not dependent on death are income protection and critical illness cover only.
Teachers life insurance can protect your loved ones when you most need it. Read on to find out more.
Income Protection Cover
Do you have a family that is reliant on you financially and who would suffer hardship if you can no longer work? If the answer is yes, consider income protection cover.
Income protection cover works to provide an ongoing salary should you be unable to work for a period due to an illness or accident. Your employer may maintain your salary for a period, but what happens if your absence is long-term?
Income protection can pay a regular salary from as little as one month to up to a year after you make a claim. It can mirror your employer's absence policy.
Life Insurance For Teachers Critical Illness Cover
Critical illnesses are diseases and emergency medical procedures that once diagnosed may stop you from ever returning to work, or at the very least limit the extent you can work.
This type of life cover works to provide a lump sum if you survive ten days after diagnosis. The lump sum is agreed at the outset of the fixed term policy and can match your circumstances which may change over time.
Critical illness can consist of level, increasing, or decreasing cover, which are all tools to make sure the level of payout reflects your ongoing circumstances.
Level cover:
The cover amount remains unchanged for the duration of the fixed term critical illness policy
Decreasing cover:
The cover amount decreases over the length of the cover. It is useful if you expect financial obligations such as mortgage repayments to fall over the policy duration.
Increasing cover:
The life cover amount rises with inflation as measured by the Consumer Price Index (CPI)
Types of critical illnesses and medical procedures
Diseases covered under a life insurance for teachers policy are listed at the outset. An example of standard illnesses included by life insurers include but are not limited to the following:
Heart attack
Liver failure
Kidney failure
Parkinson's disease
Traumatic brain injury
Structural heart surgery
Loss of hand or foot
Alzheimer's disease
Stroke
Coma
Teachers Life Insurance FAQ's
Do teachers get life insurance?
Yes, life insurance policies specifically designed for teachers offer cover from the day they begin teaching their first day of work. Comprehensive policies can differ depending on the company and type of coverage but include coverage for a spouse, children, and other family members.
A life insurance policy for teachers helps to protect their dependents if the teacher dies. When a teacher buys a life insurance policy, it pays out his or her family an agreed-upon amount upon their passing.
Do teachers get critical illness cover?
If a teacher has a critical illness, it will be covered by insurance. Critical illness cover is provided by life insurance, and the cover can be between 30 and 100 percent of the policy. It can be a very important portion of your financial planning, as it pays a cash lump sum when you are diagnosed with a covered critical illness.
Do teachers get whole of life cover?
Yes, teachers can get whole of life cover. You could be at risk of losing your income if you die suddenly, which is why most life insurance providers offer this type of policy.
*£8 per month based on a 30-year-old non-smoker taking out £236,250 level term cover over 20 years (L&G) – Prices correct as of February 2022
For more information on critical illness cover for teachers, please contact our office today. Insurance Hero has extensive experience helping teachers get tailored income protection cover. Call our office today on 0203 129 88 66