Facts About Obtaining Life Insurance As An Electrician
Some people hold occupations that are riskier to their health and well-being than others. At some point, life insurance becomes a necessity regardless of your occupation.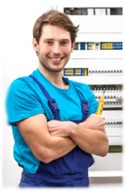 Electricians, for example, run a higher risk of being injured while on the job than someone who works behind a desk – they face the possibilities of falling from a ladder, working when overly tired and, most obviously, they run the risk of being electrocuted when performing their work.
Insurance companies will look at an applicant's occupation and evaluate their risks, but this is just one of many factors that insurance agents consider when making a decision to cover someone.
If you are an electrician and are concerned about how the risk factor of your occupation will affect your life insurance application.
It is in your best interest to speak with a knowledgeable insurance advisor, like those at Insurance Hero – you may not have to pay as high of a premium as you believe you will.

Require Electricians Life Cover? Compare UK Insurers · No Obligation · Free Quote Now
Should I Consider Life Insurance Coverage?
Depending on your current situation, you may have found yourself asking "Do I really need life insurance?" Individuals who do not have families often do not consider obtaining life insurance assuming they will be able to manage on their own should something happen.
Even if an individual does not have a family relying on their income, it may still be a good idea to look into life insurance, even if it just to cover the costs of a funeral, burial, and other "final" expenses.
Some people will obtain life insurance through their employer. In some cases, individuals believe that the life insurance their employer provides is all that they need to be fully covered. It is important to keep in mind that, although the life insurance coverage provider may be enough for you and/or your family, if you are to change jobs the insurance will likely not go with you to your new job. Having a separate life insurance policy can ensure you are covered at all times.
Another thing to think about when considering life insurance coverage is what expenses you would like the policy to pay off. For some, having enough in life insurance to cover burial and funeral costs is enough.
Others wish to have enough to cover their funeral as well as any personal debts they may have. Finally, those who have families relying on their income will often opt for more coverage in order to ensure their loved ones will be able to continue to the pay the bills even after they have passed on.
How Do I Get the Best Price on My Life Insurance?
Just like we want to get the best price possible on a new car, new home, or other large purchase, individuals often seek the best possible deals for their life insurance policy. It is important to keep in mind that there are some things about the pricing of your policy that you can control and others that you cannot.
For example, not smoking, being in good health, and not having any risky hobbies, like mountain climbing or skydiving, is an easy way to help keep your life insurance premiums down.
When you are looking for life insurance policies for electricians, it is important to shop around different policies and different insurance providers to find the best price. Some insurance agents will find being an electrician more risky than others, so getting multiple quotes is key.
If you need assistance finding the best insurance providers and best deals, the insurance advisors at Insurance Hero can help to seek out and locate a policy that will meet your needs and fit into your overall budget.