Families Finally Getting the Message Regarding Income Protection
It seems that families in the UK may finally be making income protection a top priority according to an Aviva insurance company survey.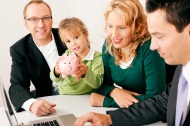 The study found that compared with an average of 36 percent, UK couples with at least two children are more likely to have cover, with 45 percent of them purchasing protection.
Since August 2012, single UK parents have increased their cover to 21 percent. Increasing incomes since 2011 and the ability to save more money may be responsible for this positive trend.
Income Protection Trends
Aviva found that private health insurance is most popular with couples who plan to have children. Couples with at least two children are most likely to have critical illness policies while income protection is most popular with parents who have only one child.
Louise College, protection distribution director at Aviva, commented that the recent savings movement has positive implications for the future. She noted that despite restricted budgets, more families are establishing financial safety nets.
Insurance Firms Failing with Customer Data
Some life insurance policies can be established as income protection plans, making regular pay-outs to beneficiaries over time rather than issuing a lump sum pay out following the death of the insured. Though providers may offer convenient options, they could do even better if they used consumer data more effectively.
An IBM survey revealed that 84 percent of the UK insurance companies surveyed did not consolidate customer data into one database
The ability to offer personalized services is important in the life insurance industry. Providers are seeking ways to market products more effectively to target audiences. Unfortunately, 54 percent of the 50 companies participating in the IBM survey used at least six information technology systems each and stored records in multiple systems.
They are doing themselves a disservice by failing to integrate customer data. Integration would provide a single view of each customer, making it easier to weave  communication channels together.
Thirty-eight percent of the companies surveyed had no integration, with each broker or line or business using a different database. At only 24 percent of the organizations was data generated by quote engines across mobile apps, websites, and call centres totally integrated.
Only four percent of the companies surveyed claimed to capture and retain all customer transactions. The average amount of customer data retained was 64 percent.
Detailed Survey Is Quite Revealing
According to the 2011 IBM survey of chief marketing officers, lack of data integration was noted as the main barrier to technology use for marketing improvement. Customers want to deal with companies that know them personally. This movement, driven by the retail sector, must be embraced by the insurance industry.
Of the respondents to the CMO survey that used basic spread sheets and databases to collect, analyse, and manage customer data, 57 percent said they were performing poorly when it came to getting new customers or retaining existing ones. Nearly nine out of every ten were concerned that sales could be affected by lack of integration of customer data.
At an insurance company, the information technology and marketing departments enable the organization to create consistent experiences for customers. They look at each customer holistically across life insurance and other lines of business. Without the right systems and tools in place, this is not possible.
The majority of companies surveyed are focusing on streamlining processes, placing this endeavour ahead of cost savings.