Skiing & Snowboarding Life Insurance 2022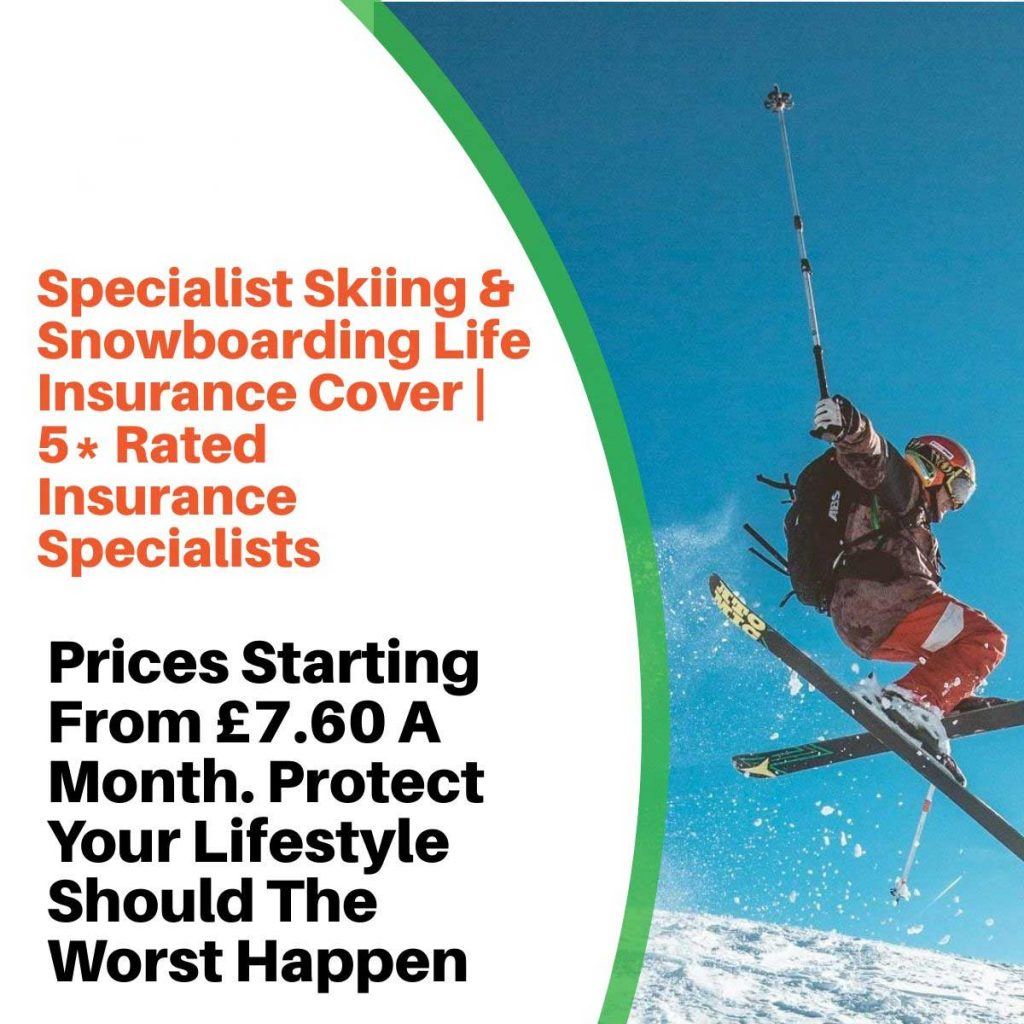 This short guide explains the importance of taking out life insurance if you have loved ones.
Read on to see how you can pursue your skiing or snowboarding activities with complete peace of mind.
Special Insurer Deals For 2022
Secure Online Quotes. 5 Star Rated Service.
Reliability – Honesty – Caring – Trustworthy – Amazing Prices – UK-Based Staff.
Premiums for younger individuals routinely preferable than some other insurers.
Possess sound customer reviews for customer service.
Protect Your Financial Future. 1 Minute Form. Large Selection Of Insurance Plans. Protect Your Family.

How Does Life Insurance For Skiing & Snowboarding Cover Work?
Skiing & Snowboarding Life insurance provides a cover amount which is paid out to designated beneficiaries if the policyholder dies. The cover amount is calculated at the policy outset and funded by paying regular premiums throughout the life cover.
Skiing Life Insurance Premiums
Life insurance cover typically offers at standard rates to holiday and recreational skiers and snowboarders. They are unlikely to see any difference in policy premiums over standard rates.
If, however you participate in higher-risk types of this winter pursuit, it may see a loading of premiums.
From an underwriter's viewpoint, riskier examples of skiing and snowboarding activities include:
Freestyle including mogul and halfpipe
Competitive Racing including downhill and slalom
Off-piste including helicopter
Professional ski Instructor and guides
Professional downhill skier or snowboarder
Mountain skiing
Your premium will be loaded depending on your level of experience, frequency of participation and the hostility of the environment. Insurance underwriters will look at this on a case by case basis.
Require Skiing Or Snowboarding Life Cover? Try Us Today · No Obligation · Free Quote Now

Insurance Hero, Your Winter Sport Specialist
Insurance Hero has relationships with underwriters that specialise in adventure and action sports and for those whose profession involves being an outward bounds instructor. We want to ensure that your premiums are competitive and accurately reflect the extent of your skiing activities. We don't want you to pay unnecessary loaded premiums.
Our team of experienced brokers will talk you through an accurate fact-finding questionnaire to fully understand the extent of your activities. We will then pass this on to the underwriters to provide a quote tailored to your circumstances.
Insurance Hero has a team of brokers experienced in providing life insurance cover for skiing and snowboarding. For a no-obligation quote, please contact us now on 0203 129 8866.
Other Types of Life Cover
Life insurance only pays out If the policyholder dies. Two different types of life cover are critical illness and income protection. These two types of cover are not dependent on the policyholder, passing away to payout a lump sum cover amount.
Skiing & Snowboarding Critical Illness Cover
This cover is useful if you are involved in an activity or profession with specific illnesses that are associated with them. Skiing and snowboarding both have a history of fractures and brain injuries resulting from falls.
Critical illness pays a lump sum should you survive at least ten to fourteen days from diagnosis. The lump-sum is a result of paying regular premium into a fixed term policy.
Critical illness cover comes with a standard list of illnesses. If you are involved in skiing, diseases prevalent in this sport can be on a cover list at the outset of the policy.
For illustration purposes, the standard list of illnesses includes the following:
Structural heart surgery
Heart attack
Loss of foot or hand
Paralysis of a limb
Parkinson's disease
Intensive care
Stroke
Liver failure
Kidney failure
Traumatic brain injury
Cardiac arrest
Coronary artery by-pass grafts
Heart valve replacement or repair
Alzheimer's disease or pre-senile dementia
Systemic lupus erythematosus
Multiple system atrophy
Major organ transplant
Motor neurone disease
Insurance Hero with our experienced team of brokers is here to provide quotes for critical illness for snowboarders and those involved in riskier sporting activities. For a fast and free quote call 0203 129 8866 now.
Skiing & Snowboarding Income Protection Cover
If you are unable to work for a long time, perhaps as the result of a snowboarding accident.
Do your employers still pay your salary?
Do you have financial obligations such as loans?
Is your family dependent on your salary as the primary breadwinner?
These are valid reasons for taking out income protection cover. You should be able to enjoy your snowboarding or skiing activities in the knowledge that should an accident stop you from working you will be financially secure.
Income protection cover works to provide a regular, pre-determined salary if you cannot work. The provision of a wage occurs from one month to one year (depending on how long your employer pays your salary) following a claim.
Financial commitments can include but are not limited to, the following:
Personal loans
Outstanding mortgage
Credit card debt
Equity release loans
Hire purchase agreements
School fees
Contract hire arrangements
Don't delay in protecting yourself and your loved ones. Contact Insurance Hero today for that little peace of mind as you enjoy your skiing and snowboarding activities.