We Compare Life Insurance Cover For The Over 60's
In the past, many people died before the age of 60, making it unnecessary to offer life insurance to anyone over that age. If policies were available, they were costly, deterring all but the wealthiest individuals. Advancements in medical care have made it much more likely that people will live past sixty.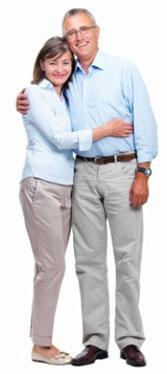 In fact, some people refer to this age as the new 40, because many people live until their 80's or 90's. This cover is designed for people who did not purchase life insurance at an earlier age and want to save money when doing it now.
Since this age group are no longer placed in the highest risk category, they receive lower rates for life insurance. Several UK insurance companies have begun offering individual life insurance for the slightly more mature population. These plans are designed specifically for this age group and some offer guaranteed acceptance for a certain level of coverage.
This eliminates the need to have a medical exam to qualify. Therefore, over sixties who know or suspect they have health issues need not worry about being denied coverage.
Easily Compare Over 60's Life Cover – Simple Quote Process

Premiums are based on coverage level, age, gender, and smoking status. By quitting smoking at least one year before applying for an over sixties plan, people will significantly reduce their premiums. Men of all ages will pay more than women because they do not tend to live as long. However, the premium difference is not substantial enough to justify going without coverage.
These plans payout upon the death of the insured, allowing a person over sixty to arrange for a lump sum cash payment to one or more designated beneficiaries. When considering how much coverage to buy, people should factor in expenses that will result from their death and those that are ongoing such as a mortgage or loan payment.
Many people over sixty have entered or are nearing retirement, making it essential to leave enough money for a surviving spouse or partner to live comfortably during the golden years.
Providing for Children or Grandchildren
Many people have children later in life, and this means that children may not be financially self-sufficient if their parents die at this time. Other over sixty-year-olds have young grandchildren whose parents may be struggling due to the economy. Providing for these younger generations through an over 60 plan benefit is one way to make their future bright. Children can establish themselves comfortably, and grandchildren can attend university without taking out student loans.
When parents pass away, children are often left to handle the estate. Having extra money on hand to cover final bills, funeral costs, and the mortgage until the home is sold will be helpful. Children will not need to dip into their savings to cover expenses related to the estate of a parent. If each parent purchases a separate policy, beneficiaries will receive a payout when each of these individuals dies.
Caveats with Over 60-Plus Life Cover
Reading the fine print is always a smart idea, especially with insurance. A plan would not pay out within an initial coverage period of one or two years (determined by the insurance company) unless the death of the insured was accidental. However, some companies will return premiums paid when death occurs during this period.
This policy lasts for the lifetime of the insured unless premium payments cease. If the individual stops making payments or decide to cancel the policy, premiums already paid will not be refunded. People should consider all their options before purchasing because this policy never has a cash-in value. If an individual elects a high coverage level and lives for 20 or 30 years, total premiums paid could be more than the benefit provided at death.
Shopping Around Does Matter
Research shows that rates for this age group life vary by as much as 50 percent between insurance companies. Finding the best deal can be difficult because most people do not know where to look. As experts, we know precisely who offers this coverage, and we can quickly compare coverage and rates to find you the best deals. You complete our online quote request form, and we return quotes and policies for you to examine.
Our service is impartial, and there is never any obligation to buy coverage. However, we do recommend considering several things if you choose to purchase. A guaranteed acceptance plan is the easiest to qualify for, and an insurance company that features an excellent financial strength rating is considered the best.
Technology and Affordable Life Insurance For Those Over Sixty

Though shopping online with us is the most convenient way to find inexpensive over 60's coverage, we understand that some people in this age group are not comfortable with computers. Therefore, we have a customer service number that provides the same quotes offered through an online search.
Customer service representatives are available during extended hours throughout the week and also on Saturdays. If you are unable to reach us, request a callback, and one of our experts will contact you in a short time.
Children and grandchildren can also help over 60's shop for life insurance. Our online quote request form will be secure for them to complete because it does not require very complicated information. Children can submit the quote request and view the provided quotes with the individual requesting the coverage.
No parent wants to think about death, we want a rose-petal path that lets us see our children through the happiest of childhoods into adulthood with a full education and a trauma-free upbringing.
Sadly, for 1 in 29 children across the UK, that doesn't happen. Research by Parsons UK, estimated that by the age of a child reaching 16-years old, one in twenty would have lost one or both parents. That same research also shows that social class and geography play a role in the risk level. The more disadvantaged an area a person lives, the higher the risk of parental bereavement becomes. Of those who are bereaved of one parent, it's more likely the surviving parent will not be in work.
For those of the highest risk of parental bereavement, given that mortality is linked to social class and geography, the really sad part is that those who are most in need of life insurance, are likely going without it.
It is a topic that needs highlighting because life insurance is more affordable than most people think. Of those who are perhaps parents struggling with existing health problems, that may be a reason for going without life insurance because of the higher cost of premiums.
For that, the simplest approach is to buy a level term insurance policy based on what you can comfortably afford, rather than what's suggested you need.
The rule of thumb generally used as guidance is to have a life insurance policy equivalent to ten times the amount of the main income earner in the household. For some parents, that's just not feasible, especially if there are pre-existing illnesses pushing up the cost of cover.
Level term cover is the cheapest.
The longer the term is of a policy, the higher the cost will be. The harsh reality of that is because you're more likely to die resulting in the insurer needing to pay out, they push the premiums higher.
Consider the real term you need cover for based on the age of your youngest child. For example, for a family with two children, the youngest of which is eight years old, you may want to invest in a level term policy to provide protection up until your youngest reaches either 16, 18 or 21-years of age.
The shorter the term is, the cheaper the premiums will be because of the lower risk level of you passing within that time frame. Using the example above, for life cover until your youngest of eight years old reaches 16, it would be an 8-year term policy. That's going to cost a lot less than a 25-year level term policy.
Another good thing with level term cover is it's only based on death and not any additional coverage such as critical illness or terminal illness conditions, which are optional extras. There will be the usual exclusion of suicide within the first year of a policy though, which is worth mentioning as parental suicide is thought to affect around 6,000 children annually. The Association of British Insurers estimate 98% of life insurance claims are successful, they can be invalidated by non-disclosure of any mental health problems or any other condition.
Life insurance is for protection and not an answer to financial difficulties.
Some advice to get you the best price on level term life insurance
Don't go directly to a life insurance company for quotes. You'd need to be very lucky to get the best price and cover available. The UK life insurance market is competitive, with many more providers than most people are aware of.
Comparison websites can be of help with life insurance because you can obtain numerous quotes to suit your needs. That's based on your age, existing health and family background among many other health and lifestyle factors.
Once you have chosen one or more provider from No2 above, obtain a tailored quotation from them because arranging life insurance can be tricky given how personalised the quotations need to be.
Our team at Insurance Hero work with you to help you understand what your real requirements would be, cut through the jargon and match you with a suitable provider with a policy that fits with your needs and is within your monthly budget.
Related Reading
Just because you are getting older this does not mean that your life is not worth insuring.
Individual policies are available for people within this age group, and we make them much easier to find. Applying for a plan is as easy as requesting a quote. Purchase a life insurance policy today to take care of loved ones after you have left them.