Is Income Protection Insurance Worth It In 2022?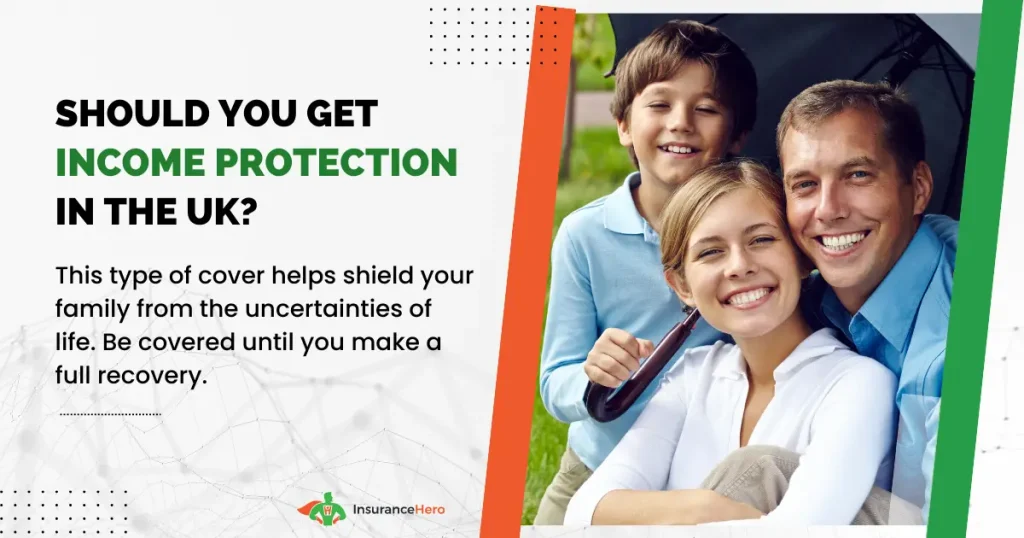 Are you wondering if an income protection insurance policy might be the right choice in your situation? Is this coverage worth considering?
Choosing the right coverage for you and your family can sometimes be challenging. There's a lot to consider, and while purchasing an insurance policy gives you peace of mind, this step makes the most sense only if you choose the most optimal plan for your needs.
When making this decision, it's valuable to weigh all the costs of the insurance against the potential risks of not being covered. It's also important to know all the benefits this form of protection offers and the requirements one has to fulfil to be eligible.
There is also the matter of what type of insurance will be the most suitable for you. Critical illness insurance, life insurance, and income protection insurance all provide different types of coverage. If you're asking yourself, is it worth having income protection insurance, this article will provide you with all the information you need!
Get Income Protection Quotes From The UK's Top Companies

What Is Income Protection and What Is It For?
The first thing worth clarifying is what exactly income protection is and when someone should consider purchasing it.
Income protection insurance is paid out in circumstances when an insured individual is too ill or injured to work. This type of coverage is meant to protect you in situations when you are unable to work for longer periods because of a medical condition. It pays out a monthly amount to help cover the costs of living and other expenses.
People can claim income protection insurance for various reasons. The most common cases involve serious injuries, back problems, depression, strokes, heart disease, or cancers. This insurance plan can cover any medical condition that disables you from working if your incapability to be professionally active fits within your insurer's definition.
Depending on the type of income protection cover, payments can continue until retirement, death, or the moment you're able to work again. There is a possibility to purchase a short-term income protection plan, where payments are paid for a limited time, and the overall monthly amount of money one can receive is smaller.
Most insurance plans can cover an individual for 50% to 70% of their monthly pre-tax income, and all the insurance payouts are also tax-free.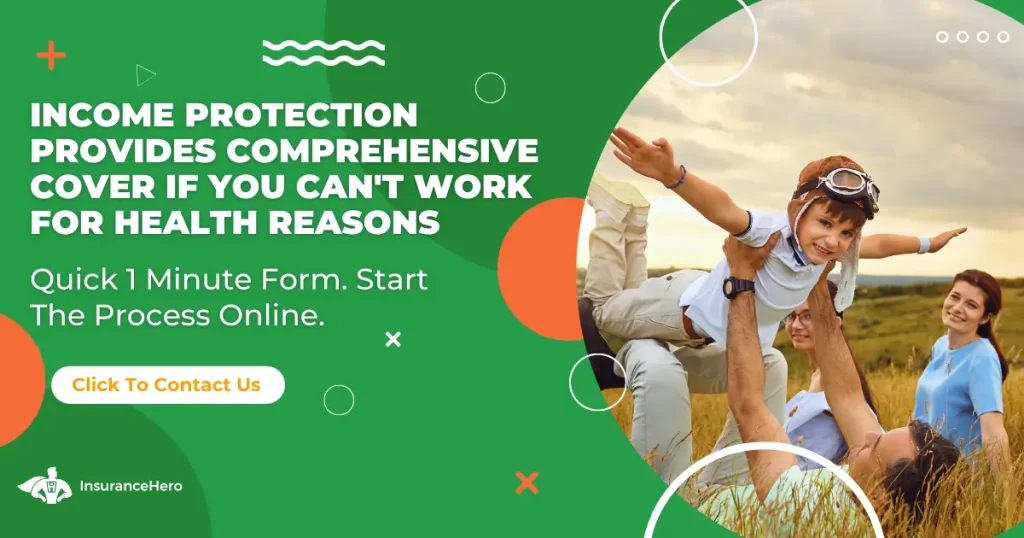 Do I Need Income Protection Insurance?
Income protection is one of the ways an individual can secure their financial stability for future adverse circumstances. Many people would face significant financial turbulence if they were unable to work and bring in income, even for a few months. This kind of insurance can protect people from financial struggles that otherwise would significantly impact their quality of life.
For example, income protection insurance can reduce the risk of financial hardships in scenarios when an insured individual has to give up working for an extended time. Another benefit of this type of insurance policy is that it can eliminate the need to use up savings to cover living costs while being ill or injured.
Income protection insurance is often a sufficient form of protection compared to employer or statutory sick pay. It can be a valuable option also for self-employed individuals, although some restrictions may apply depending on the insurance plan.
Income protection insurance is also good cover for parents and people who support other people financially, as this insurance often provides valuable protection for children and family members.
Ultimately, you can consider buying income protection insurance if you want to take care of your future and give yourself peace of mind in the event of any severe health complications.
How Much Does Income Protection Insurance UK Cost?
Usually, the cost of income protection insurance is calculated based on individual risks and circumstances so that it will vary among individuals. The insurance company evaluates the risk factors that may impact one's ability to purchase such coverage. These risk factors will also influence their monthly premiums.
Below you'll find the list of things your insurance provider will consider when deciding whether you can be covered with this insurance and how high your premiums will be.
Factors that May Affect the Insurance Costs
Profession – Individuals with high-risk occupations can expect to pay more substantial premiums.
Age – The older you are, the more vulnerable you become to health issues, which presents a higher risk for an insurance company and increases your monthly premiums.
Term – Usually, long-term policies will have higher premiums as you're more likely to make a claim with time. Also, long-term coverage means the insurer may be obligated to pay out monthly amounts for a more extended period (years in some cases), which is why the premiums will be higher with this type of insurance.
Medical history – Past illnesses and injuries, as well as your lifestyle (whether or not you are a smoker, for example), can make it more challenging to purchase income protection insurance and result in higher premiums.
Example of Monthly Premiums Depending on Your Age
| Age | Monthly Premiums |
| --- | --- |
| 30 years old | £32.24 |
| 40 years old | £60.44 |
| 50 years old | £84.89 |
Example of Monthly Premiums Depending on Benefit Amount
| Benefit Amount | Monthly Premiums |
| --- | --- |
| £1,000 | £30.97 |
| £1,500 | £39.89 |
| £2,000 | £53.19 |
Is Income Protection Insurance Worth It?
Whether income protection insurance is worth purchasing will depend on your circumstances.
This type of insurance can be great for people:
With jobs that increase the chance of sustaining injuries
Who wish to secure their finances in case of longer absence from work
Who want to acquire a better long-term form of protection than sick pay
Who don't want to be forced to use their savings in case of illness or injury
Who wish to protect their loved ones if they are unable to provide the income.
If that describes you, this insurance might be what you're looking for. Contact our experts at Insurance Hero to compare quotes from leading insurance companies in the UK and find a plan that suits your needs!
Summary
Insurance gives you the freedom to not worry about your future. You can secure your and your family's financial situation in case of unexpected events like serious illness or injury.
An income protection policy is a valuable solution for many individuals who wish to have adequate protection through monthly payments.
If you want to learn more about income protection insurance or any type of insurance, contact us and get quotes from different insurance companies today.
FAQs Income Protection Insurance
What is the average cost of income protection insurance UK?
The costs of income protection insurance in the UK will differ depending on who is buying it, what age they are, and what benefit amount they want to insure for, as well as other factors like the type of policy, health risks, and waiting period.
To get the most accurate estimate of what the cost of the income protection insurance will be for you, it's beneficial to compare quotes from different insurance companies.
Is income protection better than critical illness cover?
Both types of policies can protect you in case of serious illnesses, but there are some significant differences between them.
Income protection insurance will protect you no matter what illness or injury you sustain, as long as your condition makes it impossible for you to work. Critical illness cover will only pay out if you get diagnosed with a condition specified in your policy.
In this sense, an income protection policy may be a broader form of protection. Another significant difference is that the payout from both policies is different.
With income protection coverage, you can expect monthly payments that, depending on the type and conditions of your policy, can continue even until your death. You will usually receive one larger lump sum with critical illness cover.
Income protection coverage can help you stabilise your financial situation in moments when you are not able to work. At the same time, critical illness cover is more one-time support when you need to cover medical or other living expenses during your illness.
What does income protection not cover?
Any scenario in which you lose your job for unrelated health reasons cannot be covered by income protection insurance.
It will not protect you against redundancy, for example. This type of insurance pays out only when you cannot work for medical reasons. If you want to secure yourself in case of unemployment, you can consider other types of policies, like redundancy insurance.
Can you work whilst on income protection?
Usually, when you return to work, income protection stops being paid out. However, there could be some exceptions included in your policy.
For example, suppose you go back to work, but your role, duties, and salary are reduced due to an illness or disability. In that case, you may still qualify for a partial disability benefit. Before signing, you should check if your policy includes this safety net.