Direct Line Life Insurance For Over 50's Review 2022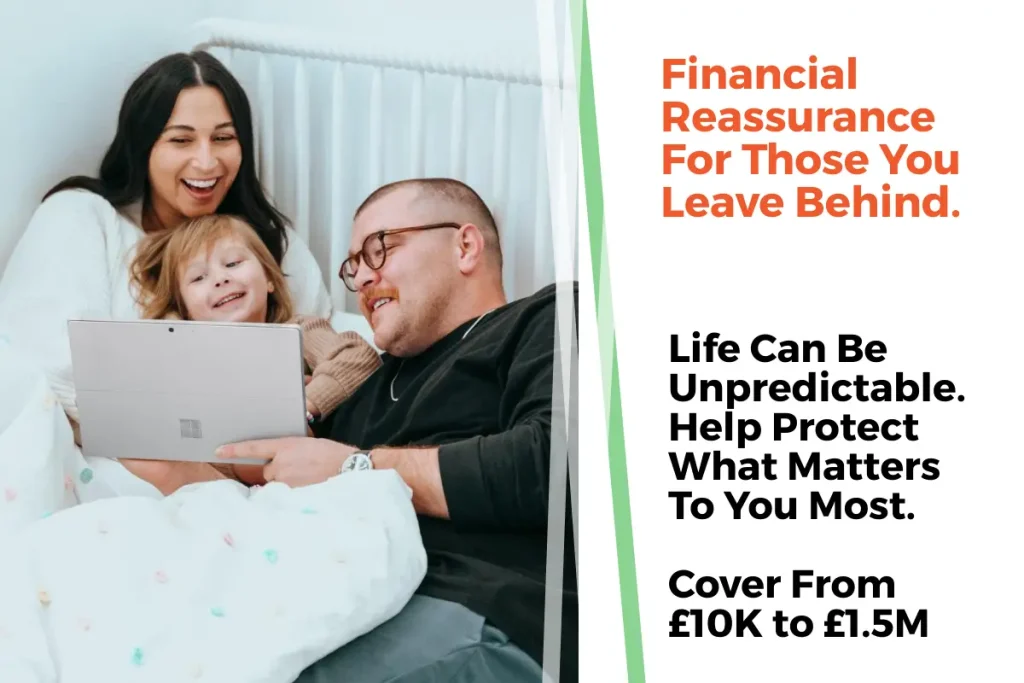 Direct Line is a household name for insurance products. At the outset, their core offering was vehicle insurance with a simplified way to buy and just one way – over the phone.
They are more commonly associated with car, home, and travel insurance; however, what most people aren't aware of is that Direct Line also offers Over 50s Life Insurance.
Life insurance provided by Direct Line is underwritten by the UK's leading insurer – Legal and General. All other Direct Line insurance products are underwritten by UK Insurance Limited covering general insurance products. Please read our direct line life insurance reviews below and see whether this company aligns with you and your family's needs.
Reasons To Consider Securing Life Insurance Cover:
To ensure that loved ones are taken care of financially if something happens to you
To make sure that those close to you are not burdened with any financial costs associated with your death
To make sure that your family do not have to sell their home or other assets in order to pay for funeral and burial costs
To leave a legacy for your loved ones after your passing
Take Steps To Protect Your Family With Insurance Hero's Life Insurance Comparison Service.

Direct line life insurance reviews
As life insurance is a specialist type of insurance, customers can be assured that the policies are underwritten by a specialist provider.
While Direct Line is more associated with general insurance products, the Direct Line Group that owns the brand also owns leading financial services companies including Churchill and Privilege – both recognised brands in the UK financial services industry.
Direct Line Over 50s life insurance overview
Customers benefit from a full payout within the first 12-months of cover for accidental death, such as a death caused by a car accident.
The initial waiting period is 12-months from the date of policy commencement before full coverage is provided. This means that for full life insurance benefits for Direct Line Life Insurance, all conditions covered by the policy will apply after one year from the date the policy begins. Within the first twelve months of the policy start date, only accidental death will be covered.
The maximum age for applicants is 80 years old, and depending on individual policy terms, there can be an upper age of 90 for a premium ending age (the age a customer stops paying the monthly premium).
There is an additional payment of £300 funeral benefit option available.
Premiums are payable monthly, and there is a 30-day missed payment allowance, meaning for those who miss a monthly premium, the plan remains active for 30-days for payments to be brought up to date. If payment remains late beyond 30-days, the policy will be cancelled.
The original premium agreed at the start of the policy is applicable for the first 12 monthly payments. After a year, customers have the option to make amendments to their cover to reduce the monthly premiums.
Premiums start from £6 per month.
Expert rated on Defaqto.
Direct Line customer reviews on Reevoo score the service and product 9 out of 10.
In the event of a terminal or critical illness diagnosis, Direct Line provide customers with up to £300 to put towards the cost of a medical consultation for a second opinion should you want another doctor to assess your health.
Direct Line Life Insurance Options
Level term
A level term life insurance policy provides a fixed payout with fixed premiums throughout the policy. This type of policy is suited to those with an interest-only mortgage as it guarantees a fixed sum of money in the event of the policyholders' death.
Decreasing Term
A decreasing term plan is a more affordable type of life insurance that provides a set amount of money that decreases with time while providing the policy for a fixed monthly premium from the start of the policy. It is more affordable as the amount of money paid out from the policy reduces the longer it is in place.
This type of product is suitable for homeowners on a standard mortgage product as you'll be repaying capital to the loan, requiring less from an insurance policy to repay the mortgage in the event of your death. A decreasing policy can be used to cover your overall debt as the more capital you repay, the less you'll need your life insurance to cover.
Single and Joint
Both increasing and decreasing life insurance plans can be arranged for single applicants or joint applications. Joint applications are suitable for both married couples and those in long-term relationships. The advantage is one monthly premium to cover both adults in the household.
Joint policies end in the event of one person passing. On joint policies, while both people are covered, if both people on the policy die at the same time, such as in a car accident, only one payout will be made. Single policies guarantee a fixed payout per person.
All life insurance plans from Direct Line provide a tax-free lump sum payment in the event of a policyholder's death.
Critical Illness
Critical Illness Cover can be applied to your life insurance policy with Direct Line. Whether you opt for this cover or not, all your children will automatically qualify for critical illness cover at no extra cost. The illnesses covered by Direct Line Critical Illness policies include heart conditions, stroke, and certain types of cancer. Not all cancer types are covered.
We hope you found our direct line life insurance reviews insightful. To find out more about Direct Lines Life Insurance cover and Critical Illness plans, schedule a consultation with one of our Life Insurance experts today to discuss your best life cover insurance options.
Further Information:
Direct Line customers are introduced to AIG Life Limited by UK Insurance Business Solutions Limited who are authorised and regulated by the Financial Conduct Authority. Registration number 313783
Registered office: The Wharf, Neville Street, Leeds LS1 4AZ Registered in England and Wales No.117998
https://www.directline.com/life-cover
Call free on 0800 0778 297
Apply for Over 50s Life Insurance: Call free on 0800 0778 306