Life Insurance For Footballers Professional And Amateur 2022
Do you play football professionally or at a recreational level? Do you worry that an injury, accident, or death may affect the financial well-being of your loved ones?
Don't worry – there are dedicated insurance policies for sports people. Read on to find out how life insurance, income protection, and critical illness cover can provide financial peace of mind as you enjoy your football.
Some sound reasons to consider getting a life insurance quote today:
To provide financial protection for your loved ones in the event of your death
To cover final expenses, such as medical bills and funeral costs
To help with income replacement if you were to die prematurely
To provide peace of mind in knowing that you're prepared for the unexpected
You may also want to consider life insurance if you have debt that would need to be repaid upon your death.
Help Protect Your Family's Future, Compare Top Insurers. Find Your Cheapest Quote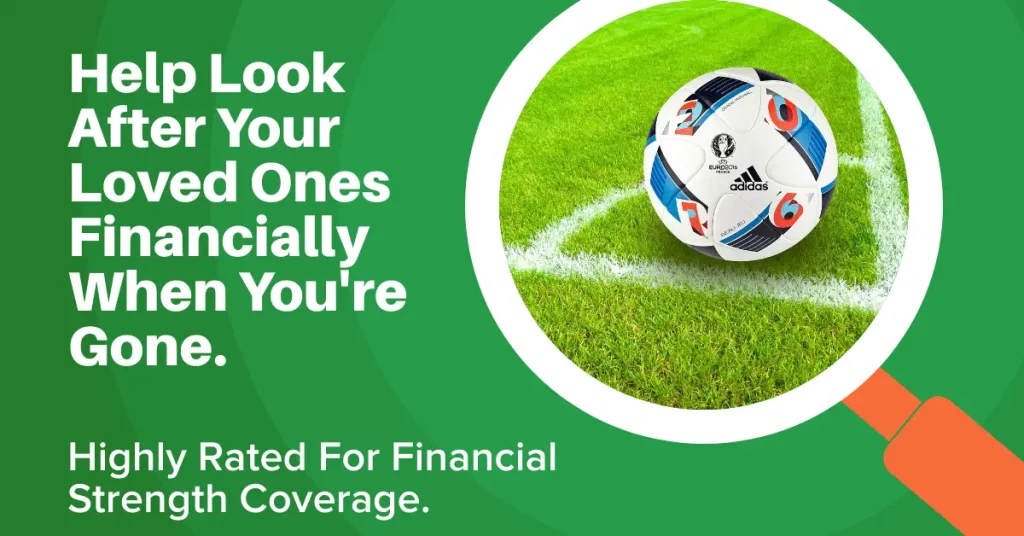 What is Life Insurance?
Life insurance provides financial security to designated beneficiaries through a lump sum payment if you should die. The lump-sum is agreed at the outset of a life insurance policy and funded through regular monthly premiums.
Football and Life Insurance – The Insurers Viewpoint
Football has been in the headlines in recent times due to the risks associated with the continuous heading of a football. There have been high-profile cases of former professional footballers now suffering from brain injuries, including Dementia and Alzheimer's disease.
Cardiac arrest has also been a problem in football with several professional footballers collapsing on the pitch.
Insurers will need to fully understand the extent of your footballing activities before deciding if insurance is available at standard rates. Some premium loading may be required depending on your circumstances.
Insurance Hero – Your Trusted Football Life Cover Specialist
Insurance Hero has extensive relationships with both specialist and mainstream life insurers. We work closely to provide competitive, accurate quotes closely aligned to your football activities. In other words, the premium you pay matches closely the cover provided should anything happen to you.
They will likely ask some questions to understand the full nature of your footballing activities. This information is then given to the underwriters who then provide a quote for cover.
Questions asked regarding football might include the following:
Do you play football professionally?
Do you play with any underlying medical conditions?
Have you any health conditions as a result of playing football?
How often do you train and how long is a session?
How old are you?
Do you travel extensively to play football
Protect The Things That Matter & Get A Free Quote Today

Critical Illness and Income Protection Cover
As associated life covers, critical illness and income protection provide financial protection. Unlike life insurance, you do not need to die for payout to occur.
Critical Illness Cover
Diagnosis of a critical illness can be devasting. Typically, you may never be able to work or play football again. At best, you may only be able to operate at a reduced capacity.
Critical illness cover works to provide financial security for you and your loved ones. Following diagnosis, a lump sum payout is forthcoming if you survive at least fourteen days after diagnosis—the lump-sum self-funds by paying regular monthly premiums throughout a fixed term policy.
For footballers, certain critical illnesses have a long association with the sport. These critical illnesses can have a special designation at the start of any policy.
Critical illnesses associated with football include the following:
Traumatic brain injury
Parkinson's disease
Alzheimer's disease or pre-senile dementia
Cardiac arrest
Heart attack
Structural heart surgery
Income Protection Cover
Income protection protects against loss of earnings. As a footballer, either amateur or professional, an injury may keep you out of the workplace. Your employer may only maintain your wage for a certain amount of time.
It could be problematic if you have financial commitments such as a mortgage, personal loans, or credit card debt.
With an income protection policy, a replacement salary can be forthcoming from as little as one month from when you make a claim.
Football is known for its association with lower-body injuries. Injuries that may result in being off work include some of the following:
Anterior cruciate ligament injuries
Groin injuries
Hamstring strains
Broken leg, ankle or toes
Why not recuperate in the knowledge that your financial obligations are taken care of allowing you to concentrate on your recuperation. The best therapy is being relaxed with your family, knowing that you will eventually return to work.
For a fast and free income protection cover quote, contact our friendly, professional team on 0203 129 88 66. Insurance Hero is committed to providing you with policy cover not only at competitive rates but also carefully matched to your circumstance to ensure any policy is watertight.
Related To This Topic: