Best Life Insurance For Horse Riders And Equestrian – 2022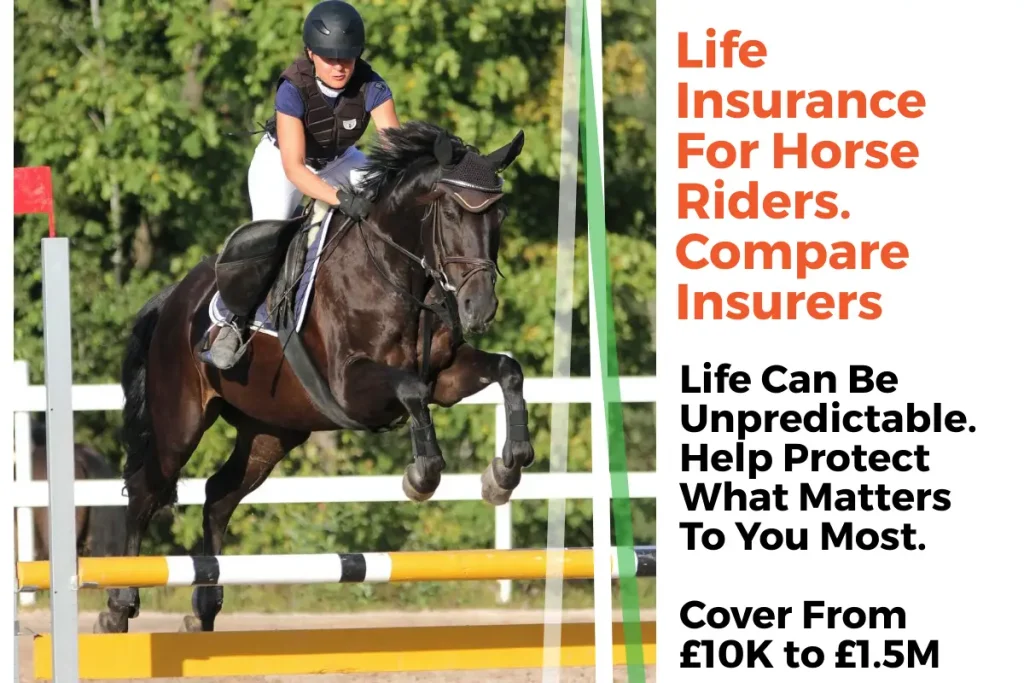 This guide explains why your horse riding pursuit is an activity to include in your life insurance policy.
Insurance Hero will also explain how you can get the most competitive quotes for life insurance for horse riders and associated cover.
As someone who rides horses what are the main reasons to get life insurance?
There are a few key reasons why you might want to consider getting life insurance:
To provide financial security for your loved ones in the event of your death
To pay off debts and other expenses that you may leave behind
To help ensure that your family can maintain their standard of living even if you're no longer around to provide for them
To provide money for funeral and burial costs
Life Insurance For Horse Riders. Protect What Matters. Get A Free Quote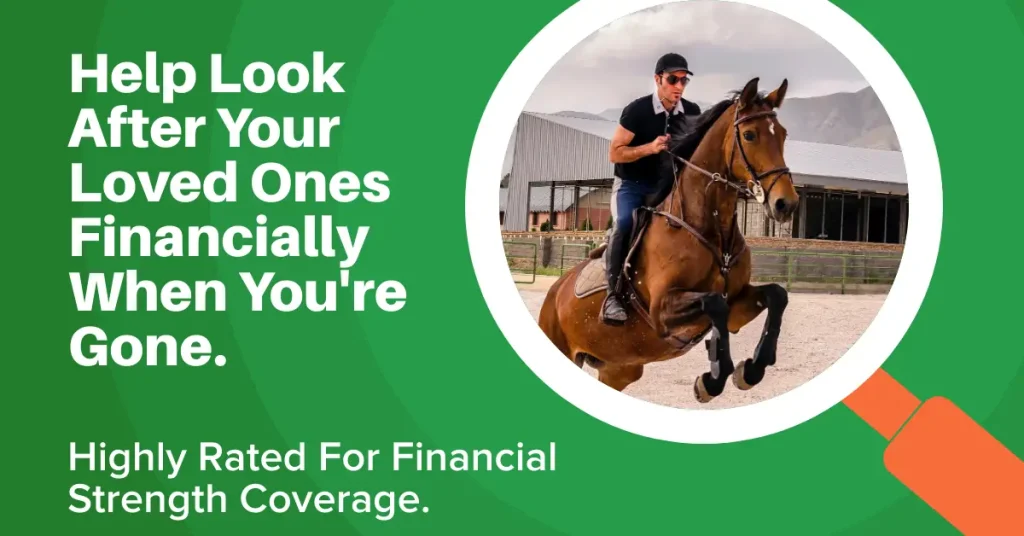 Horse Riding, A High-Risk Activity For Life Insurers?
There are risks attached to horse riding. One of the main dangers is coming off your horse which could cause serious injury. Depending on what type of horse riding participated in affects how insurance underwriters view your hobby or if you ride full time, your profession.
Do you ride competitively?
Are you involved in show jumping?
Are you a professional instructor?
Are you a professional jockey or trainer?
What size of horse do you ride?
How often do you ride?
Which locations do you ride?
On the one hand, moderate equestrian activity can be part of a standard life insurance policy. Yet, if you are a professional jockey or a competitive show jumper, this may be something that underwriters may want to look at more closely.
How Can Insurance Hero Help?
Insurance Hero has trusted relationships with numerous underwriters specialising in life insurance for horse riders to include unusual or riskier activities. Where they add value for an underwriter is through their understanding of, you the equestrian enthusiast.
They will run through a detailed questionnaire with you, which will highlight your precise horse-riding activities. They will also build an accurate profile of you through unobtrusive fact-finding questions.
For example, regarding where you ride, is it:
On hilly or mountainous terrain
On a beach
Close to cars, roads and built-up areas
In the countryside
In rivers or fast-flowing water
In deep water such as lakes or the sea
By accurately highlighting the exact nature of your equestrian activities, they ensure that you are paying a premium that accurately reflects your circumstances. They do not want you to pay an additional risk premium or be at risk of exclusion. Exclusion of your equestrian activities is something to avoid. Less accurate screening of your activities increases the risk of your horse riding participation being excluded from your life insurance policy.
Protect Your Loved Ones For Less – Compare & Save – Cover From Leading Insurers – Quick Quote

Life Insurance Cover For Horse-Riders
Life Insurance Cover provides the peace of mind that your family or dependents will be financially secure in the event of your death, even if this is as a result of your horse riding activities. By providing regular monthly premiums as agreed under a fixed-term policy, a payout would be due in the case of death.
Equestrian life insurance cover is advisable if you have outstanding financial commitments. Would your family or dependents struggle to pay any of the following should you die.
If the answer is yes to the below life insurance can provide peace of mind:
An outstanding mortgage
Personal loan
Car loan
Hire purchase agreement
Credit card debt
Only one source of household income
Insurance Hero is your friendly life insurance broker. We are independent with no preference for any insurance underwriter. Contact us now on 0203 129 8866 for a fair and competitive life insurance quote. Your life insurance policy is our priority!
Horse Riders Critical Illness Cover
With a critical illness cover policy, regular premiums throughout the term will result in a payout should you be unable to work after being diagnosed with a critical illness or medical procedure. Not all diseases are covered, and it is essential to define inclusions at the outset of the policy clearly.
An example of conditions and surgeries covered under a typical critical illness policy are the following:
Coronary artery by-pass grafts
Heart valve replacement or repair
Liver failure
Multiple system atrophy
Parkinson's disease
Pulmonary artery surgery
Creutzfeldt-Jakob disease
Alzheimer's disease or pre-senile dementia
Severe lung disease
Certain types of cancer
Systemic lupus erythematosus
Loss of hand or foot
Benign spinal cord tumour
Paralysis of a limb
It is possible to choose from different types of horse riding life insurance cover. To find out more about this contact Insurance Hero, but in a nutshell:
Level cover is where the lump sum cover is the same throughout the policy
Decreasing cover results in a lump sum that declines throughout the policy
Increasing cover sees the lump sum increase each year in line with the cost of living
What is Income Protection Cover and When Should It Be Considered?
Are you the primary source of income for your family? Do you have outstanding debt? If the answer is yes to either of these questions, you should consider income protection cover.
If you cannot go to work for a sustained period due to illness or perhaps an accident resulting from your horse-riding, why not have the peace of mind that comes with equestrian income protection cover. In return for paying a regular monthly premium into a plan where you are the policyholder, should something happen to you, you have cover for that peace of mind.
You should consider income protection cover if you have outstanding financial commitments including but not limited to, the following:
Personal loans
Car loans
Hire purchase agreements
Mortgage
Credit card debt
Bank overdrafts
Equity Release
Our professional team of brokers will talk you through your life insurance for horse riders options and how we can get you a no-obligation income protection cover quote, including your horse-riding activities. Call now on 0203 129 8866. Enjoy your equestrian pursuits in the knowledge that a watertight policy covers your back.