Cycling Life Insurance For All Cyclists Made Easy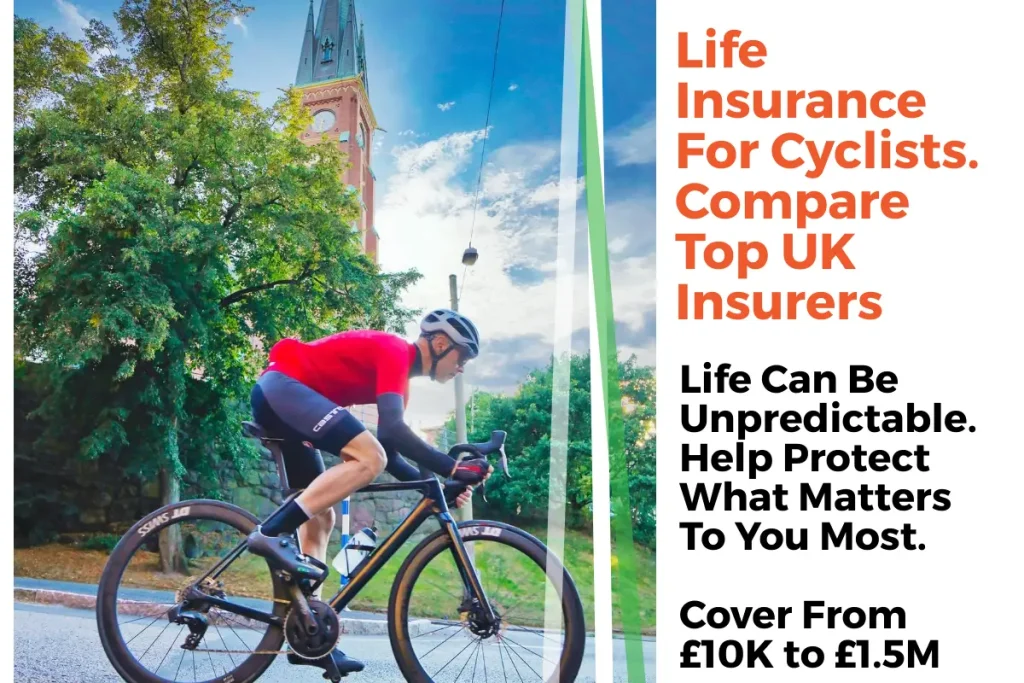 In this guide, we will explain how you can get your cycling activities included as part of your life insurance policy.
We don't want people to have the pursuits they enjoy excluded from having the peace of mind that sports life insurance provides.
Life Insurance, Income Protection and Critical Illness Cover For Cycling
You would be right in thinking that cycling, as a pursuit would be included as an acceptable activity in a life insurance policy and associated covers. In most cases, this is true, and your cycling activities will not warrant additional premium or even exclusion from the plan.
As life insurance is only concerned with death, the exclusion is rare. Excluding a pursuit from a life insurance policy means if you die while undertaking it, there will be no payout. You are not covered. Wherever possible, you should avoid an excluded activity in a life insurance policy.
Compare The UK's Top Insurance Providers To Find The Right Policy For You & Your Family. Quick Quote Form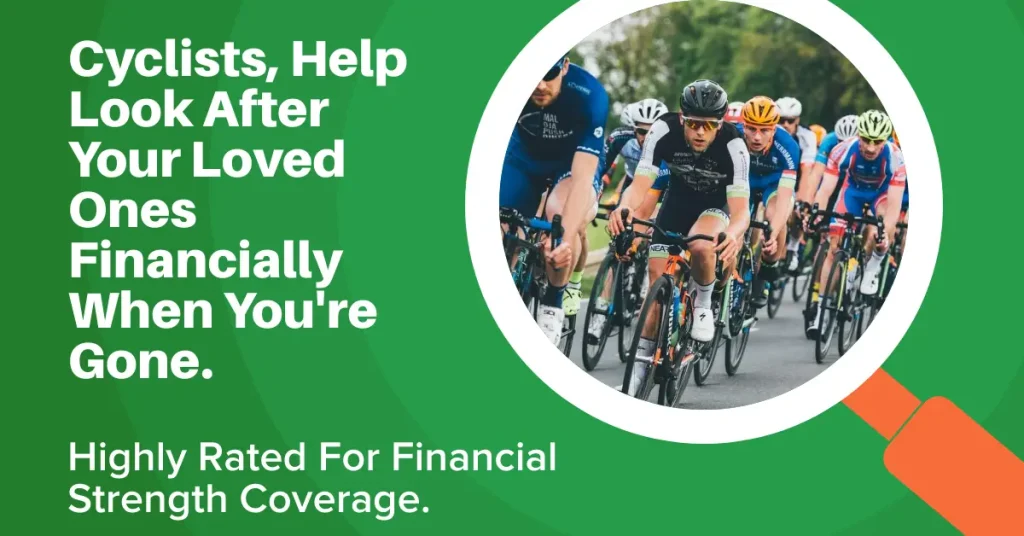 Avoid Policy Exclusion with Insurance Hero?
Insurance Hero's partners have extensive experience helping those undertaking more extreme cycling pursuits like downhill MTB or aerial BMX to get their activity included on a life insurance policy. Some insurance providers will not provide a quote, or any quote will exclude your cycling activities. How are the companies we work with any different?
Firstly, they participate in a thorough fact-finding questionnaire with clients. They will ask all the questions needed to understand the nature of your cycling activities in a professional but unobtrusive manner; allowing them to provide insurance underwriters with an accurate picture of your circumstances.
Due to their reputation in the marketplace for providing accurate information, they have built trust with a network of underwriters specialising in offering cover for extreme sports, including certain cycling activities.
We Find Bespoke Life Insurance Policies To Suit Your Needs & Budget. Get A Quote Now

Higher-risk Cycling Activities
Not all cycling activities are equal in the eyes of an Insurance Underwriter. There is a marked difference between riding recreationally for fitness and extreme types of cycling which include, but are not limited to, the following:
BMX riding, including aerial stunts
Downhill mountain bike racing
Professional road racing
Why Take Out Life Insurance Cover?
Now that we understand the intricacies of life insurance and cycling, why should you take out life insurance?
Consider the following two questions:
Do you have financial commitments?
Do you have family or dependents who would endure hardship should you die?
If the answer is yes to either of the above, you should consider life insurance.
How Does Life Insurance for Cyclists Work?
Life Insurance is a lump sum payout in the event of the death of the policyholder. The lump sum is payable to the designated beneficiaries of the policy. The lump-sum payout depends on the policy duration and the size of the monthly premium paid into the plan.
Decided at the outset of the policy, this takes account of your financial circumstances and needs.
Contact Insurance Hero today on 0203 129 88 66 for an accurate, no-obligation quote. Our professional team will be delighted to assist you in providing a cycling life insurance quote to include your two-wheel activities.
A Look at Income Protection Cover For Cyclists
If you cannot work for a sustained period due to illness or injury, perhaps the result of cycling, income protection cover can help. It will provide you with a regular salary until you can return to work. Without financial worry, you will be in the right frame of mind and able to focus on getting better.
If you have some of this outstanding debt, you should consider income protection cover:
Mortgage
Personal loans
Overdraft
Car loan
Hire purchase agreements
Credit card debt
Equity release
To receive income protection cover, like other types of insurance you will need to pay a regular premium, the size of which will be decided at the policy outset and correspond to your circumstances.
Critical Illness Cover
Critical illness cover works by providing a lump sum payout should the policyholder be no longer able to work.
Critical Illnesses covered by the policy are pre-determined at the outset of the plan and for illustrative purposes may include some of the following:
Pulmonary artery surgery
Multiple system atrophy
Stroke
Structural heart surgery
Bacterial Meningitis
Benign spinal cord tumour
Heart valve replacement or repair
Liver failure
Primary pulmonary hypertension
Traumatic brain injury
Loss of hand or foot
Motor Neurone Disease
Alzheimer's disease or pre-senile dementia
As with other types of insurance cover, regular premium payments occur during the policy. If you survive for ten days or more from diagnosis, a payout will occur. If you die no compensation out is due.
Critical illness includes varying levels of cover including, level, increasing and decreasing cover. For more information on this, please contact us.
Insurance Hero is your specialist cycling broker, ready to assist you in finding critical illness cover that will also include your cycling activities within the policy. Contact us today on 0203 129 88 66 for a free quote.
Related To This Topic: