Taxi, Uber And Black Cab Driver Life Insurance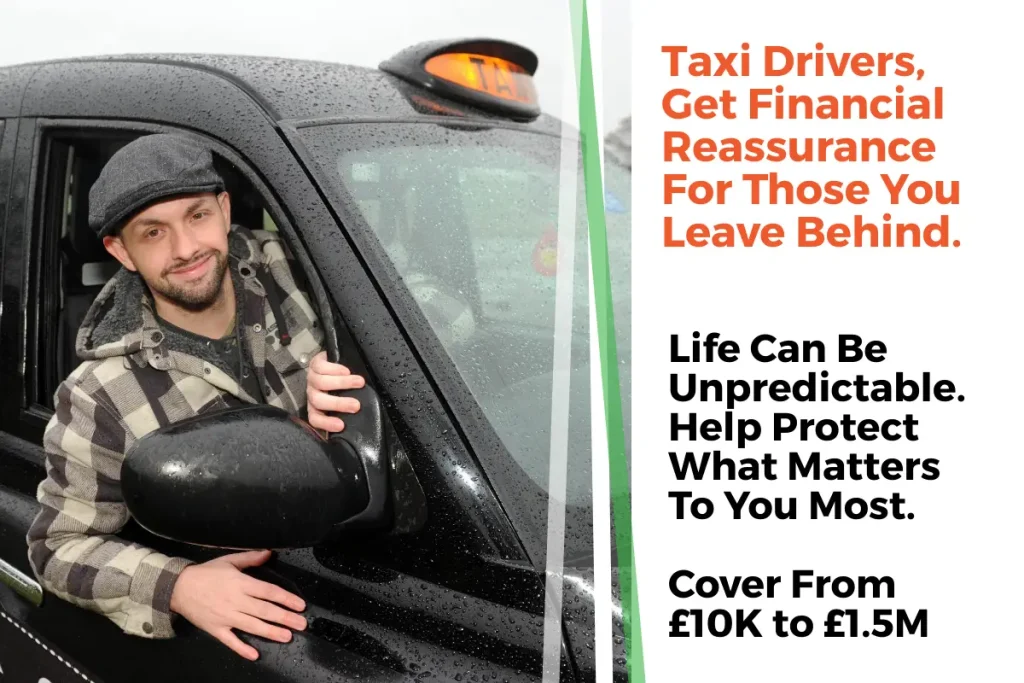 In this short guide, we explain why, as a taxi/cab driver, you should consider life insurance. We will also discuss how you can get a competitive and tailored quote.
Some Benefits Worth Considering:
Affordable policies, so you will be able to find one that fits your budget
Get a policy that is made specifically for you. Be fully protected despite what life throws at you
Outstanding reviews for customer care
Policies with reliable rates for shared coverage
No obligation to proceed after getting a free quote
Friendly and easy-to-use service
Favourable treatment for smokers and vapers
Save Money And Get A Quote Now. Protect Your Family Before Its Too Late.


How Do Life Insurers Consider Taxi Driving as A Profession?
Taxi driving, itself as an occupation in the eyes of life insurers, does not warrant premiums above standard rates for life insurance cover. There are other factors and this is where Insurance Hero can help.
Insurance Hero Helps Taxi Drivers get Competitive Quotes
Insurance Hero undertakes a thorough fact-finding process to fully understand the nature of your taxi driving activities and your health levels participating in this slightly sedentary profession.
We have relationships with an extensive network of underwriters, many that specialise in insuring drivers.
We want to make sure that the quote you receive accurately reflects your circumstances. It would help if you didn't overpay for factors not relevant to your situation. At the same time, we want to ensure your policy is accurate and the level of premium accurately reflects your circumstances.
For this, we need you to answer our questions honestly, and if you have underlying medical issues, these need to be declared.
Protect Your Family For Less – Compare & Save – Policies From Leading Insurers – Quick Quote

Questions we will ask will include the following:
How long is a typical taxi driving shift?
How many days do you drive each week?
Do you drive in dangerous areas?
Do you have any underlying health conditions?
Are any conditions the result of your taxi driving activities?
Do you operate in unsociable hours?
What type of taxi do you drive?
Do you drive long distances?
Our thorough questionnaire leads to not only a competitive quote but also a watertight policy that will pay out to your loved ones should you die.
How does Life Insurance Work?
Here is a simple step by step process to the mechanics of life insurance:
Contact an insurance broker and get a quote tailored to your circumstances
Agree and sign up for the policy
Pay regular premiums over the policy term
If you die a lump sum payout is due to your designated beneficiaries
Insurance Hero has a long history of providing taxi drivers with life insurance. Contact our friendly team now on 0203 129 88 66 for a fast, free, and no-obligation quote. Here at Insurance Hero, remember, your policy is our priority!
Taxi Driving – A Sedentary Lifestyle: Consider Critical Illness and Income Protection Cover?
As an occupation, taxi-driving has a long association with health concerns, some minor and some more serious.
Understanding Income Protection Cover
Some of these concerns, due to long hours at the wheel, such as leg or back pain could result in an enforced layoff from work. Income protection cover can help alleviate the financial implications of not being able to work.
If you have financial commitments including the following, you should consider income protection cover:
Personal loans
Credit card debt
Outstanding mortgage
You are the sole breadwinner
Children school fees
Car loans
Equity release loan
Interest-free credit plan
Hire purchase agreements
How does Income Protection work?
Income protection, in return for regular monthly premiums, provides a replacement salary should you be unable to work. The policy can kick in from as little as one month from making a claim. You can concentrate on getting back to work without financial worry.
Critical Illness Cover in A Nutshell
Income protection assumes that you will get back to work as a taxi driver. Critical illness deals with more severe health concerns. The assumption is that you may never get back to work or only on a reduced basis.
Critical illnesses are pre-determined diseases and emergency medical procedures. Insurers have a standard list of qualifying conditions, but others can be part of a policy. Occupations, such as taxi driving are susceptible to certain diseases due to the sedentary nature of the profession.
These may include some of the following:
Heart attack
Structural heart surgery
Heart valve replacement or repair
Cardiac arrest
Cardiomyopathy
liver failure
Coronary artery by-pass grafts
Stroke
Pulmonary artery surgery
Paralysis of a limb
Once a diagnosis occurs, a lump sum payout takes place if you survive at least ten days from the diagnosis.
As with other associated covers, critical illness provides financial security to you and your loved ones by paying regular premiums over the fixed term of a policy. Excellent self-employed life insurance coverage is also available at no extra cost.
Are you looking for a critical illness cover quote? Do you want to protect yourself and your loved ones should you no longer be able to work? If the answer is yes, contact Insurance Hero today. Our professional team of brokers wants to help you find the policy that will provide that peace of mind. Call the office today on 0203 129 88 66