Life Insurance For Plumbers Essential Guide 2022
Are you a plumber and worry about financial support for your family should anything happen to you?
Did you know that life insurance can provide you with the necessary financial protection and give you that peace of mind as you work? Read on to find out why life insurance cover is essential for plumbers.
How Does Plumbers Life Insurance Cover Work?
Life insurance is designed to provide a lump sum payout for your family and loved ones should you die during the policy term. The cover amount is decided at the outset and tailors to your specific financial circumstances—the payout funds through a regular monthly premium for the policy life duration.
Reasons To Consider Getting A Free Quote Today:
Plumbers can get life insurance cover for a range of different activities, from working on site to travelling
The policies are comprehensive and offer great value for money
There is no obligation to proceed with the policy if you get a free quote, so you have nothing to lose by finding out more
Outstanding reviews for customer care
Policies with excellent rates for shared cover
Get a policy that is tailored specifically for your needs. Be fully protected whatever happens
Help Protect Your Family's Future, Compare Top Insurer's. Find Your Cheapest Quote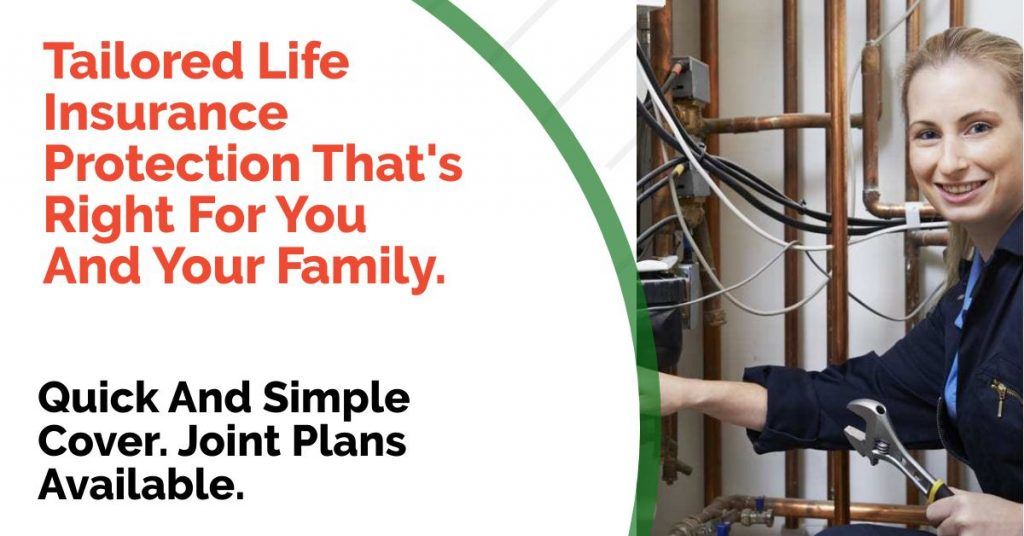 How Do Life Insurers View Plumbing from A Risk Perspective?
Plumbing is considered a higher-risk occupation for insurers and is classified in the same category as construction and building work.
Reasons for classifying a plumber as a higher risk job include:
Working with dangerous materials and hazardous chemicals
Working at a great height
A requirement to operate dangerous equipment
Working on building sites
Physical risks due to heavy lifting
Underwriters will need to know the full extent of your activities as a plumber to provide an accurate plumbers insurance quote which is where Insurance Hero can help.
Plumbers, Protect Your Loved Ones & Plan For The Future With Affordable Cover. Quick Quote Form

Assessing Your Plumbing Activities
As an Independent life insurance resource, Insurance Hero has experience locating life cover, for higher risk professions including plumbers. Our expertise lies in helping you get a water-tight life insurance policy that will pay out when you need it most because premiums accurately reflect your plumbing activities.
Underwriters use accurate fact-finding questionnaires. They understand the activities of plumbers and will work with you to get the full picture of your day-to-day tasks. It allows them to pass the correct information on to insurance providers and get all your activities correctly documented as part of a plan.
You should honestly answer all questions when applying for life cover to ensure that there is no dispute about your plumber activities should you die.
What questions will the insurer need to know?
Fact-finding questions that they might ask on a phone call regarding plumbing may include:
What heights do you typically work?
How far do you drive annually to undertake work as a plumber?
What type of plumbing work are you involved?
Do you work in commercial or residential properties, or both?
Do you work on construction sites?
Further, more comprehensive questions that will impact the cost of cover will include:
What is your weekly, monthly, or annual salary?
What is your height?
What is your weight?
Have you been diagnosed with any pre-existing medical conditions?
Do you drink alcohol or take drugs? If so, to what extent?
What is your age and how long do you need life cover?
What is the level of life insurance cover that you require?
Are you a smoker or a non-smoker?
If you are a plumber and need more information on insurance options, contact Insurance Hero today on 0203 129 88 66. Our professional team of insurance brokers can help you get a quote and put that perfect life insurance protection in place for complete financial peace of mind.
When Should Plumbers Get Life Insurance Cover?
A life insurance policy is extremely flexible, and once taken out, it can be adjusted as people's circumstances change as they progress through life. You should consider life insurance if you have existing or expected financial obligations which could create financial hardship for your loved ones should you die unexpectedly.
There are many financial commitments of which the following are examples:
Personal loans
Car finance plans
Mortgage repayments
Outstanding credit card debt
Equity release loans
Private school, further education, or university fees
Hire purchase agreements
Bank overdraft arrangements
Any business loans that you have guaranteed personally
Choosing the Length and Amount of Cover
A reputable plumbers life insurance broker will guide you towards a plan appropriate for your circumstances regarding the policy duration and the level of payout. It is done by running through a detailed questionnaire that will allow the adviser to implement a policy closely matching your requirements.
Key considerations when deciding upon the duration of a policy and the level of cover will include:
If you should pass away unexpectedly, what payout is needed to keep your dependents in a similar level of lifestyle broken down into monthly outgoings?
Do you have an outstanding mortgage or other fixed-term debt? If the answer is yes, then when are these debts set to end?
Do you have children? If yes, are they likely to go on to further education which would likely mean, paying for tuition fees until they are in their early twenties?
Associated Types of Life Cover
Two other types of cover are can also provide long-term financial protection and can sometimes be included as part of a life insurance plan or as a stand-alone policy. They are critical illness and income protection.
Critical Illness
Life insurance pays out upon the policyholder's death. Critical illness pays out should the policyholder survive following the diagnosis of a qualifying medical procedure or recognised disease.
The payout on critical illness cover usually takes place after 14 days of survival from diagnosis.
At the start of a policy, there is a standard list of qualifying illnesses. Additional medical procedures and diseases that may closely correlate to those typical for plumbers can also be included at the start. For example, eye injuries and hearing damage both have a long association with plumbing.
Here is a list of medical procedures and illnesses that are usually covered in a standard policy:
Severe lung disease
Certain types of cancer
Loss of speech
Loss of hand or foot
Parkinson's disease
Cardiac arrest
Heart attack
Liver disease
Kidney failure
Stroke
Coronary artery by-pass grafts
Creuzfeldt-Jakob disease
Devic's disease
Brain tumour
Spinal cord injury
Alzheimer's disease or pre-senile dementia
Brain injury
Heart valve replacement or repair
Primary pulmonary hypertension
Progressive supranuclear palsy
Structural heart surgery
Aorta graft surgery
Third degree burns
Benign spinal cord tumour
There are three types of cover widely available with critical illness: level, increasing and decreasing cover.
Level cover
With level cover, the payout amount will remain the same for the policy duration.
Increasing cover
The lump-sum payout will increase over the policy term in line with the consumer price index, also known as the CPI, a government inflation benchmark. In years where there is no increase in inflation, the payout will remain unchanged.
Decreasing cover
With decreasing cover, each month that passes over the policy term will see the payout amount decrease should anything happen to the policyholder. Decreasing cover is often used to match against a reducing financial commitment such as a mortgage which diminishes over time.
Income Protection Cover For Plumbers
Income protection is a useful cover that provides you with a regular salary should you be unable to work for an extended period. As a plumber, for example, a fall resulting in a fracture may leave you unable to work and therefore unable to receive a salary either from an employer or pay yourself if you are self-employed.
Paying a regular monthly premium into a fixed-term income protection policy will cover such a situation.
The replacement salary needed and when it starts is calculated at the beginning of a policy. Following a claim, a period ranging from one month to one year can be specified when the first replacement salary payment occurs.
You should give serious consideration to an income protection policy if you have financial obligations which may include the following:
Hire purchase agreement
Mortgage repayments
Equity release loan
Outstanding credit card balances
Personal loan
Car loan
School or further education/university tuition fees
Bank overdraft arrangements
Plumbers Life Insurance Summary
Working as a plumber can be rewarding both financially and from a level of personal satisfaction. However, it is a higher-risk occupation and if you have a family and loved ones who are dependent on your wage, why expose yourself to the risk of not being able to support them should something happen to you.
Hopefully, this short guide has provided you with the information you need to make an informed decision about getting life insurance quotes for that watertight policy.
Insurance Hero is an independent website specialising in providing life cover, critical illness, and income protection information for higher risk professions including plumbing. Contact our professional and knowledgeable team on 0203 129 88 66 for a competitive, no-obligation insurance quote.