Best Offshore Oil And Gas Rig Workers Life Insurance Cover 2022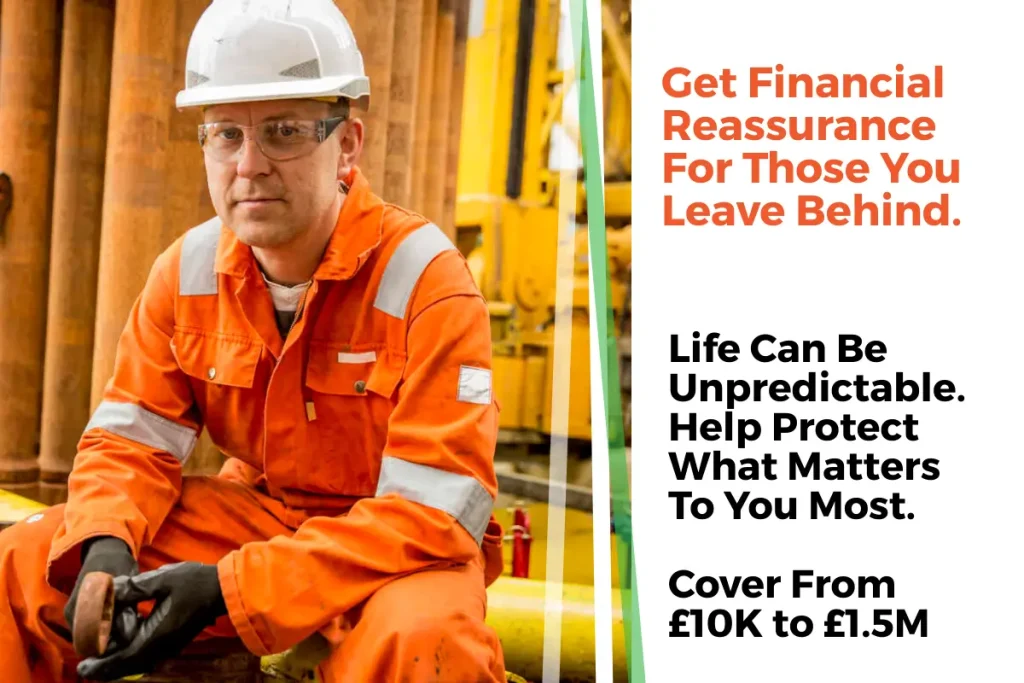 This article was written to explain life insurance cover for offshore workers and why you should get covered. Read on, and we will discuss the quote process and how you can get a competitive life insurance premium.
The Importance of Offshore Workers Life Insurance, Income Protection and Critical Illness Cover
Working as an offshore or oil rig worker has a certain degree of risk attached to it including:
Marine Helicopter travel
Operating dangerous equipment
Working in difficult weather conditions
Working with hazardous material
Working as a crane operative

Offshore Workers Protect The Things That Matter & Get A Free Quote Today.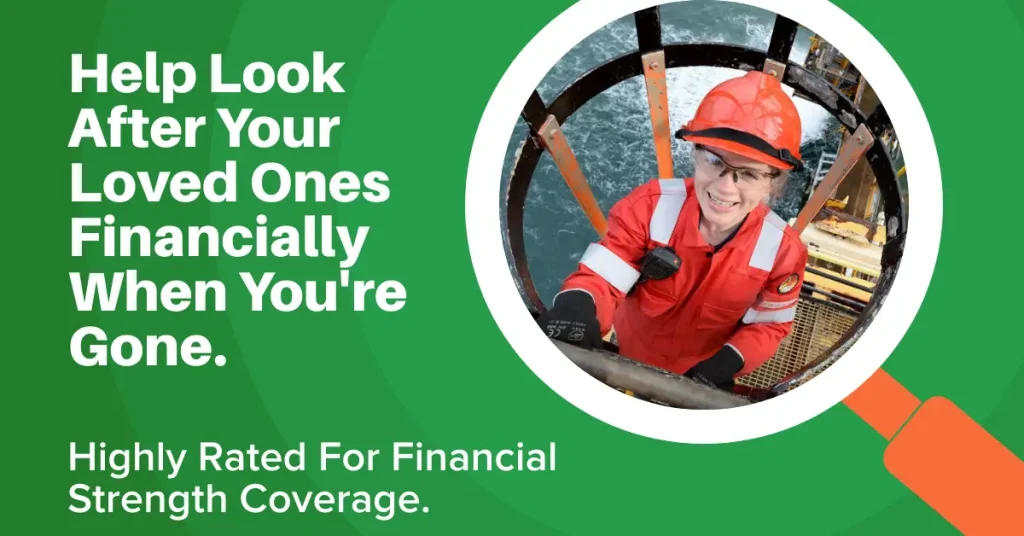 If you have loved ones, which may be dependent on you as the household breadwinner what would happen if you are severely injured or even killed in the workplace? With life insurance and associated cover, you no longer need to worry about such an eventuality. Your family will be financially secure should anything happen to you in the work environment.
How Can Insurance Hero Help with Life Insurance and Associated Cover?
Insurance Hero has relationships with specialist insurers. These are underwriters who are willing to provide life insurance, critical illness and income protection cover to those working in professions considered higher risk. Insurance Hero does not represent one insurance provider. They will work in your best interests to provide a policy tailored to your requirements and at a competitive premium.
They will talk you through a detailed questionnaire which will allow them to get an accurate quote for insurance cover.
This fact-finding information will include questions such as:
What are your duties offshore?
How much of the year do you spend offshore?
Which country are you based in offshore?
What transport do you take to your destination?
Do you work at heights?
Get A Quote In Minutes and Compare Life Insurance Deals.

What Is Life Insurance Cover for Oil Rig Workers?
Life insurance cover is a simple concept to understand. In the case of death, a lump sum pays out to beneficiaries listed on the policy. These are typically family members or other dependents. Regular premiums by the policyholder will fund the lump-sum payout.
The cost of these premiums will vary greatly. If you are working on an oil rig, you should expect the premiums to be higher than for an onshore office worker, for example.
The type of occupation you undertake on an oil rig will also affect the premiums paid for cover.
The following jobs will have differing levels of risk attached affecting the cost of cover:
Commercial diver
Heavy machine operator
Kitchen staff/chef
Engineer
Medical specialist
Administration team member
There are other areas to consider. Offshore workers are often not employed directly by the oil rig owner/operator. We discuss this next.
Working Offshore as Self-Employed or A Contractor
As an offshore worker, you may not always be an employee of the company that owns the oil rig. You may be self-employed as a sole trader or through a limited company, or you may work for another contractor. The broker will also cover this in their questionnaire to get an accurate policy quote. It is essential; limited company workers have tax deductable allowances to reduce the company's tax bill; by deducting the monthly or annual premiums against profit. A lump sum payout is not classed as a benefit in kind and therefore not considered towards your annual pension allowance.
For a competitive life insurance quote, contact Insurance Hero now on 0203 129 88 66. Our professional team is here to help.
Critical Illness Cover For Offshore Workers
Critical illness cover defines as a lump sum payout in return for regular premiums should you be unable to work or at a reduced capacity. Insurance Hero can provide competitive quotes through our network of specialist insurers, including those underwriting for offshore workers.
Critical illness will typically have a pre-determined list of diseases that are covered and can include:
Heart attack
Heart valve replacement or repair
Coronary artery by-pass grafts
Parkinson's Disease
Multiple system atrophy
Pulmonary artery surgery
Structural heart surgery
Illnesses such as cancer are a little more subjective. Not all types of cancer receive cover through critical illness.
When they undertake our fact-finding questionnaire ahead of providing a quote, your medical history will be looked at thoroughly. It is vital to get this right; to make sure that the policy will be valid should you have a reoccurrence of previous medical issues. Insurance Hero has your best interests at heart. They want to spend time at the pre-quote stage to ensure you receive the most accurate quote for critical insurance cover.
Income Protection Cover While Working Offshore
Insurance Hero can provide income protection cover. Working on an oil rig is considered a higher-risk occupation. Higher premiums will be required to protect you should you be unable to work whether through injury or illness. Paying a premium allows the policyholder to receive regular income. The period when the income protection cover starts is pre-determined. It can vary from one month to one year, and you agree on it at the outset.
Other areas that affect the premium will include your personal and financial circumstances:
Do you have an outstanding mortgage?
How much equity do you have in your house?
What are your monthly utility bills?
Do your dependents have an income?
Do you have personal loans?
Do you have credit card debt?
What is your monthly income after tax?
Often Insurance cover for offshore workers will include a travel exclusion in the policy terms, negotiated separately. Insurers are wary of added risks a policyholder faces traveling offshore to an oil rig.
They will not pay out if you:
Become injured when flying for work in a helicopter
Travel to an oil rig if medically not permitted to do so, for example, you have high blood pressure meaning you are not allowed to travel by air.
If you work offshore and have any further questions on income protection cover, please contact Insurance Hero now. Our friendly team are happy to help to provide you with a free quote. Call 0203 129 88 66