Why Do Quotes from Insurance Comparison Sites and Advisors Differ?
After deciding on a suitable type and level of life insurance, consumers should compare prices offered by different providers.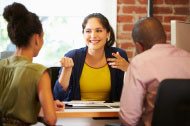 Advisors, banks, building societies, high street retailers, and supermarkets each sell life insurance. In many cases, a life insurance policy of one company will be sold by another.
Comparison sites such as Insurance Hero offer quotes for a variety of providers. Price quotes vary depending on from whom the policy is purchased, making it important for consumers to do some thorough shopping.
Life Insurance Advisors
Many UK life insurance advisors work for a particular life insurance company such as L&G or Prudential. These professionals offer quotes for products offered by that company only. There are also independent life insurance advisors who search across various UK life insurers to find the desired policy and provide several price quotes.
Due to their varying levels of commission and other charges, these two types of advisors may return different quotes for the same policy.
Get your free life insurance quote today. You could save £100s. No Obligation.

Online Life Insurance Brokers
An online broker for life insurance also shops for the desired policy across several life insurance companies. This agency is often able to provide a cheaper quote because it does not keep any or all of the commission it receives from the insurance company.
The portion it does not keep is passed along to the consumer as a discount of the policy premium. Some companies work differently by offering consumers the choice of paying through a fixed, upfront fee or paying by commission. If the consumer elects to pay the fee when the policy is activated, the commission is rebated throughout the policy term, reducing the premium on an ongoing basis.
Price Comparison Websites
A price comparison website offers an easy and convenient way to compare price quotes from different life insurance providers. No single comparison site covers the entire life insurance market so it is important to get quotes from several comparison sites. Another reason to visit several of these sites is that the same insurance company may provide a better deal through one comparison site than through the others.
Cashback Websites
Topcashback and Quidco are two of several cashback sites that sell life insurance online. Consumers do not buy their life policies from these sites. They use the sites as intermediaries to access the websites of insurance companies.
In return, the cashback site provides a rebate of some of the commission received from the insurance company, saving consumers money when initial quotes are near the top of a table.
Cashback offers for the same policy from the same insurer vary by cashback website so consumers should get quotes from several of these sites.
Though comparison-shopping across all of these organisations can take time, the savings may be worth the effort. Life insurance policies can be very expensive so even a small amount of savings can make a difference in the household budget.
Take your time and read the fine print of policy documents to verify that two policies that appear to be the same really are. Choose the policy that offers all the desired coverage and features for the lowest premium.