Aggressive Supermarket Tactics And Life Insurance
UK supermarkets are currently in a sales war for life insurance and many consumers have become casualties.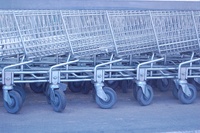 If they are not careful shoppers, hundreds of thousands of UK residents could end up purchasing life insurance that may not meet their needs.
Aggressive selling tactics employed by supermarkets are making it more enticing for consumers to purchase what they are offered rather than searching for the best cover for their situations.
Supermarket Tactics & Life Insurance Policies
Supermarkets are offering additional loyalty points, voucher incentives, and even cashback deals to consumers who purchase life insurance policies. Shoppers have begun to see supermarkets as one-stop shops because these entities now offer food, clothing, financial products, and will soon provide legal services.
However, convenience does not equal appropriateness. Insurance policies offered by supermarkets may lack the benefits that consumers need. They also may come with higher price tags than those carried by policies offered elsewhere.
Compare The UK's Leading Life Insurance Companies – Get A Quote In Minutes


A life policy offered by a supermarket may seem less expensive initially but comparison-shopping may prove otherwise. Supermarkets are able to select who receives cheaper cover and consumers who do not meet all of the criteria receive loaded premiums. Prices vary drastically, with a 15-year, £250,000 term life policy for a 40-year-old female costing £684 less if the insured purchases cover from Aviva rather than from Tesco.
Insurance companies are working with well-known supermarkets to increase their level of sales. Legal & General works with Sainsbury's and Friends Life is associated with John Lewis and Tesco. However, not all supermarkets are dealing with a single insurance company.
Asda uses LifeSearch, which scans the insurance market and offers free advice. Using a website comparison service or an adviser makes it easier to find less expensive premiums.
Consumers Must Be Knowledgeable
When purchasing life cover through a supermarket, a consumer must understand which type of insurance is appropriate. A decreasing term policy reduces the payout over time in line with decreasing mortgage debt. Premiums are less expensive than they are for level-term policies that pay a fixed sum throughout the policy term. Advice from an adviser is helpful when deciding which policy is most suitable.
An increase in life insurance premiums is expected in 2014 and many consumers will rush to purchase cover before this occurs. To avoid buying the wrong products, consumers should seek professional advice. Mistakes do not typically surface until a claim is filed and at this point, nothing can be done to correct them.
A Worrying Statistic
In 2010, approximately 46 percent of life insurance policies were purchased without receiving professional advice. Buyers were unable to take advantage of financially beneficial tips provided by advisers.
An example of such advice is for each member of a couple to purchase an individual policy rather than buying a joint policy. This is a cost-effective approach that provides beneficiaries with two payouts.
Supermarkets are not likely to inform consumers of a trust that can prevent a life insurance payout from being included in the estate and subject to inheritance tax. A trust can be arranged at no charge when a life insurance policy is purchased.
Advisers help consumers find insurance policies that meet their needs and provide the most attractive payouts. Supermarkets focus on the increasing number of consumers who know what they need and prefer to purchase life cover direct without receiving advice.