Brits Rethinking Their Inheritance Plans
When we die, we leave our assets to surviving loved ones.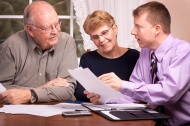 Unfortunately, many Brits do not expect to leave any assets for beneficiaries according to recent research from Aviva.
If these individuals die with debts, their loved ones may be put in a difficult financial situation.
Like assets, debts tend to carry over from one generation to the next. Survivors may be living on restricted budgets, leaving little money to repay debts incurred by a family member who has died.
Living for Today
Aviva life insurance company discovered that 21 percent of Brits age 55 to 64 consider it unlikely that they will leave cash or property to relatives or friends. In general, those over 55 think that providing financial support to their families now while also attempting to deal with high costs of living is the best approach.
They are choosing to live for today rather than planning for tomorrow through inheritance packages.
The research indicated that some older Brits are struggling with mortgage debts. Twenty-seven percent of the individuals age 55 to 64 polled reported having outstanding mortgage bills, with £70,000 being the average amount owed. If an individual dies before repaying a mortgage balance, surviving family members may be forced to the sell the house.
99% of new customers would recommend. Affordable Life Insurance · Get A Quote In 60 Seconds

Based on the current real estate market, they may lose money in the process, making it more difficult for them to find an affordable place to live. If a life insurance policy were in place, the benefit could be used to pay off the mortgage balance so survivors could retain the home and live comfortably.
Some Brits are providing their families with cash gifts now as a form of immediate support. Loved ones with urgent financial needs may think this is the answer to their problems. Many are not thinking far ahead, causing them to ignore the fact that life will only become more expensive in the future.
If someone left them an inheritance, they could use this money to support themselves over the long-term.
Thinking About Tomorrow
Life insurance providers are calling for Brits to take a step back from their daily financial worries and think about the future. Though money may be tight, there are very affordable life insurance policies available in the UK. Purchasing life insurance while young and healthy is the best approach because the premium is lower.
Budgeting a small amount of money each month for a life insurance premium can make the future much easier for surviving loved ones after the individual dies.
Beneficiaries should also take a long-term approach to financial thinking. Though receiving money from an older loved one now may seem like the answer to their problems, this will not address bills that are yet to come. If they tell the loved one to use that money to repay his or her own mortgage and other current debts, everyone will benefit.
The home will be owned free and clear and some money can be used to purchase a life insurance policy so beneficiaries will be more financially secure in the future.
With so many immediate financial obligations, it can be difficult to take a long-term perspective. However, thinking about inheritance may improve the lives of future generations. Life insurance is an important aspect of an inheritance plan so consider the options and discuss them with loved ones.
Once a policy is in place, everyone in the family will feel more positive about the future.