Have I Passed the Life Insurance Qualification Age?
Some things are more accessible to young people and traditionally, life insurance was one of them.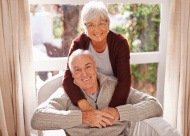 People older than 50 found it difficult to qualify for life cover.
Life is a valuable asset no matter how old we are so people in their 50s and beyond should be able to get life insurance without excessive requirements and at a reasonable cost.
More insurance companies are making this possible by offering specialized life cover for individuals older than 50.
How Age Affects Life Insurance Premiums
Age is one of the main factors affecting life insurance rates because risk of death increases with age. In exchange for assuming higher risk, insurance providers charge higher premiums. Some providers will not even offer traditional life cover to applicants who are older because they believe the risk is too great.
This makes it more difficult for older adults to provide their loved ones with financial security. Without the pay-out from a life insurance policy, beneficiaries may be forced to use their own savings to cover funeral and burial costs and repay debts.
Quick And Easy Life Cover from Insurance Hero Get A Free Quote Today!

Life Policies for People Over 50
Life insurance policies designed for people over 50 years old provide the opportunity for mature adults to protect their loved ones financially. Over 50 life cover is typically whole life insurance so as long as premiums are paid, a pay-out is guaranteed.
This allows people over 50 to provide an inheritance for their children or grandchildren or leave money to support a surviving spouse during the golden years. The money can be used to repay a mortgage balance, pay off a car loan, or to cover daily living expenses.
Insurance providers specializing in this cover usually accept applications from people up to age 75 but some extend this to age 80. Standard life insurance requirements include the ability to pass a medical examination.
However, life insurance policies for people over age 50 do not have this requirement. Applicants answer several questions, a few of which are medical-related, and providers accept most applicants.
The prospective policyholder selects the cover limit and this determines the premium. Smoking status and age at time of application are other factors that may affect premiums. However, rates are typically very reasonable and by using an insurance comparison site like Insurance Hero, consumers can compare premiums from different companies offering over-50s life cover.
This makes it easier to find the lowest price for the desired cover.
A Budget-Based Approach to Over 50s Life Cover
Money is a concern for many adults and those living on strict budgets may prefer to shop for life cover another way. After determining how much they would like to pay for life insurance each month, they can review cover limits available at that price.
An Insurance Hero representative will scan the market to find cover available at the desired premium and provide personalized quotes from each provider within that price range. Consumers can then select the policy with the best terms and highest cover limit for what they can afford to spend on life insurance.