Compare Affordable Income Protection – A Guide for 2022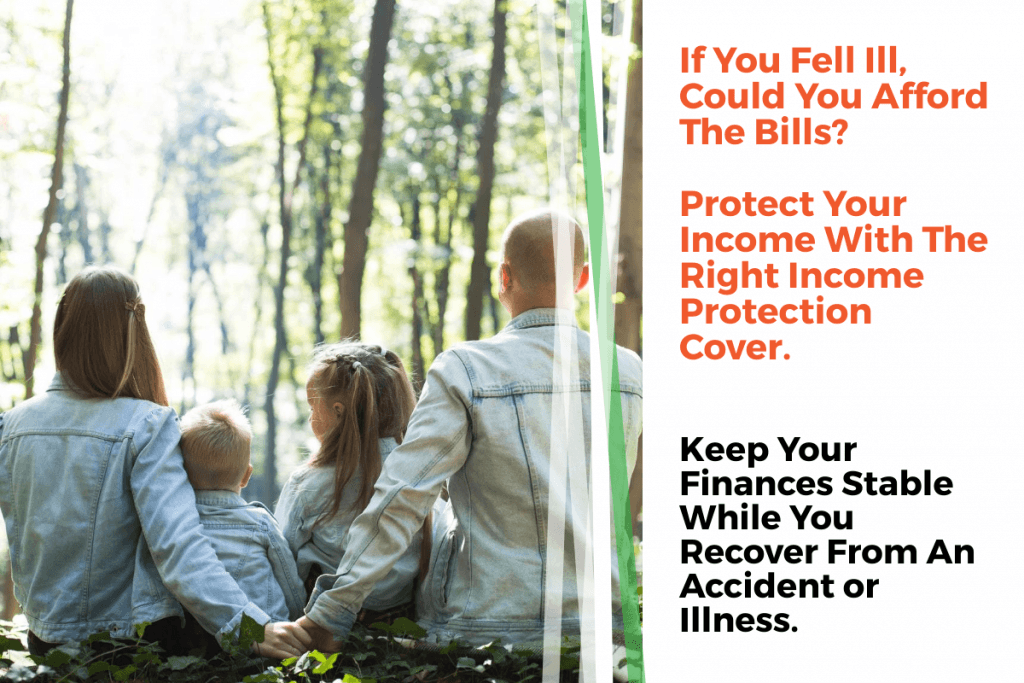 Are you fearful of the financial impact of not being able to work? Without a monthly salary, can you pay your bills and maintain a lifestyle for youself or your loved ones if you have a family?
This detailed guide makes for essential reading. Learn how affordable income protection insurance provides not just replacement earnings but instant peace of mind. And if you aren't sure which income protection cover to pick, this guide has got you covered.
Below, we'll compare income protection insurance providers that, based on our research and expertise, provide the best salary protection insurance in the UK. Read on to learn more, including our essential FAQ section answering critical questions.
What Is Income Protection Insurance?
Income protection insurance pays out a replacement salary should you be unable to work. In return for cover, a policyholder pays the insurer a monthly premium throughout the fixed term income protection policy. A policy can be set up on either a short-term or long-term basis to match your circumstances.
Essentially, when you buy income protection cover, you have to pick how much you wish to be covered for, as well as how long you want to be insured for and how fast you want the insurer to pay out if you can't work (referred to as the policy's waiting period or deferred period).
What Are the Types of Income Protection Insurance?
There are five main types of income protection cover. Depending on your situation, you can opt for:
Accident and sickness cover: Also referred to as critical illness cover, this type of income protection insurance provides you with an alternative income if you can't work due to serious sickness or injury. Such covers typically pay out for one or two years.
Unemployment cover: This type of salary protection insurance provides you with a replacement income suppose you lose your job.
Accident, Sickness and Unemployment cover (ASU): ASU income insurance combines critical illness and unemployment covers.
Full income protection insurance: This type of income cover will provide you with regular monthly payments based on a settled percentage of your gross monthly income, typically 50-60%.
Partial income protection: It refers to a policy where an insurance provider pays you out a partial income if you work fewer hours due to your injury or illness.
Income Protection Quotes From The UK's Top Companies.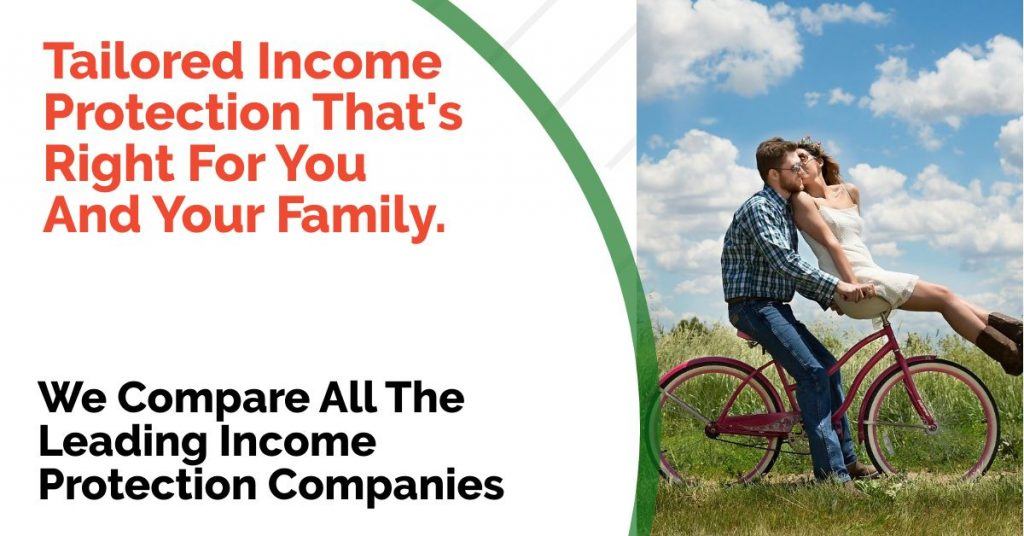 The 13 Top UK Providers Of Income Protection Insurance
For an instant overview, we provide a snapshot of some of the UK's best providers of income protection.
AEGON UK
Starting as Scottish Equitable and becoming part of Aegon in 1998, Aegon UK has over 3 million customers and employs around 2,000 people in the UK. In addition to a full range of insurance products, they also offer retirement and savings plans.
With Aegon, the sum assured caps at £250,000 per annum and is tiered. The first £20,000 of pre-claim earnings covers at 65%, £20,000 to £100,000 at 55%; anything above £100,000 has a maximum benefit coverage of 45% of salary.
Aegon has a minimum deferred period of 4 weeks and a maximum of 52 weeks.
There are two policy payout length options. A short-term policy of up to 2 years' salary and full-term income protection which covers until you can return to the workplace with no payout time limit.
AIG Life
AIG Life provides life insurance and associated products in the UK. It is part of the American International Group (AIG) a leading international product provider operating in over 80 countries worldwide.
AIG will consider a sum assured of up to £250,000. The amount of the benefit like other leading providers bands with 60% up to the first £30,000 of a regular salary, 55% from £30,000 to £100,000 and 45% cover on income exceeding £100,000
The minimum length of the deferred period is one month (4 weeks), and the maximum is 52 weeks.
There are two policy lengths, a short-term policy with a limited payment term of up to 2 years and a full payment term policy covering until you can return to work.
Aviva
Aviva is the UK's largest insurer, with over 15 million customers. Aviva today is the result of a merger between Norwich Union and CGU. It is a composite insurer, meaning its product offering spans right across a range of insurance policies, from life insurance to health insurance.
The highest sum assured amount for income protection with Aviva is £240,000. It breaks down as 65% of the first £60,000 and 45% of your earnings above £60,000.
With Aviva, the minimum deferred period is four consecutive weeks, and the maximum is 104 weeks.
Policy payout lengths are up to 2 years for short-term cover or full-term cover paying out for the whole time that you cannot work.
British Friendly – BFS
British Friendly are income protection specialists offering a range of affordable products and features. Their three main offerings are Long-Term Protect, Short-Term Protect and Breathing Space. In 2019 they paid out 94% of all claims. As for their income protection insurance cover, its main features are:
BFS will pay up to 70% of pre-claim income up to a benefit cap of £45,500
You choose how quickly you want to receive a replacement salary once you make a claim – options are from day one to 1 year.
The choice of claim periods available is 1, 2 and 5 years under their short-term income protection scheme or full-term cover under the long-term protection plan.
Cirencester Friendly
A specialist provider of income protection products in the UK, Cirencester Friendly has previously won a string of prestigious awards, including Moneyfacts' 'best income protection provider.' Its flagship product, Income Protection Assured, includes a feature to build a capital sum as part of the contract.
A payable benefit of up to £40,950 is available, which is 60% of a gross pre-claim salary of £68,250.
Benefits can start from just one week up to 52 weeks once a claim occurs.
Income protection coverage is available up to 70 years old under the Cirencester Friendly's Income Assured Enhanced plan.
Legal and General
Operating since 1836, Legal and General is the UK's most extensive product provider of life insurance products. Some consider them to offer the best life insurance cover in the UK, but that is of course, subjective. They also provide pensions and annuities as part of their suite of services.
With L & G, the maximum amount of annual income protection cover is £240,000 and bands as 60% of coverage up to £60,000 of pre-claim salary and 50% over that amount.
Legal and General has a shorter minimum start period than most providers, at just two weeks. The maximum claim start period is 52 weeks.
The policy payout duration can be 12 or 24 months for their lower cost option or a standard full-term cover until you can return to the workforce.
LV
LV offers numerous high-quality holding policies, including income protection and life insurance products. Founded over 175 years ago, they employ 1,700 staff in the UK to service over a million customers.
LV has an upper limit of £250,000 annual benefit that they will cover. They do not have tiers and offer up to a 60% payout of your pre-claim gross yearly income should you be unable to work.
The minimum period for payout is four weeks after a claim occurs, and the maximum is 52 weeks.
LV offers two policy options. Short-term cover, which will pay you for a maximum of 12 or 24 months, and a standard full-term option.
Nationwide
Nationwide is the largest building society globally. It offers insurance products to its existing customers, also called members. Its life insurance offering also includes mortgage life insurance and income protection cover.
Nationwide will pay up to a payable benefit of £200,000. They have a simple tier of 60% of pre-claim salary up to £60,000 and 50% above that.
Four deferred periods are available with Nationwide. These are 4, 13, 26 and 52 weeks.
You can make a further claim for the same or related disability within 12 months of returning to work.
Royal London
Today, Royal London has 8.8 million live policies and 4,000 employees. As a mutual insurer with no shareholders to pay, Royal London prides itself on providing its policyholders with better value and high levels of customer service.
Royal London will cover up to a maximum annual benefit of £250,000. It is up to 65% for the first £15,000 and 55% for the rest of your pre-disability earnings.
The period before payout begins ranges from 4 weeks to 52 weeks.
The length of short-term payment cover is higher than other providers, with up to 5 years' salary cover available.
Shepherds Friendly
Shepherds Friendly is one of the world's oldest mutual societies, founded almost 200 years ago. Income protection insurance is one of its core offerings and one of the products that the mutual builds on.
Shepherds Friendly's upper sum assured limit is £49,000, and everything will be up to 70% of your pre-incapacity income.
The waiting period for payout once a claim takes place can range from 8 weeks to 52 weeks, depending on your policy definitions.
Shepherds Friendly offers a two-year limited payment option to complement their standard full-term coverage.
The Exeter
The Exeter is a UK mutual with no shareholders, just members who get membership when purchasing a policy. As there are no shareholders to please, they use profits to provide excellent customer service, including keeping premiums low and paying claims quickly.
Long and short claim periods are available. The short period is either 2 or 5 years and the long claim period is a full-term cover.
Two income protection insurance products are available, Income One Plus for office workers and Pure Protection Plus for manual workers.
The sum assured is up to £120,000 a year, broken down as 60% up to £100,000 and 40% for anything above.
Vitality
Vitality has over 1 million customers in the UK market. Created in 2004 when Discovery and Prudential launched PruHealth, it rebranded in 2014 and is now known as VitalityHealth.
The sum assured by Vitality caps at £200,000 per annum. It tiers as 60% of salary up to £5,000 per month and 50% for anything above.
The minimum payout time once a claim has been approved is one month, running out to one year.
The policy length of payout is up to 24 months under short-term cover or coverage until you return to work under the full-term option.
Wesleyan
Founded in Birmingham in 1841, Wesleyan specialises in providing tailored products to the professions, including dentists, doctors, lawyers and teachers, as well as surveyors and accountants.
Wesleyan tiers its benefit amount with 60% up to £40,000 of your pre-claim income, 55% between £40,000 and £110,000, and 50% above £110,000.
Wesleyan has a short-deferred period with an immediate payment (zero weeks) available and running up to 52 weeks.
It offers one of the most extended guaranteed payments in a short-term policy, with a payout length of 5 years.
Zurich
A leading multi-line insurer, Zurich, employs 55,000 workers in 215 countries, offering life insurance products and services to individuals and businesses.
The sum assured cap with Zurich is £240,000 and calculated as the lower of £20,000 per month in payable benefit or 80% of your pre-disability earnings.
Your income protection benefit can start from 4 weeks, with Zurich with a deferred period of up to 104 weeks possible.
Zurich offers both limited benefit and a full-term benefit period. The limited benefit pays out for up to 24 months once you stop working.
What Are the Benefits of Income Protection Insurance?
Going for one of the best income protection insurance covers grants numerous benefits. The most significant advantages of salary protection insurance include:
If you are out of work through illness or injury, income protection insurance will allow you to maintain your lifestyle with a replacement wage until you can return to employment.
Income protection is flexible insurance. Elements can be adjusted to match up with your life changes.
The payout in an income protection plan is entirely free of all UK tax.
If you are unable to return to the workplace, you can tailor your income protection cover so that salary payments can continue right up to your retirement.
Under a scheme, the payable amount can be up to 70% of your regular wage.
Reasons to Consider an Income Protection Insurance Policy
Income protection is an insurance that many consider essential. Everyone has different personal and professional circumstances. The crux, though, is if you cannot work, would you be able to maintain yourself or a family if you also have dependents?
Considerations to account for if this type of insurance is relevant to your situation include:
Savings
Do you have savings that can replace the loss of earnings from a salary? An accident, injury or illness may keep you off work for more than a year. Do you have the means to maintain yourself or your household?
Breadwinner or supporting partner
Is your household reliant on a single wage or do you have a partner that can provide enough financial stability to meet essential outgoings to maintain living costs?
Financial obligations
Are there critical financial outgoings that would suffer should you be unable to work? Financial commitments may include mortgages, car and personal loans, other debt, school and university tuition fees, and general monthly household expenses.
Income Protection Insurance Quotes from the UK's Top Providers


Why Use an Independent Insurance Broker When Purchasing Income Protection Cover?
Purchasing an income protection policy can be done directly with an insurance company or through a broker. There are strong reasons to use the latter rather than approach an insurer yourself.
Independent brokers have more powers of negotiation. They also get protection quotes from an insurer directly. Due to existing relationships and large volume, they are more likely to get a lower premium quote than if you go direct.
Brokers have no ties with a single insurer and are free to get protection quotes from the insurance universe, meaning they compare income protection providers. It results in focusing on getting you a plan that tailors to your situation at a competitive premium.
An excellent independent broker should provide you with professional service and advice. They should be an expert in income protection cover and understand the intricacies of this type of insurance and help you make an informed decision.
As well as setting up insurance, a proficient broker with experience will also assist you through the claims process if you make an application for sickness cover making the path from entering a claim to receiving a payout as seamless as possible.
Insurance Hero is an independent broker. Our expert team of brokers will help to provide income protection that will tailor to your situation. Contact our professional team today on 0203 129 88 66 for all your needs.
How Much Is Income Protection Insurance?
You can get cheap income protection insurance from just £10 per month; then to over £100 per month at the top of the price scale. Calculating cost is complex, and underwriters use numerous factors to produce a quote.
Such considerations will include:
The deferred period before a payout
The level of cover required as a percentage of your current job earnings
Are there pre-existing health conditions
What is the length of coverage required?
What is the applicant's age at application?
If the customer is a current or former smoker
The different elements included in this type of policy will be covered in detail later in this guide.
What Is Covered Under Salary Protection Insurance?
Income protection pays out if you cannot work due to total or partial disability. Every policy has its definition of partial or full disability before a lump sum is paid.
These can be wide-ranging with many standard and additional features covered in the next section.
It is vital that you understand all options entirely within a policy and whether they are relevant to you. It is important not to rush into income protection policies that may not relate to your precise situation.
We Compare All The Leading Income Protection Companies- No Multiple Insurer Cold Calls.


Understanding the Main Features of Income Insurance
This section covers all standard and additional features of income insurance protection insurance.
What is the difference between short-term or long-term income protection insurance?
Short-term income protection insurance: This cover has a cap on the duration of the replacement salary. The standard length of cover is one or two years, although up to five years of cover is possible through some insurers. Short-term cover is a cheaper alternative.
Long-term income protection insurance: The most expensive type of cover, this works to provide you with replacement cover until you can return to employment. If you are never able to work again due to the severity of a disability suffered, the payout could last until your retirement.
ASU's: Income protection should not be confused with an ASU. Accident, sickness and unemployment policies are cheaper options. Other variations of these low-price alternatives are unemployment protection or accident and sickness cover only (AS).
Similarly to short-term income protection policies, they will provide cover for under five years. The main difference with ASU's is their lack of full medical underwriting.
Here at Insurance Hero, in line with guidance from other industry professionals, we also recommend taking out long-term cover. It costs more than other alternatives but provides that ultimate financial peace of mind should you never return to work again.
Fixed and Variable Benefits
Do you want your premiums to be the same, increase or decrease? You have the choice to amend your plan in line with the changes in your professional and personal life.
Flexible Cover
With income protection insurance, you can decide when you want your replacement salary to begin following a payout and how long it should continue to pay.
Sum Assured
How much of your regular wage would you like covered if you cannot work? The higher the levels of cover, the higher the monthly price. Depending on the insurance provider, up to 70% of a wage can be covered.
Deferred Period
The deferred period is the time between when you submit a claim and when the payment arrives. It can be from next week to one year. Take careful consideration for this vital income protection element. For example, how long will your employer cover your wages if you cannot remain employed or how long will your savings cover you before any payouts start?
Length of Pay-out
How long do you want replacement earnings to last? A short-term duration of payout up to 5 years is a lower cost than one that will cover you until retirement.
Cease Age
In insurance jargon, this is the age you will reach the maturity of your policy. Sensible guidance is to match this up with the retirement age. Alternatively, it may be set up to cover a specific commitment such as a mortgage which may have an independent maturity date.
What Are the Different Income Protection Insurance Premiums Options?
Premium is the cost of cover. It presents as a monthly cost payable throughout the fixed term plan. It is calculated by an underwriter using a sophisticated algorithm to provide you with a protection quote. There are three options that you should know:
Reviewable: The underwriter can review the level of cover at any time and is permitted to adjust the monthly premium upwards. Upward revisions occur if there are events that see a surge of claims. In return, premiums are low cost at the start of the policy. However, as more upward revisions take place, the reviewable alternative works out quite expensive over the policy duration.
Age-banded: A premium that adjusts over time to reflect the changing age of the policyholder throughout the fixed term policy. Age-banded premiums reflect the increased chance of an older person making a claim. They are cheaper at the start but rise steadily over time.
Guaranteed: An option that does not permit the underwriter to change the monthly price of insurance. It is guaranteed unless the policyholder decides to amend elements within the plan. Guaranteed premiums can prove to be a good value solution, particularly if a policy began when a person was young with no pre-existing medical issues.
What Is Indexation, and What Are Your options?
An essential element of income protection, indexation is the ability to tie your policy with the Retail Price Index (RPI) or other inflation benchmarks set by the UK government.
Level: The level of premium and resulting payout stay the same for the duration of the policy
Increasing: Also known as an index-linked income protection cover, monthly price levels will rise in line with the increase of the official rate of inflation.
Decreasing: An expected fall in outgoings like the repayment of a mortgage, declining coverage sees cost levels fall steadily until maturity.
Further Features and Options
Freezing or pausing: Income protection does not provide cover if you are not working. If there is a period when you are not working, it makes sense to notify your insurance providers and pause your scheme.
Childcare benefits: A further payment, if you cannot work, childcare benefit pays out a fixed amount for each child in your household. It intends to pay for childcare such as child-minders, live-in au pairs or other services.
Specified trauma or injury: As an inclusion at the start of a scheme, illness or specific ailments can specify in the definitions. If you cannot do your job and make an application for an award, the additional payment adds on to the regular monthly payment.
Death benefit: An additional feature that gives designated beneficiaries a single amount if you die while receiving your financial award. The death benefit may not pay out if your condition proves to be fatal.
Involuntary dismissal: Some insurers will allow optional cover of involuntary dismissal, also known as redundancy cover.
What Is the Difference Between Income Protection Insurance for Employees and Self-Employed?
Salary Protection Insurance for Employees
An employee of a business is likely to receive some form of salary protection from their employer. They may continue to be paid their wage from one month to one year after being unable to return to an occupation.
Income protection for an employee can be set to match an employer's contract. It will mean that the deferred period following a claim can be set to start when your regular monthly earnings cease.
Self-employed
Working as self-employed means that it is unlikely that you have a backup for the loss of earnings. If you cannot work, the UK government statutory sick pay is the fallback option. It provides just under £100 a week for a maximum of 28 weeks.
The consideration for the self-employed when taking out income protection also revolves around the deferred period. Rather than matching against an employer's terms, the self-employed need to match against how long they can maintain their lifestyle without an income. They may need coverage to kick in no more than a month after making an application for an insurance payment.
Is Income Protection Taxable?
A personal income protection plan is applicable for employees and self-employed self-traders. Under this, payable benefits are free of UK taxation. It is due to the payment of premiums from post-tax income.
Director income protection insurance which is applicable if you use a limited company is taxed differently.
A plan is set up in the name of the limited company, and it is the company that pays the monthly payment amount. The business pays it from pre-tax income.
The use of pre-tax income can allow a higher payable amount of up to 80% of regular earnings, compared to a maximum of 70% through a personal plan.
As an independent broker, Insurance Hero provides an impartial and expert service. We help our customers tailor policies closely aligned to their lifestyles. Contact our professional team of brokers on 0203 129 88 66 for an accurate no-obligation quote.
Income Protection If You're Unable To Work Due To Illness Or Injury


The Claim Process
Claiming under your income protection cover scheme if you get a disability as outlined in the four-step process below.
First step: Contact
Reach out to your broker or insurance provider (if you went direct) and request them to send you an application form.
Second step: Complete the application form
Once received and filled in, the application form should return accompanied by essential information needed by the insurers. Information will include a GP or other specialist medical report. It confirms the extent of your condition. Financial information required consists of a P60 and payslips if you are an employee. For the self-employed, business accounts and tax returns will also be part of the request.
Third step: Assessment
Critical for insurers is whether your condition meets the criteria set out in the scheme definitions. The insurance company will then need to make sure the monthly income payment is still correctly correlated to the last income received before you were unable to do your job.
Fourth step: Approval
Once approved, you will receive a call to request bank account details and advise of the paying process. While you are not working the claim will be reviewed from time to time. You should note that the payment of premiums should continue until a payment award is approved.
FAQs Around Best Income Protection Insurance UK
Can I claim for the same illness or injury previously claimed?
Unless you have made a complete recovery between claims, it is not possible to claim again for the same disability or partial disability.
Once my claim has been approved and the deferred period has expired when do I get paid?
Insurance providers typically make payments one month in arrears once the waiting period has expired. A claimant must be disabled continuously during the deferred period.
Will it payout if I lose my job?
Payment protection insurance covers accidents and illnesses stopping you from working. It does not pay out if you lose your job. However, you can select an additional feature called involuntary dismissal, also known as redundancy cover.
What are the differences between critical illness and income protection?
Income protection provides a regular monthly payment of up to 70% of your typical earnings if you cannot do any paid employment. Critical illness provides a one-off amount if you survive ten days after diagnosis of a qualifying disease.
In addition to my income protection payout, can I receive other claim payments?
Yes, this can happen if the total amount of income from the various sources does not exceed 75% of your regular wages.
What is the difference between life cover and income protection?
Life insurance only pays out if the policyholder dies. Income protection assumes that you will eventually return to the workplace. The payment methods of these insurance products also differ. Life insurance pays out a one-off payment to designated beneficiaries. Income protection provides a monthly payment that corresponds to up to 70% of your regular income.
Will income protection insurance affect my sick pay?
If you are an employee and your company provides sick pay as part of employee contracts, this will need to expire before income protection cover can payout.
Are there other types of income protection insurance?
Mortgage payment protection is a viable alternative if you only want cover against outstanding mortgage repayments.
Redundancy protection is coverage against involuntary dismissal. Like mortgage payment protection, it is very concentrated insurance.
As mentioned in this guide, Accident, sickness and unemployment (ASU) is a cheaper version of income insurance. It only offers short term coverage and does not include full medical underwriting.
Can changes be made to a policy once it has started?
Yes, this is possible. People's lives continuously change, both professionally and personally. They get better jobs, start a family or buy a house to name but a few.
Income protection needs to be flexible to allow change. An increase or decrease in monthly levels can be requested to match your new stage of life.
Further Guides: