How Far Will Your Life Insurance Really Go For Your Family?
Life insurance quotes vary greatly because individual needs vary too.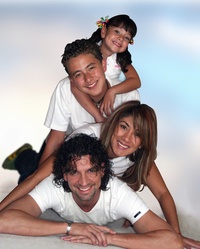 When considering life insurance options, it's all too easy to put a ballpoint figure on what you feel would be an appropriate level of cover.
However, when you look deeper into potential costs to your family after you're gone, your cover might not go as far as your family would expect it to. This article will cover the 6 Factors your loved ones may need to cover from your life insurance payout.
Income
For those in a dual income household, your loss will lose wages unless your employer has a benefit scheme in place to provide a set amount to your family in the event of the worst case scenario. This is rare these days due to tax changes pushing employers towards tightening budgets, which has seen the demise of family insurance provided as a benefit in kind.
In most cases now, when your income is relied on for household finances, your life insurance will need to replace that income.
Children
If you have kids in education, it's worth considering education options if you plan on private tuition. Even if your child attends a public school, there are many families paying extra for tutors to assist in test preparation to help their kids with exam stress and to understand lessons being taught.
If you plan for tuition, either through private schooling or home tutoring, there's added cost from your life insurance payout, which will restrict how far it goes.
Help Protect Your Family's Future Today. Decreasing Cover · Increasing Cover · Joint Cover Available 

Child funds
While the above addresses the educational needs of your children, there are also the assets they would have if you were there with them. The money that would go into trust funds and child savings accounts won't be going in those any longer.
That means when your kids become adults, they won't have what they would have had if you were living and paying towards their future.
Things like helping them with a first home deposit, driving lessons, first car. The funds won't be there, or at least not as much as you may have in mind for them.
Inheritance tax
For those with large estates, you can't ignore the inheritance tax issues. It could hit your loved ones with a hefty tax bill, for which could wipe thousands off the insurance payout.
While the insurance payouts are paid tax-free, your estate isn't. The insurance winds up paying the tax bill, leaving a lower amount to your loved ones. It's imperative that estate planning is completed with a financial advisor to ensure maximum tax benefits to help your loved ones let their money go further.
End-of-life costs
There's even a cost to dying! This is the first cost many associate with their life insurance policy. It's worth considering your funeral options and gauging the price of it, because it's the first thing your family will have to cover in the event of your death. Funeral costs include car hire, hearse, coffins, service, and the wake afterwards. It doesn't come cheap.
For those with the disposable income to afford funeral plans, it is an option worth considering as it can eliminate a lot of expense that would be taken from the insurance money.
Mortgage payments
If you still have a mortgage, your family will need to continue payments. The only way around this is to have a separate mortgage protection policy. Without one of those, your family is likely to need to use the insurance payouts to make the mortgage payments.
Considering the above list of expenses, the sum you're insured for may not go as far as you'd expect. If that's the case, you have two options. Increase your level of cover, or take out separate protection policies to cover mortgages, credit, or a funeral plan to limit the amount of expenditure your family will need to deduct from the amount paid out from your life insurance policy.
Related Reading:
Options When Thinking About £200,000 Life Insurance Cover