Will Everyone Qualify for Life Insurance?
Life insurance is something that anyone with dependents or debts should have.
However, not everyone interested in purchasing life insurance will qualify for a standard policy.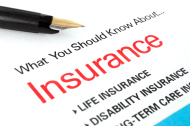 Fortunately, some providers specialise in insurance for people who are rejected for standard cover. This means that even high-risk individuals can purchase life policies that protect their loved ones financially. Explore the different types of cover available for your situation.
Standard Life Insurance Policies
Premiums for life insurance are calculated based on several risk factors including age, health status, and medical history. Alcohol and tobacco use, weight, occupation, and hobbies are also considered. An individual who is considered low risk has the greatest chance of receiving approval and low premiums.
Applicants who are not young, healthy, and with reasonably safe jobs and hobbies may have to pay more for cover or may be rejected.
Underwriters evaluate the risk factors of each applicant and analyse the probability of death within a designated time period. To verify health history or status, they may request documentation from a medical professional or require the applicant to submit to a medical exam.
If the results are satisfactory, they will approve cover. Otherwise, they may issue a rejection, forcing the individual to look elsewhere for coverage.
Quick And Easy Life Cover from Insurance Hero – Get A Quote Online Today!

Specialised Life Policies
A specialised life insurance policy is designed for someone who does not qualify for or finds it too expensive to purchase a standard policy. A medical condition may prevent an individual from qualifying for life insurance from one provider but may not serve as a barrier with another provider.
This makes it important to get quotes from several providers, a process made much easier by using the Insurance Hero website. Using a single form, applicants can request quotes from a wide network of companies that offer life insurance.
Increased demand for life insurance has caused some insurers to offer cover to people once deemed too risky. For example, while life insurance for people over age 50 was once difficult to find but several providers now offer this cover without requiring a medical examination. Therefore, even people in their 60s or 70s can qualify for life insurance and will not pay much for this cover.
Making Comparisons
By comparing policies offered by several providers, an individual can find the correct type and level of cover at a reasonable price. Comparison shopping is particularly important for high-risk applicants because premiums vary drastically between providers.
Using the Insurance Hero website, an individual can compare prices from providers of standard and specialised life insurance in one place. Since most people are not aware of all companies in this industry, a comparison website is a useful tool.
People who are older or have illnesses should not automatically assume that they will not qualify for life insurance. They may be able to find sufficient and affordable cover at a low price in just minutes. The sooner the comparison-shopping process begins, the sooner the cover can be bound. Both the insured and loved ones will no longer need to worry about what will happen in the future.