Compare Term Life Insurance Quotes & Cover
Term life insurance, sometimes referred to as temporary insurance, is life insurance that runs for a specified time.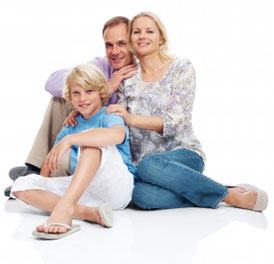 If the policyholder dies within the covered period, the policy beneficiaries receive a lump sum payment.
Typical time frames covered by a term policy are 10, 15, or 20 years, although shorter periods are available.
A term policy allows a working individual to ensure that the lifestyle of surviving beneficiaries does not change drastically upon his or her death.
Consumers should select a term that lasts until dependents have reached an age of financial self-sufficiency. Adults who are working should choose a term that runs until their retirement savings will take over.
Since many people have tapped into their savings due to the current economy, this period may be longer than initially anticipated. However, spending the extra money to extend the term will be worth it if the insured dies within the coverage period.
Types Of Term Life Coverage
Level, increasing, and decreasing are the three main types of term insurance. Level policies feature fixed coverage and premiums for a specific number of years and make a full payout for a claim filed within that period. They are usually the best choice for an individual with an interest-only mortgage or one seeking financial protection for a family.
Get A Free Quote Below & Save Up To 40%! – No Obligation – 40 Sec Form

Increasing term policies cost more than level term or decreasing term coverage. The premium and coverage increase each year without the need for a health examination. The coverage increase is designed to account for income and inflationary increases over the years. This type of coverage is not as popular as the alternatives but it does have its merits.
Decreasing term insurance is a less expensive option because premiums start lower and decrease over the years, as does the payout. A decreasing term policy is designed to reduce the benefit in line with the balance on a repayment mortgage. It is an attractive option for people on a restricted budget who are only concerned with covering mortgage payments upon their death.
Some term policies are short-term policies offered on a renewable basis. Initially, these policies may be less expensive than the other options but over the long-term, they are usually more expensive. A particularly attractive feature of this policy type is that it may be renewed without having to supply medical evidence.
Premium Calculations For Term Policies
Insurance companies consider many factors when calculating the premium for a term life policy. The main aspects are the level of coverage desired and how long this coverage will be needed. Providers then take the age, sex, health status and history, occupation, and smoking habits of the applicant into account.
The policy type also plays a role, with term policies costing less than whole of life policies due to their limited coverage period. If options like critical illness cover or income protection benefits are added to the policy, this will also affect the cost.
The importance of applicant age cannot be stressed enough. The younger a person is when applying for life coverage, the cheaper the premium will be. With level term coverage, the premium stays the same throughout the coverage period. By locking in their premium at a young age, covered individuals save a substantial amount of money. This cash can be used to increase the coverage, invested, saved for retirement, or spent to enhance the lifestyle.
Why People Choose Term Insurance
There are several benefits to term coverage aside from the affordable premiums that can be locked in or may even decrease. The insured can select from a wide range of coverage levels. The generally recommended amount of coverage is £100,000 but higher and lower amounts are available.
This allows the insured to choose the level that will adequately provide for beneficiaries. In addition, each spouse can purchase a separate term life plan and name the same people as beneficiaries. This is an inexpensive way to ensure that children are provided when one or both spouses die.
Term life benefits can be used to pay funeral expenses, repay debts, cover child care or educational costs for children, or provide replacement income. Even if the family is not in substantial debt, knowing this extra money will be available in the future can be a relief. Situations can change and it always helps to be prepared. For most households, a mortgage is not the only expense and having a sum of cash to pay other bills makes things easier.
Disadvantages of Term Insurance
Though term life insurance has many benefits, it also has a few drawbacks. Premium payments are designed to cover policy costs during a specific period. It the insured does not die within the covered term, the policy ends and paid premiums are not refunded. The insured may have the option to extend the term but the premium associated with doing this is usually higher.
With a decreasing term policy, the coverage limit decreases and by the end of the term, it is usually close to zero. If the individual becomes terminally ill within the period and knows that death will come shortly, this can create additional worry. The individual will see the coverage level decreasing each year and know that family members will not be as well taken care of as they could have been with a level or increasing term policy.
What We Offer
Our site makes it quick and easy to compare term life quotes and coverage levels. We scour the hundreds of insurance companies in the market and compare their term life policies to find the best deal based on your coverage needs. This saves you a huge amount of time because there is no need to shop around on individual provider sites.
By providing a small amount of information and letting us do what we do best, you will find the best term life coverage. Enrolling is easy and within a short time, you will have a term life policy suitable for the financial needs of beneficiaries. With financial considerations made for surviving loved ones, you can get back to enjoying life.